Would you like to make your own professional courses such as the ones created by popular websites like Skillshare and Udemy? Today, there are many services offering to help you create and sell your own online courses, and it can be difficult to choose which one to use for your brand. Among all of this sea of services, I believe that Thinkific is one that stands out. If you're looking for an easy-to-use and affordable service to create and sell your own online courses, check out this Thinkific review to find out more about its features, pros and cons, and more.
What is Thinkific?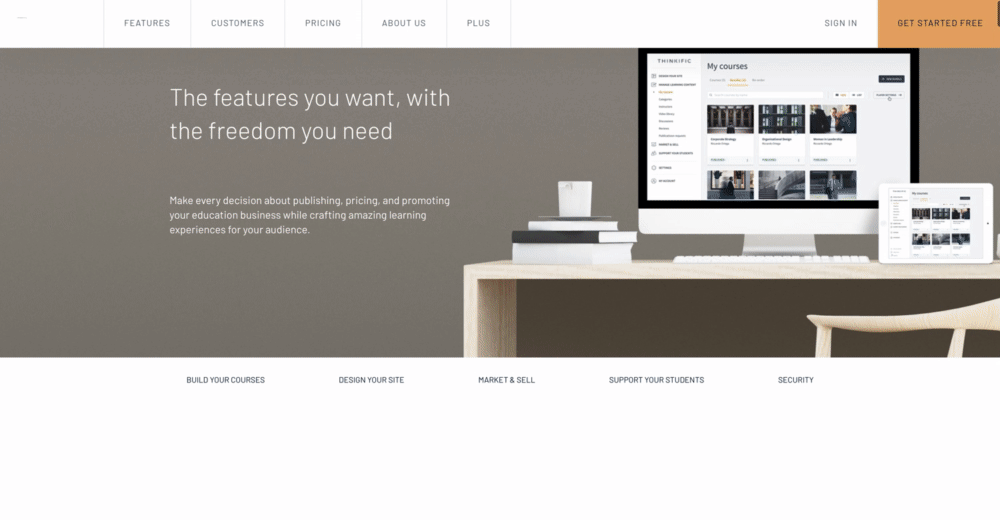 Thinkific is a course creator that allows you to build, market, distribute, and manage your courses and membership sites online. It allows you to build your course with videos, rich text and images, and downloadable files.
Thinkific Features
Drag-and-Drop Editing Interface
Thinkific's editor is very smooth and you are able to organise your course elements and content freely. No coding required! WIth Thinkific's editor, customising each online course according to your specific preferences is a breeze. You can rearrange, add, or delete sections of your course pages all with their drag and drop feature.
Along with standard text and videos, you can also add audio files, PDFs, quizzes (including basic and advanced quiz types), type forms, surveys, Google Docs, etc. Ultimately, your users will have all the resources they need as they progress through the courses.
On top of all of this, thankfully, each file you upload is hosted by Thinkific. This means you don't have to stress over file compression for saving memory space.
Site Builder
Thinkific gives you a great collection of pre-made learning based website theme options to save you the headache of designing and creating everything yourself from scratch.
Design features like deleting, adding, or arranging course sections, for example, only takes a click. You can also configure the layout, colours, text, media, web pages, etc. Pretty much all the basic design choices you might want for your website.
Personally, I prefer pre-made templates over creating a website from scratch because it takes a lot of the stress out of the picture. But for those of you who enjoy being able to fine tune your website and get into the nitty gritty details, Thinkific offers full access to HTML and CSS.
While their website builder is made to be easy for everyone to use, if you're a website developer at heart, you have full access under the hood.
Security
One worry you might have when creating an online course is security. Thinkific prioritises safety of your courses and websites so much so that it is a centered feature of Thinkific.
Built-in SSL certificates are included so that you can trust your site and content are safe with reliable, secure cloud hosting. Thinkific also makes sure your content is safe by including daily data backups and automatic updates, which means your data will always be uploaded and saved digitally to their cloud, and always updated to its most recent version.
Marketing and Selling Your Courses
Thinkific sets itself apart from other online course creators by including tools for marketing and selling courses to your potential user market.
One particular feature that would come in handy here is the sales widget. Thinkific is capable of providing an HTML code that you can integrate with your website and set up a sales widget for. Directing interested parties straight to your course page.
Premium subscribers can further add marking features, such as coupon campaigns, to promote your online courses on third-party platforms. And for added effect, Thinkific allows you to control all the primary coupon parameters, including discount rates, expiration dates, dollar amounts, as well as the number of times you allow the coupons used.
Use Your Own Domain Name
With Thinkific, you can create an entirely new course website, or deeply link with your existing website for a seamless experience on any domain or website. This creates a more seamless and professional experience for your users.
Thinkific Paid Features vs Free Features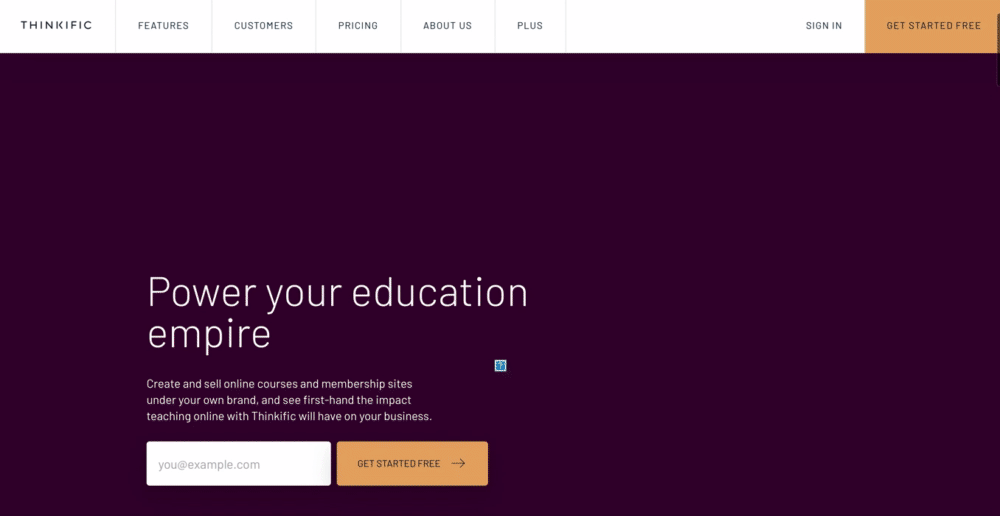 Thinkific has an amazing free version that rivals it's competitors. Thinkific's free plan has zero transaction fees and comes loaded with a lot of great premium features. You can easily start creating up to 3 courses with the free version. If you do decide to upgrade to one of it's 3 paid tiers, they can come with a lot of additional features at a great price point.
Here are some of the many additional features you could get with their premium versions:
Unlimited courses & students
Coupons
Email students
Drip (scheduled) content
Affiliate reporting
Custom domain
Email integrations
Memberships and bundles
Certificates
Advanced Customisation
Thinkific Pricing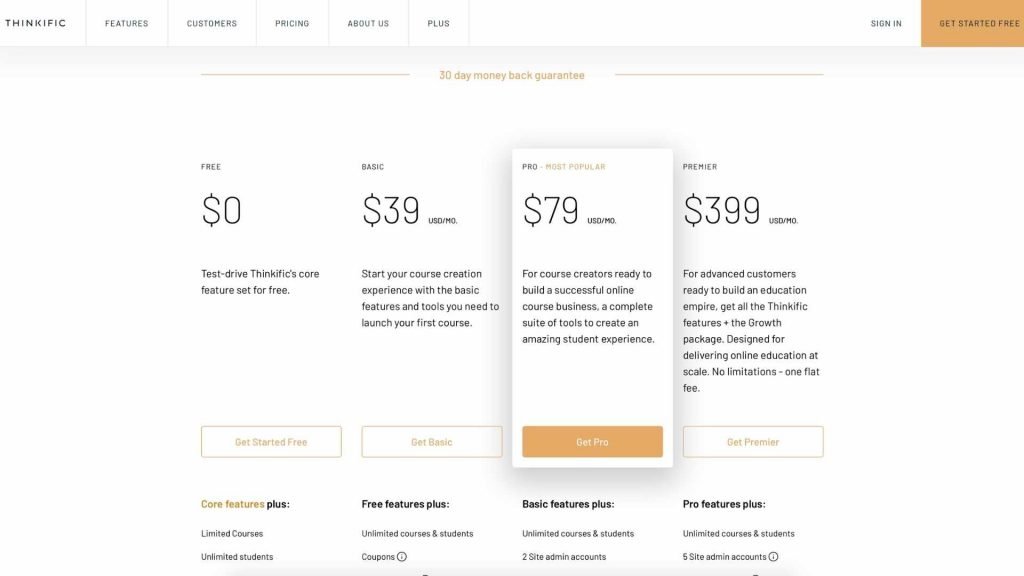 The Basic plan is set at $49/ month
The Pro plan is set at $99/ month
The Premier plan is set at $499/ month
All plans are offered at 20% off if purchased annually.
Thinkific also offers a separate service plan, Thinkific Plus, if you are a business with a high volume of customers. To learn pricing for Thinkific Plus, please contact their team.
Thinkific Pros
Only course platform with a free option and no transaction fees.
Ability to choose a custom domain. While Thinkific will host your course, you can set the domain to make it appear as part of your website.
You can offer users payment options, like a monthly payment plan, for more expensive courses.
Easy to use interface and ability to customise branding makes it simple to create a course website.
The user interface is clear and intuitive for the customer's end.
Thinkific Cons
With the basic plan, you don't have the ability to allow students to have a monthly payment option for purchase which could be an inconvenience for your users.
No integrated email marketing. However, you could easily tie into 3rd party email providers like MailChimp.
There is no chat support, although they offer phone support. May be inconvenient if looking for quick help with a smaller issue.
Conclusion
Thinkific is a fantastic addition to the market of creating online learning courses. Thinkific packs one powerful punch and comes with many fantastic features to help you create and sell your online learning course. With it's free version, which is a rarity for this kind of service, you can jump right in and see if it's the right fit for you.