Have you seen people making money online through affiliate marketing? Have you tried adding affiliate links in your blog or website but people just don't seem to be clicking? If you want to start making more money online through affiliate marketing, then you would need to check out this affiliate marketing simplified review, an affiliate marketing course by Cate Rosales from Sweet and Simple Life.
A quick disclaimer, I genuinely joined this course and now I want to share an honest review about the Affiliate Marketing, Simplified with you. If you have any questions about this course or any other similar courses, feel free to leave a comment down below.
Affiliate Marketing Simplified Review
Is Affiliate Marketing, Simplified worth it?
Affiliate marketing can be a powerful tool to creating steady income streams for your business but mastering this monetisation method takes some time and mastering some technical skills.
Affiliate Marketing, Simplified is a going to help you find out exactly how to choose a profitable affiliate marketing niche, everything you need to do before you can start making money, the best affiliate networks and programs and a lot more.
You will find the course helpful if you are just starting out with affiliate marketing and not sure exactly how to generate the first dollar, or if you have already started with your affiliate marketing but want to make more money, without wasting time digging through countless resources on the internet.
Affiliate Marketing Simplified Pros
What I love most about Affiliate Marketing Simplified
Getting to know the tips and tricks for getting accepted to affiliate programs
Difference between affiliate networks and affiliate programs
The non-spammy way of sharing affiliate links
How to use affiliate marketing on social media
Cons- The things I wished Affiliate Marketing Simplified has
I think Affiliate Marketing, Simplified gives you a great overview and action steps to help you start generating income. I would like the course to be longer and more in-depth in a few areas, but for the price of this course, I couldn't possibly ask for anything else.
Is Affiliate Marketing Simplified right for you?
Who is Affiliate Marketing Simplified for?
If you are a blogger or an online business owner and hopes to incorporate affiliate marketing in your online presence
If you have not seen any results no matter how many affiliate links you have put out there
If you are actively applying to affiliate networks and programs but you keep getting rejected
Who Affiliate Marketing Simplified not for?
If you are not planning to use affiliate marketing in your online business
If you haven't started your website or blog yet, then you might want to check out this blog all about how to get started and my favourite course, walking you through everything you need to know to get started with blogging
If you are already making regular income with affiliate marketing through your online presence
Who is Cate from Sweet and Simple Life?
Cate Rosales is the owner and educator behind the award-winning blog SweetandSimpleLife.com.
Cate is an online business manager turned blogger, who teaches people how to start, grow, and monetize their own blogs. She's a passionate teacher and lives to educate and inspire bloggers, helping them to reach their income goals and live life on their own terms.
I enjoy learning from Cate because she doesn't just give you a brief overview but truly gets into the action steps to help you start seeing results. She gives you a lot of examples throughout her course and all kinds of examples to help you figure out exactly what steps to take and shorten your learning curve.
I also found a lot of tips and had different aha moments, not just through Cate's course and website, but also through her emails! Cate's emails are probably some of the only ones that make me excited and I tend to open them immediately. Cate's Facebook group is also very active and you can make great connections through the community.
What's included in Affiliate Marketing Simplified?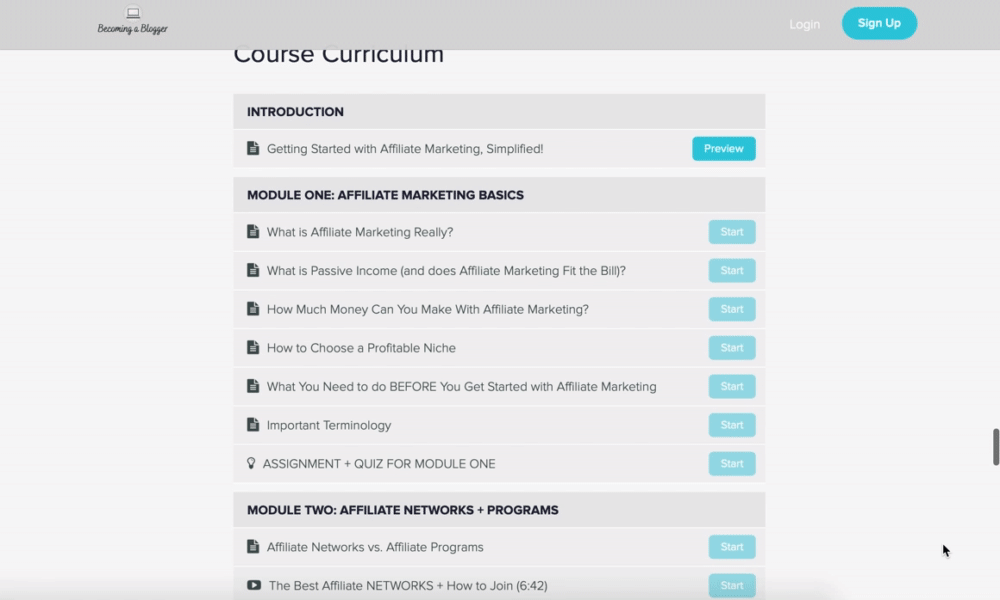 These are the main courses and modules you will get inside of List by Number.
Affiliate Marketing Basics
Affiliate Networks and Programs
The secret to Success with Affiliate Blog Posts
Leveraging Your Social Media and Online Presence
Tricks of the Trade and Truth Bombs
Affiliate Marketing Simplified Pricing
List by Number costs $47.
Conclusion
Affiliate Marketing, Simplified is a great course that gives you the kick in the butt in the right places to help you figure out exactly what you need to know, what kind of blog posts, content and changes in your social media you need to make to start seeing results in your affiliate marketing efforts.
For the price of just $47, it has everything you need put together in one place and I could be happier to be part of this amazing course and connect with the awesome people in the Facebook group community.