There are numerous things to consider when starting an online business. With the saturated amount of information on the internet, you might get stuck wondering what your steps should be and where to even start. Here are 8 simple steps you can follow to help you start and grow your business. Here is the guide to show you exactly how to start an online business as an entrepreneur.
How to start an online business
1. Decide on your niche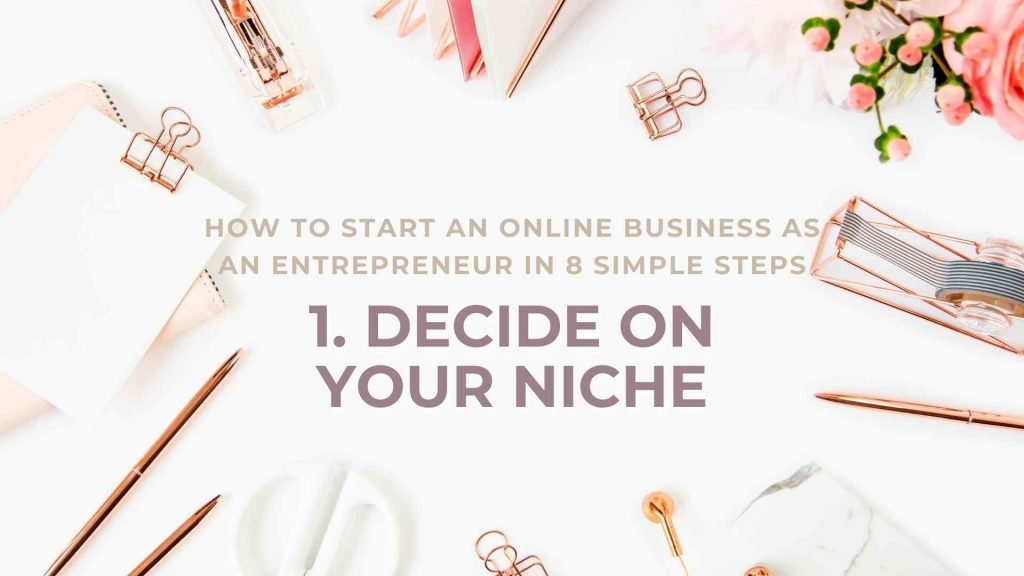 The first step when it comes to how to start an online business is deciding what you will be offering as a service. What will you give to your customers? Are you planning to offer a product or a service or both? What will this include? This is an essential step as it is the foundation of your whole online business.
Pick something that you are passionate about or at the very least, something you enjoy working on. Things that you're passionate about might be not able to generate income or be a sustainable business model for you, so make sure to choose wisely when deciding on the core of your online business. 
2. Business account and Legal matters
A lot of people might not consider this an important factor when it comes to starting an online business but make sure to keep this in mind. From day one, you should separate your business from your personal accounts, even if you're a solopreneur and the only one managing these accounts. This will help you manage your finances, emails and in the future when you get a virtual assistant or build a bigger team, you wouldn't have to go through a long process of dividing everything up.
Don't forget to follow all the legal requirements for your business, such as making sure your business is compliant with different policies. Depending on your business, you might also need to look into enlisting your company. There are many legal services online that can help provide consultation for you. You can check out this completely free legal course to help you understand everything you need to know!
Make sure to get everything set up properly so you don't have to worry about having any of these troubles later on. You can use platforms like Freshbooks, All-In-One small business invoicing and accounting solution, to organise your accounting.
3. Choose a name and domain
Picking a name for your business can be very difficult. It has to be catchy, easy to remember as well as a good representation of your brand. Rather than trying to be smart, sometimes having a straight-forward name can help people find you and trust you easier. 
Getting a domain that is a reflection of your business is important. With the increasing number of websites being launched every single name, the number of available domains is also decreasing. You can check on Namecheap to find the domain you want for a great price and suggestions if the exact domain you want is not available. 
Find out more about exactly how to start your website here.
4. Develop your brand
When you have chosen a name, it's time to think about your aesthetic branding. What kind of logo do you like and how will it reflect your brand. What colour palette will you use? What kind of brand voice do you want to use to convey your brand message? 
Watch this free Branding Masterclass to figure out exactly how to establish your brand.
All of these are important factors to consider to help you develop your brand and make sure that your target audience resonate and trust your brand. Take your time and choose wisely because if you were to change any aspect of your brand later on, it will take a lot of work and might reflect badly in your audiences' eyes.
If you need some help with your logo and other brand elements, consider hiring someone from OnlineJobs.Ph, Fiverr, Freelancer or Upwork. If you want to try designing yourself, use Canva. It is one of the most intuitive tools to create stunning designs. It is a popular tool for entrepreneurs and solopreneurs and the free version has a lot of things you need to start creating right away.
5. Business tools
This step gets to all the technical things but it is important for you to decide before moving forward. These will help your online business run smoothly and save you time down the road.
You need to think about how you will invoice your clients or what software you will use to bill your clients. How will you track profit and also loss? What kind of email service provider, what kind of social media management tool will you use?
There are numerous software programs readily available for online business and a lot of them are affordable.
Here are some amazing tools to get you started with automating your systems. Take these productivity tips in mind to help you save time and money, while working towards your success.
Tailwind– an amazing Pinterest and Instagram tool, helping you schedule photos & videos with auto-post, with incredible hashtag suggestions and analytics tools. One amazing tool is the Tailwind Tribes, a great way to grow your reach quickly and find collaboration opportunities.
MeetEdgar– MeetEdgar saves you time by managing the content on all of your networks. Edgar uses machine learning to read through your content and generate quotes for your social media updates, including your Facebook page, Facebook group, Twitter, Instagram and LinkedIn accounts.
Convertkit– You can easily create email automation, along with tagging and segmentation with your list. Convertkit allows you to create forms that you can embed on your website and standalone landing pages. One of the best things about Convertkit is, they have just released a new plan, which is completely free. They also have a new eCommerce feature, where people can buy directly through the landing pages.
6. Create your plan to meet your goals
Get clear on exactly what your goals are and make a plan to get there. Start with your long-term goals. Where do you see your business in five years, three years, one year? How much revenue do you intend on making? How many products or services do you hope to sell? 
Creating your goals can help you better understand and steer your business towards where you want to be. Without clear goals, you won't be able to establish the plans that are needed to make these goals happen.
Once you have a clear idea of your goals, decide how you will be able to meet these goals and what efforts you need to do every day and every week to bring your business closer and closer to your success.
7. Create an advertising and marketing strategy
Advertising and marketing your services and products is one of the most fundamental parts of how to start an online business. After all, if you don't have customers, just how will you generate income? Consider what platforms you will use and also just how much it will set you back. Make sure to factor an advertising and marketing spending plan into your company strategy.
If you are good at writing, focus on creating content and look for opportunities to expand your network in the writing realm. You can look for guest posting opportunity on other entrepreneur's websites, get featured on big media sites and write Ebooks and publish them.
If you are good at being in front of the camera, then create videos and post them on Youtube to increase your engagement. You can collaborate with other YouTubers, video content creators to boost your reach. You can also create video courses to sell on your own website, or through different platforms like Podia, Teachable or Thinkific.
If you are good at speaking but not so sure about showing up in front of the camera, then consider creating a podcast. The popularity of podcast has blown up like never before. If you'd rather appear on other people's podcasts or test the waters before diving into the deepened, then you can also find podcasts that are in a similar niche as you through Apple Podcast or Spotify Podcasts.
8. Build social media accounts
An important thing to consider when thinking about how to start an online business is using social media. Social media is a great way to help you get known. Set up accounts and start growing your platforms to grow your audience.
If you're not sure where to start, focus on the platforms you're used to. Is it Facebook? Twitter or Instagram? If you have a blog, set up Pinterest. Instead of a social media channel, it is similar to a search engine, where people go to find inspiration and get their pain points solved.
A lot of entrepreneurs, especially bloggers use Pinterest to drive traffic to their website. If you decide to add Pinterest to your social media strategy, then make sure to also get Tailwind. It is an amazing Pinterest and Instagram tool, helping you schedule photos & videos with auto-post. One amazing tool that a lot of users love is the Tailwind Tribes, a tool that allows you to grow your reach quickly and find collaboration opportunities.
Conclusion
Did your lightbulb light up at any point reading this blog? I hope this can help you in successfully setting up your business so you know exactly how to start an online business as an entrepreneur. If you have any questions, please feel free to let me know!