There's a myriad of email marketing and automation tools out there and picking the right one's always a daunting task. 
AWeber, an email marketing solution that prides itself in its simple yet powerful service seeks to solve just that. To be able to give business owners an easy tool that "does 90% of the work for you, and 10% for you to have fun".
In this AWeber review, let's talk about what is AWeber, the AWeber features, AWeber's pros and cons, prices and if AWeber is a good email marketing tool or not in comparison with its contemporaries.
AWeber Review
What is AWeber?
Like other email marketing tools, AWeber offers an email marketing software giving you tools to create your emails, automate your email marketing, manage your subscriber list as well as analytics and reporting. 
AWeber delivers its ease of use primarily in their easy-to-pick-up software tools and automations systems, which is made even more convenient with the ways you can integrate them into your funnel.
You can start out using it for free, but its complete features come at a premium cost that grows more pricier per number of subscribers in your emails; meaning you aren't technically gated/limited in features by paying a 'cheaper' plan.
AWeber Features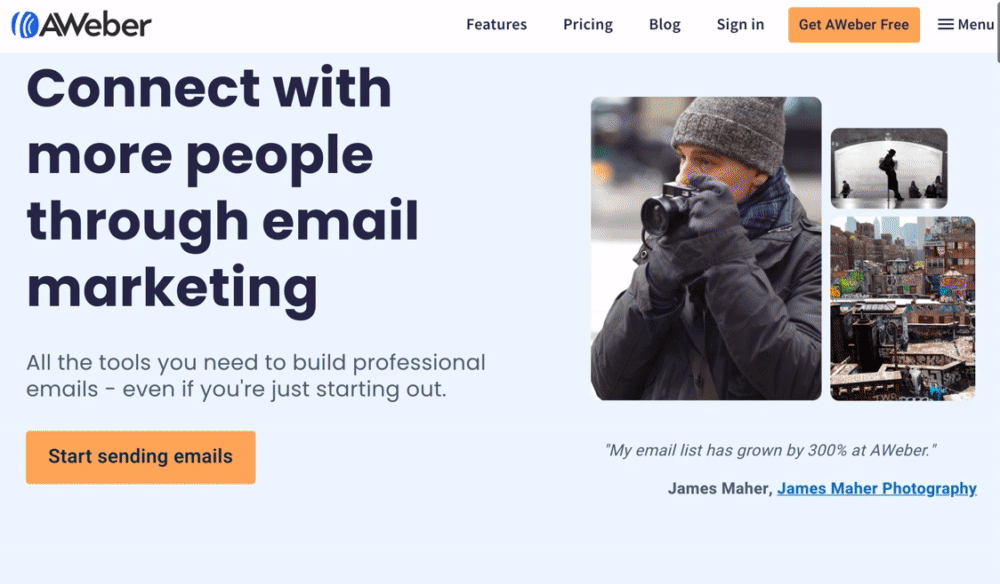 Smart designer
If you're unsure of where to start, or would rather spend your time doing other productive tasks than designing emails AWeber's smart designer assistant will create your email templates for you using AI-powered software.
It's convenient to get started with and get some ideas as to what your emails could potentially look like and it's easy to boot.
Drag-and-drop creator and template library
To get started making emails quick, AWeber provides an easy drag-and-drop creator with a wealthy library of pre-built templates to help you out. With it you won't really need to take too much time to get custom and good looking emails made.
Landing pages
In a similar vein AWeber's landing page builder also uses a drag-and-drop style system; complete with video support, pre-stocked image library, domain integration, and Google Analytics & Facebook Pixel support.
This feature is easily connected to their email marketing and is a convenient way to help set up your funnel in getting new email lists added in.
Auto-newsletters
You can easily create automatic content by sending out your latest blog posts in the form of automated newsletters. This helps out when you want to allocate effort in other content, but still keep your reader lists engaged since you still provide them with content or direct them to content you've already made.
Email automations
AWeber can help out automate your campaigns through assigning specific triggers, flows and actionable steps. This can help you assign specific emails to be sent to specific targets at specific times through their tagging feature, and set up automated email sequences based on that. It's a simplified way to form automations since it's also a drag-and-drop and flow-based system and you get a good amount of training content and templates to help you learn how to make them.
Personalisation (tagging)
You can tag people in your email lists based on their behaviours such as the types of emails they open up, or the types of emails they link.
This feature helps a lot in making sure that the emails you send out target the right people to boost your open and conversion rates, and ultimately get them to respond more to your offers or content.
Pre-built analytics and reporting
AWeber comes with dashboards that give quick and simple insights into meaningful data about your email and campaign performance. It's easy enough that the KPIs are presented in a way that just about anyone can read through them, making them quite useful if you didn't already come with pre-existing knowledge about statistics, data and email metrics.
Their split-testing functionality means that you can quickly analyse your tests to figure out what type of messages and subject line combinations work best with your emails netting you the engagement results that you'd want.
Integrations
Like a lot of other marketing tools, AWeber comes with easy connectivity with a bunch of useful tools such as Shopify, WordPress, PayPal, Woocommerce and more. This makes it all the more easier to include AWeber and its systems into your ecommerce work.
Mobile apps
AWeber comes with several mobile apps to help you out and for added convenience.
Their first one, AWeber Atom, helps you build signup forms directly on your mobile devices that you can use to add more people to your mailing list. Curate helps you create and send out newsletters with content from your blog and website. And finally, AWeber stats help you analyze your email and campaign results on your mobile devices.
AWeber Pricing
AWeber's pricing plan does not charge per features gated by premium and higher packages but instead by the number of email subscribers that you have in your list. You can start from a free plan, but at premium you'll charge $19/mo for 0-500 subscribers, $29/mo for 501-2,500, $49/mo for 2,501-5,000, $69/mo for 5001-10,000, and for 10,001-25,000 subscribers AWeber chargers at $149/mo.
Between all pricing plans there are no key features missing or differences, but it does come with the downside that as you gain more subscribers you must upgrade your plan. This might be a bit of a downer as well, especially when you consider for smaller email lists, you'll be charged at comparatively steeper prices (which, compared to say MailChimp might be a bit of a turn-off if you're fresh and starting out new).
Notably, the free version does miss out on email split testing, behavioural automation, cart abandonment, advanced analytics, website tracking, sign-up form split testing, and other more advanced features. You also get stuck with the issue of being unable to remove any AWeber branding in your emails, and a higher transaction fee at 1.0% instead of the other plans' 0.6%.
AWeber Pros
Very entry-level friendly with fledgling users; gives you all the necessary features right off the bat (the cheaper premium packages have no less features than the most pricy) and is easy enough to use that most could get a handle on designing and automation quick
Good tracking functionality allows you to find out specifically who engages and clicks through your emails, and you can implement specific personalised email strategies built on that information
There's a myriad number of support available in the form of training and teaching content, good customer support, automated builders and support material available to make your experience all the more easier.
AWeber Cons
There are a number of cheaper alternatives out there, which if you aren't impressed enough as it is with AWeber then you might need to look elsewhere, since though it performs well it is not the most comprehensive email automation tool in the market
Although the drag and drop builder is a great feature, it doesn't always work with all the templates provided and for specialised designers AWeber's certain lacking features and feel in their design tool makes the experience less intuitive
Despite the ease of use, certain things like some of the templates and UI feel quite dated, making AWeber less favourable overall in both use and delivery
Conclusion
With very competitive pricing, AWeber enters the harsh markets of email marketing and automation with their simple and convenient offer. And just as they claim to be, they are what they say. With easy-to-use and grasp builders and automation, AWeber is a good tool if you're a beginner or someone new to email marketing in general. However, keep in mind that with simplicity comes a few lacking features and shortcomings that experienced users may want to look elsewhere for.