Choosing the email marketing autoresponder for your business can truly give you a headache. There are an endless number of choices and it can take a long time to figure out just the right email marketing software for you and your business. In this Constant Contact review, let's take a look at this email marketing autoresponder, its features, and its pros and cons. It will help you decide if Constant Contact is worth it for you. 
Constant Contact Review
What is constant contact?
Constant contact is not just an email marketing software, but more of an all in one package deal to help your business grow online.
Constant Contact has all the tools and guidance you need to achieve the results you want, all in one place. As an email marketing tool, Constant Contact can help you grow your brand and reach your audience inside their inboxes. You can also set up an online store and sell your digital or physical goods with Constant Contact. On top of that, you can create a website easily with the built-in marketing tools and use the built-in features to drive traffic with Facebook and Instagram.
Let's dive a little deeper and check out exactly what features are available to you. 
Constant Contact Features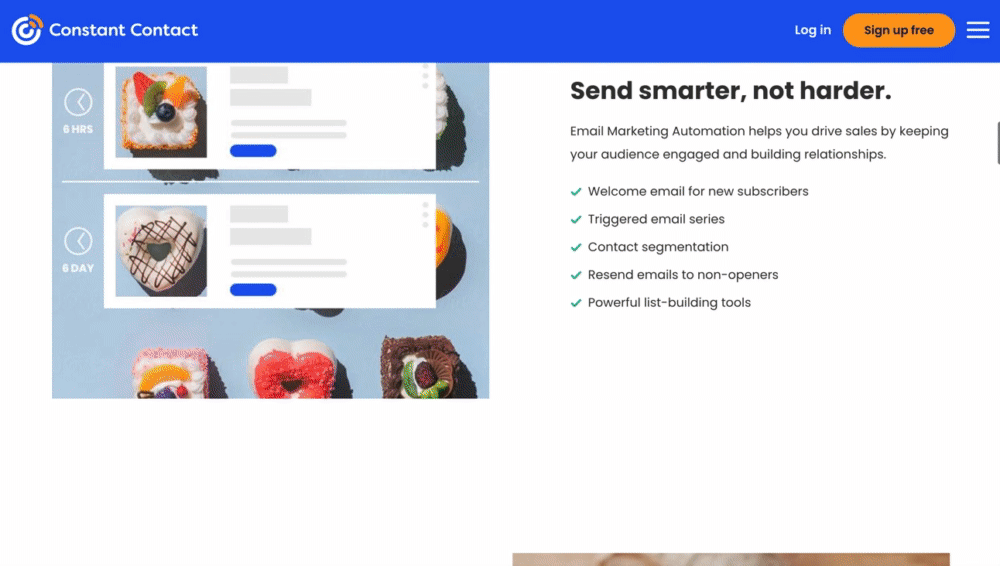 Email Marketing Automation
As an online business entrepreneur, you would need to keep your leads and customers engaged to create an ongoing relationship. Email marketing automation is here to help.
You won't be having the time to send a welcome email to everyone, especially when your business keeps growing (not to mention sometimes it is just easy to forget :p). In this case, you can use email marketing automation to create welcome emails for new subscribers. If you would like to respond to certain actions from your audiences, you can also set up a series of emails such as offering deals and discounts. Email marketing automation also detects whether your audiences have opened the account or not. It will resend the email on your behalf if it detects a non-opener, making sure that your audiences didn't accidentally overlook the good deal offered by you.
One feature I love with Constant Contact is the ability to A/B test the email subject lines. You can create an email with two subject lines, then Constant Contact will send the test to a portion of your contact list to see which is the winning subject line before automatically sending the winner to your remaining audience.
You can choose how long to wait between 6, 12, 24, or 48 hours before declaring a winner. While the test is active, you can also access real-time reporting to view engagement for each audience and which line is in the lead.
This is so powerful to help you increase your open rates and improve your email campaigns.
Email Designer
The design of your email will determine the very first impression that your business gives to your audiences. Constant Contact has an intuitive drag and drop editor that allows you to easily customize and design great-looking emails.
It would be a good idea to enter your website or Facebook URL to get a personalized template so that all your sites look consistent. The more consistent they are, the more likely they will stand out and be remembered by the audiences. And don't forget to add the logo of your store – you want your audiences to remember you, not to mix up your shop with other similar competitors!
Once all these steps are done, drag text, image, video and button blocks. Then, customize the text, font, size, color of your blocks, and add filters to your images. The email customized by you will look so good and unique.
Landing Pages
If you don't have a website or want to create landing pages to optimise your conversation rates, then you will be happy to know that Constant Contact offers a great feature to help you create landing pages in just a few minutes.
You can share your landing pages created with Constant Contact on various channels and the real-time reporting allows you to see just how your landing pages are performing.
Not just lead generation landing pages to collect visitor information in exchange for a promotion or incentive, you can also create shoppable landing pages. These allow you to sell products and services directly inside your landing pages!
Additional Email Marketing Features
Constant Contact offers some additional email marketing features that you might not be able to find with other tools. 
These include surveys and pools, allowing you to receive feedback from your audience, inside your emails and even through social media. You can also collect donations through custom landing pages, create sign-up forms and create automatic display triggers and even create, promote and manage events with the Eventbrite integration. 
Ecommerce
If you want to grow your business fast and steadily, try out the ecommerce tool. It helps you to find new customers and keep them updated on your business and products via segmented and automated emails. It is an especially practical feature in the case you are looking to turn more leads into long-term customers. 
Social Media Tools
Almost everyone is checking social media sites every day. Your audiences are most likely doing the same. A successful social media management is thus a big plus for your awesome products and concepts. Social media sites require delicate devotion and maintenance. Using Constant Contact to monitor your social media campaigns' performance and keep engaging with your audiences. Remember, the more often you update and interact with your site viewers, the more likely they will keep coming back to your sites.
With Constant Contact, you are also able to create social ads that create brand awareness, website traffic and sales, along with features to optimise your ads with detailed metrics and insights as you go.
If you need extra help in converting your audience, you can connect your social media accounts to Social Share.
Choose Facebook, Twitter, LinkedIn, or a combo of all three. You can set up multiple posts on the same day, but at different times with the easy-to-use platform, then choose where to share your email on a post-by-post basis.
Tracking Tools
Wondering what your audiences are doing with your email? Try out Constant Contact's real-time email tracking tools. You will get access to information on who is opening, clicking, and sharing your emails at the exact moment.
You will also be able to see what content your audiences are clicking on. With this invaluable piece of information, you can create more effective email marketing campaigns based on the audiences' specific interests and preferences. 
You can receive in-depth reporting, allowing you to watch the performance of your campaigns over time and see who is engaging and who isn't.
Constant Contact allows you to understand which links got the most clicks in comparison with others and identify and group contacts, so you can create more targeted lists, send more relevant emails, and see better results.
If you want an even better overview of your audiences' reaction towards your email campaigns, you should consider switching to Ecommerce Pro. Ecommerce Pro uses A.I. to provide you with personalized data analytics so that you understand your audiences at another level, thereby making better decisions. It is so personalized that you can get access to a visualized report for an individual customer. Of course, you can also see the general trends such as campaign revenue trends, content trends, content performance, results by demographics, etc.  
Marketing Calendar
This is a unique feature that I haven't seen with any other email marketing tool.
Constant Contact marketing calendar is a monthly campaign view that makes planning, creating, and scheduling email. With this feature, you can avoid the stress of writing and sending last-minute emails. It drastically enhances my working efficiency and keeps me on top of everything on my to-do list.
The calendar features US holidays so you can preplan kind and warm wishes to your audiences.
The calendar itself will safely keep and store your emails in one place. I am not the most organized person so I use this calendar to keep on track of everything and avoid last-minute panic attacks 🙂
Another trick is to go back to your calendar by the end of the month. You will see a performance summary provided by Constant Contact including the numbers of clicks, opens, and bounces of your emails. Making best use of these summaries will help you to perform better in the upcoming months.
Website and Online Store builder
This is an incredibly powerful feature that Constant Contact offers. You can easily create a professional, mobile-responsive website in just minutes. Not just any website, but Constant Contact websites are SEO-optimised with great speed, along with an integration with Unsplash that allows you to access over 550,000 free, professional-quality images.
Not just a website but you can use Constant Contact to create an online store builder. You can choose from a variety of layouts that make your products stand out and securely accept credit card and debit payments through PayPal, Stripe, and Mollie.
Constant Contact also has built-in features to help you send order confirmations, updated product inventory, auto-generated out-of-stock emails and more. Sign up today for free and turn your ideas into reality!
Support
Constant Contact has an incredible support centre called Helpline. The Constant Contact Helpline is available one call away, allowing you to talk 1:1 with one of the marketing advisors.
From sending email campaigns, to posting ads on Facebook, to launching your website, the Constant Contact team is available to help and tailor a marketing plan that works specifically for you and your industry.
Constant Contact Pros
Offers a wide range of features
Ability to create websites, online stores and capture payments
Incredible support
User friendly
Advanced email marketing scheduling features
A wide range of mobile friendly templates
Constant Contact Cons
Templates don't offer much flexibility
Marketing calendar is exclusive to US holidays only; you need to find ways to accomodate to international audiences
Small formatting issues with customising emails
Pricing will add up once you have thousands of contacts
Constant Contact Pricing
Constant Contact currently offers a 60-day free trial for users to test it out. Constant Contact starts at $20 per month, for up to 3 users and unlimited monthly emails. With this plan, you can use the features such as sign-up forms, list building tools, automated email resend to non-openers, subject line A/B testing, social posting, websites and online stores and more, but features like pop-up forms, polls, coupons are not included.
The next plan is called Email Plus and it starts at $45 per month. This plan allows up to 10 users and includes all the features that Constant Contact provides. 
Conclusion
Constant Contact is a great marketing tool that not only helps with your email marketing, but all areas of your marketing efforts. It is an excellent choice for small businesses. Even if you're a company that's new to email marketing or one that can't spend a lot of time on email marketing, Constant Contact can help you achieve what you're looking for. The wide range of templates can satisfy most use cases but more creative designers might find them a bit limiting in terms of customisation.