There is numerous email marketing software out there and it can be overwhelming deciding on which one to use for your online business. In this Convertkit Review, let's take a look at this email marketing autoresponder, the features, pros and cons of Convertkit to help you decide if Convertkit is worth it for you. 
ConvertKit Review
What is ConvertKit?
Convertkit is an email marketing service provider that comes with landing pages, forms, email automation, tagging, segmentation and a lot more. Convertkit is created by creators for creators. From social media, website or other platforms, Convertkit helps to grow your audience by turning your online visitors into subscribers.
Features
Landing page creator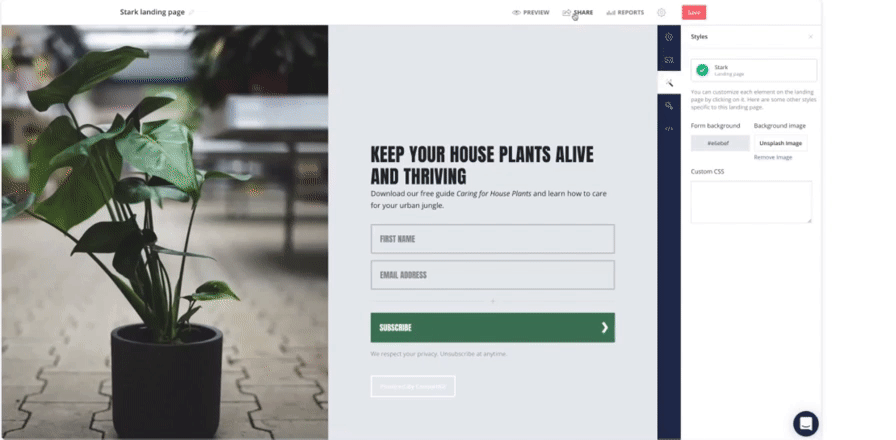 Even without a website, you can start collecting email addresses by creating landing pages using ConvertKit. ConvertKit provides various templates for you to choose from and you can fully customise them to help you start collecting email addresses in no time.
With the landing pages provided by Convertkit, you can also collect custom data, automatic lead magnet delivery with customisable success messages and even link to a custom landing page.
You can create a "coming soon" page with Convertkit to help you gauge interest in your new offer, build momentum for your launch and motivate you.
You can even use the landing pages provided by Convertkit to get your audience to sign up to your email courses, which you can then use Convertkit to deliver.
Email sign up forms
Besides landing pages, you can also create email sign up forms for your website, either in the format of inline, popup or slide in. You can easily embed these sign-up forms inside your blog posts, in your website homepage, in your sidebar and collecting email addresses.
If you have a WordPress website, you can use the Convertkit plugin to help you create these sign-up forms simply by adding in a single line of JavaScript.
Email designer
Convertkit believes that creating emails that convert doesn't have to mean hours of design time. They have shown that plain-text emails actually perform better than ones filled with graphics, video and complicated code.
With the exception of eCommerce stores, emails filled with graphics, pictures and photos might look spammy to your subscribers. Design-heavy emails are also more likely to be flagged as spam in your subscribers' mailboxes.
To keep your emails landing in inboxes, Convertkit's email designer helps you create simple emails that can deliver and convert better. Though, it's still possible to customise your brand colours, font and add different images to add a unique touch to your emails
Email automation
Convertkit allows you to easily send broadcasts to all of your lists, or subscribers that match certain conditions, for example, tagged with "interest in eyeliner" or "purchased eyeliner". With a simple set-up, you can create broadcasts to your list to keep them engaged and build your relationship.
The email automation tool inside Convertkit is a visual builder that lets you easily build automation so you can send well-timed, targeted content to your audience even in your sleep.
You can spend a few hours setting up your email sequence and whenever someone opts into your email funnel, Convertkit will help you send out this email sequence you have created, to help you automatically build relationships with your audience.
You can easily set up rules to send out emails immediately, a few days after, on certain days, not on weekends and a lot more.
Having email automation can be a significant help towards building relationships with your audience, since when they first opt into your email list they are likely to be most curious as to what you have to offer.
You can also add personalisation in your emails to help your subscribers have a more personalised experience with you.
Subscriber segmentation and tagging
By segmenting and tagging your audience, you can make sure to speak to the right audience with the right message, and help you better serve your audience.
Convertkit makes it easy for you to send target messages to the right audience by allowing you to add tags on certain actions, for example clicking a link or visiting a page. If your audience opts into your email list for a lead magnet about a certain topic, you can tag them accordingly, so you know they need to have a problem in that area solved.
With the use of tags, you can also make sure to remove a certain subscriber from a sales sequence once they have purchased the product, so they aren't bombarded with emails about a product of yours they have already purchased.
It's easy to edit an email sequence, just go into the sequence and edit any email, tag, action. All of this can be done without opening multiple tabs.
Integrations
Convertkit integrates with all kinds of platforms and software. One of my favourite platforms is Podia, so I can't be happier that Convertkit and Podia link directly together as aren't any glitches.
Apart from Podia, Convertkit also integrates with;
Ecommerce platforms such as Gumroad, SendOwl and Shopify;
Course creation platforms such as Teachable and Thinkific;
Quiz platform such as Interact;
and more than 70+ integration partners.
Support
Convertkit provides amazing support. I have reached out to their support team multiple times to ask questions from simple questions regarding set-up, to more complicated and technical questions and they have been very helpful everytime.
Besides that, Convertkit also offers weekly live training, on-demand workshops and technical tutorials along with more bonus materials to help you with your email marketing efforts.
New updates!
Free plan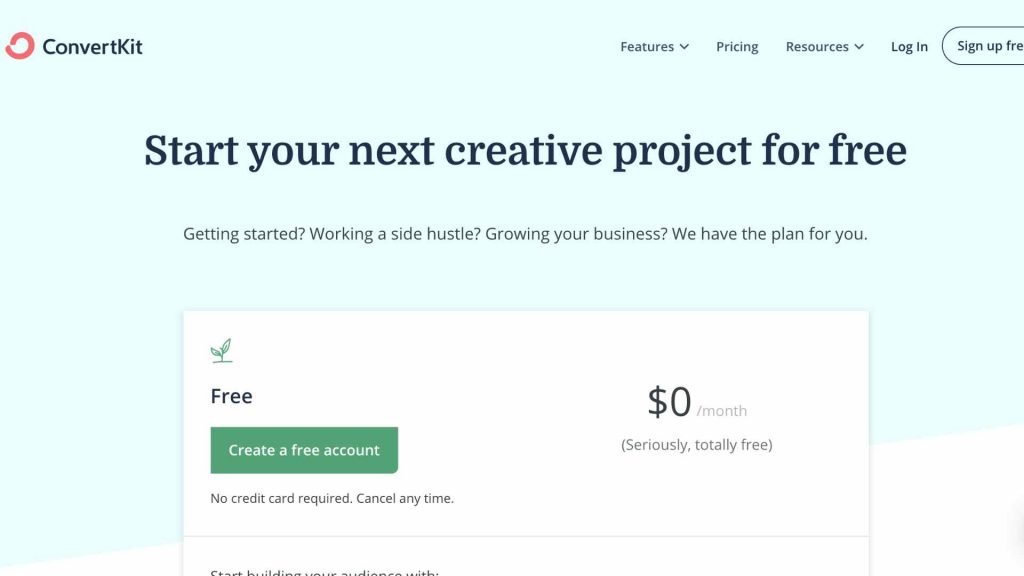 Convertkit has always had their free trial but not a free plan, but that has changed! Convertkit now has a free plan that allows you to use limited functions for up to 1,000 subscribers.
You won't be able to set up any automations with the free plan, but you can still use all of their other features, including landing page builder, form builder, broadcasts, tagging and others.
This is a big game changer since Convertkit is difficult to afford for smaller businesses, but now with the free plan, it has never been easier to have one foot in the door to test the waters with the Convertkit platform.
Ecommerce tool
Convertkit has also just released a new ecommerce tool. Although it is still in Beta, I had a sneak peak and got to use it for one of my businesses and have loved it.
The Convertkit ecommerce tool allows you to sell digital products, all through the platform. You can sell products such as ebooks, courses, PDFs, newsletter subscriptions, documentaries, albums, presets and more.
Instead of bringing your audience into a shopping cart or another ecommerce plaguing, you can now allow your audience to pay directly through Convertkit's landing page.
Once your audience finishes with the purchase, the product will then immediately get sent to their mailboxes, using Convertkit's function. If you don't want to spend more money investing into another ecommerce tool, you can do everything directly through the Convertkit platform. Isn't that amazing?
ConvertKit Pros
Tagging and Segmenting is Easy and Simple
Templates for Landing Pages are Beautiful, Customizable, and You Don't Need Your Own Website to Host Them
Automation Funnels Are Easy to Implement
A/B Testing Headlines
All Features Included in Paid Plan (Regardless of Subscriber Count)
Great Support (on Paid Plan)
Free Convertkit Plan is Very Valuable for Beginners Looking to Get Started
Ecommerce function
ConvertKit Cons
You can't make complicated designs within ConvertKit
Convertkit allows you to add images, gifs, link to videos and add basic design elements into your email but you wouldn't be able to create design-heavy emails, unless you use custom HTML. The simple editor is like a "signature" of ConvertKit and they believe simple emails drive more engagement and sales.
However, if you are an ecommerce stores that focuses on showcasing catalogues of your products through email, then you might want to look at another option, such as GetResponse or ActiveCampaign.
Unsubscribe
If someone clicks on unsubscribe, they unsubscribe from everything, unless you set up some custom unsubscribed links. With other email autoresponders like MailChimp and AWeber, where everything is list-based, if someone's going through a sales sequence and they unsubscribe from that sales list, the person's still going to be on your broadcast list.
With ConvertKit, everyone is in one big list. So if they clicked on unsubscribe anywhere, unless you've set up custom unsubscribe links, they're going to be unsubscribed to you across the board.
This is good in my opinion but might be bad in other people's opinion. If I were to subscribe from someone, chances are I don't want to hear from them. Period. I have been annoyed with people that still send me emails after I have unsubscribed multiple times.
In Convertkit, you can create a tag specifically for people that want to unsubscribe from that particular sequence. You can personalise it and say, for example "If you don't want to hear about __ again, click here". This allows them to click the link and opt out of the sequence without subscribing from the entire funnel, which I think is more personal and allows more options.
ConvertKit Pricing
With the new release of the free plan, it definitely helps to save some money for people that are just starting out. However, the free plan doesn't include functionalities like sequences and automation, which are important functions to have.
From zero to a thousand subscribers, you're gonna be paying about $29 a month. Compared to tools like MailChimp, MailerLite, GetResponse, it's more expensive. However, when you compare it to the higher end solutions like Drip and InfusionSoft, then ConvertKit is relatively good, in terms of the pricing.
Conclusion
Building your email list is an important part of your online business and choosing the right email autoresponder can help you maximise your email marketing efforts. Convertkit is an amazing platform that is used by many online entrepreneurs and creators. Try it out for yourself and see how it can help you best serve your target audience.
If you're not sure about Convertkit, you can also check out MailerLite. MailerLite has similar functions as Convertkit and it is more affordable. The functions are limited but it is an alternative option if ConvertKit is out of your price range.