You know the timer that ticks down, urging you to make a purchase? Have you ever tried to make a purchase after the timer hits zero and find that you no longer have access to that page? A sense of urgency is a great way to help potential customers convert and get over the fence.
Urgency can be for a limited time offer, limited availability, things like that drive the need to make the decision now.
To help with creating the urgency and getting your audience to convert, Deadline Funnel's a software tool built just to address that key point and help out other ecommerce entrepreneurs in boosting conversions.
This Deadline Funnel review will go over what Deadline Funnel is, what features make up Deadline Funnel, its pros and cons, and break down their pricing packages to help you make sure if Deadline Funnel is the right tool for you.
Deadline Funnel Review
What is Deadline Funnel?
Deadline Funnel is a software tool that essentially puts a countdown timer during a stage in a sales funnel that's meant to encourage conversions and brings a sense of urgency so as to make the purchase now while it's still available.
It helps make limited-time offers more compelling with a deadline attached and especially so since Deadline Funnel makes countdowns that do not reset when the customer refreshes the page.
To that end, Deadline Funnel's a software tool that creates an actual personalised countdown that isn't a sham, and is compatible with a myriad of email service, payment and landing pages out there.
Deadline Funnel Features
Campaigns
Deadline Funnel has preset blueprints and funnels to help you set up your deadline sequences and provides you the exact steps you'll need on how to personalise it to tailor to your needs. This includes for email and special offers, automated webinars, and fixed-date campaigns such as product launches and holiday promos
People
You can personalise your countdowns built with Deadline Funnel by having them be added in email and landing pages unique to those who are in your email lists. In practice this could appear through a floating bar at the top or bottom of your landing pages unique to each individual in your email lists and to them alone.
Integrations
Deadline Funnel has integrations with a good number of website and email apps (such as MailChimp, HubSpot, ActiveCampaign, ConvertKit) that are common in ecommerce businesses. Most notably, they have integration with Shopify (although it's currently in beta) that is available in Pro plans or higher.
Personalisation
You can customise these countdown timers in terms of their colour, adding a logo, headshot or an avatar over the floating bar or even through custom presets that can be reused in other campaigns.
Reporting
For each campaign, Deadline Funnel lets you track the subscriber and revenue numbers. In addition, you can measure the ROI of each of your emails, track where people are at each stage of your funnel and even have the reports be emailed to you automatically for your convenience.
How I use Deadline Funnel?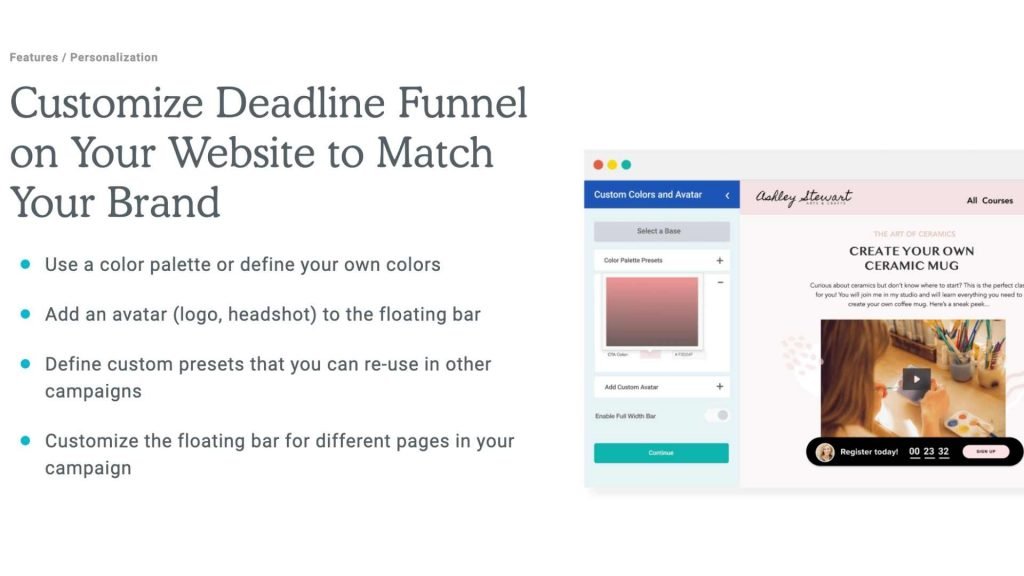 I don't believe in using false scarcity when selling. When the marketer promises that this is an exclusive discount but then you see it again and again, you might feel like you've been lied to. That's why I'm careful when it comes to which countdown timer I use.
If you are running a promotion, a lot of different timers might work. However, when you are running an evergreen sale, you might find that Deadline Funnel is able to give you and your audience the best experience.
I love the flexibility and the way that Deadline Funnel is set up. It's easy to personalise and make sure that when the timer hits zero, your audience will be redirected. Since Deadline Funnel can track your IP address, it can't be tricked.
A lot of my clients and I use Deadline Funnel and it has definitely helped us with our conversions.
Deadline Funnel Pricing
To start, you are given the 'Start' package; at $49/mo you can make 3 campaigns, get 1,000 leads, and receive email and chat support. Upgrading to 'Create' at $99/mo gives you unlimited campaigns, advanced customisation, weekly reports, and custom colour palettes. Upgrading it even more to 'Scale' for $199/mo gives you everything the other packages have and with additional 5 client accounts.
Between each plan the number of leads/months you can get grows tenfold; from 1,000, to 10,000 and to 100,000 for the Start, Create and Scale packages respectively.
You can give yourself cheaper options if you were to pay annually instead of monthly by 20%.
Deadline Funnel Pros
Can function with just about anything including email integration, websites, shopping cart services, and so on (unlike other alternatives, it is not limited to just simply WordPress)
The predefined blueprints and campaigns provided by Deadline Funnel means you can get going quickly without having to design the system from scratch; simply use the premade template that fits with your sales funnel and start from there
Its tracking functionality means that your countdown timers cannot be cheated out by customers resetting or closing the tab and reopening since it follows through the customers' personal accounts, device and IP*
Deadline Funnel Cons
Does not have a beginner-friendly user interface; implementing Deadline Funnel's premade blueprints into your specific funnel or to tailor it for your needs can be confusing at times
Relatively pricey; if you're not convinced of the price and find other alternatives to be at a more favourable price with similar features and results, Deadline Funnel won't convince you otherwise since its pricing is steep in comparison to its competitors
Conclusion
Although Deadline Funnel might be pricer than other options, Deadline Funnel does accomplish what it says on the tin. It helps to make unique and personal countdown that does not go away when you refresh (deadlines that aren't fake) at stages of your funnel and helps boost conversions. It's compatible with most landing pages and funnels, integratable with a good number of tools and has decent customisation. And for that matter, Deadline Funnel is great at what it needs to do.