Many design tools like Canva, Picmonkey or Stencil have made it easier than ever before for non-designers to create beautiful images and graphics. However, to stand out from the crowd to create graphics that truly reflect your brand doesn't only mean editing the templates. I came across this design course and now through this Designing with Typography review, I want to let you in on whether or not you should take this course by Kimi Kinsey to bring your design game to another level.
A quick disclaimer, I genuinely joined this course and now I want to share an honest review about the Designing with Typography with you. If you have any questions about this course or any other similar courses, feel free to leave a comment down below.
Designing with Typography Review
You know all those gorgeous designs you see on Instagram, Pinterest or different websites? The ones that make you stop and wonder exactly how they managed to create these gorgeous looking graphics? If you want to up your typography game, then you will need to hear more about this typography course.
Typography is the art and technique of arranging type to make written language legible, readable, and appealing when displayed. Typography is an important part of your business, it could make or break your online marketing efforts.
Through this typography course, you will learn how your choice in typography affects your graphics and business as a whole and how to create polished graphics that attract customers and promote sales.
Is Designing with Typography worth it?
You'll learn how your font selections, pairings, and general typographical choices affect your brand voice and ultimately what your graphics are saying to your audience.
This course has information that can be applied no matter what design program you're comfortable using, but also offers some software specific information for people using Adobe programs.
You're going to learn how to make eye-catching graphics that carry your brand message, attract your audience, and convert into sales. From the basics, the different elements to the execution, you will be able to master typography even if you have no design background.
Designing with Typography Pros
I honestly didn't even think about typography (I actually didn't know exactly what it was when I first heard about it), when I was starting out with my online business. I had learnt through other design courses and had managed to create some designs here and there by myself.
However, I cannot even look at my old designs without cringing, now that I have taken this course. I thought my designs were good but now, I have a new set of eyes. I can truly understand exactly what is wrong with my designs, what I need to do to improve them and exactly how to optimise my designs.
Designing with Typography truly walks you through the importance of typography, the different elements of typography you need to know to understand exactly how to optimise your designs and a lot more.
My biggest takeaways from Designing with Typography
Just to give you another sneak peek into this blogging course, here are some of my biggest takeaways and my aha moments when I was going through the course.
The different types of fonts and the message that those fonts convey to the readers
Understand exactly what people think of my brand when they see the font that I have chosen
Understand how to properly align my text, with the use of contrast. Spoiler alert, the contrast doesn't just mean with the use of colours, but a lot more than that!
You get the font pairings Cheat Sheet in this course and trust me, it truly changed my use of fonts
Cons- The things I wished Designing with Typography has
I love everything Designing with Typography has and it truly lets you in on all the different things you need to know to give your audience the best first impression. I can't really fault this course. The only thing I will point out is I wish there is more information on the use of colours. It doesn't exactly fall within typography and there is already one lesson on the use colours, but having a few more examples could be helpful.
Is Designing with Typography right for you?
Who is Designing with Typography for?
If you are a blogger or an online business owner and hopes to incorporate affiliate marketing in your online presence
If you have not seen any results no matter how many affiliate links you have put out there
If you are actively applying to affiliate networks and programs but you keep getting rejected
Who is Designing with Typography Not for?
If you are not planning to use affiliate marketing in your online business
If you haven't started your website or blog yet, then you might want to check out this blog all about how to get started and my favourite course, walking you through everything you need to know to get started with blogging
If you are already making regular income with affiliate marketing through your online presence
Who is Kimi Kinsey?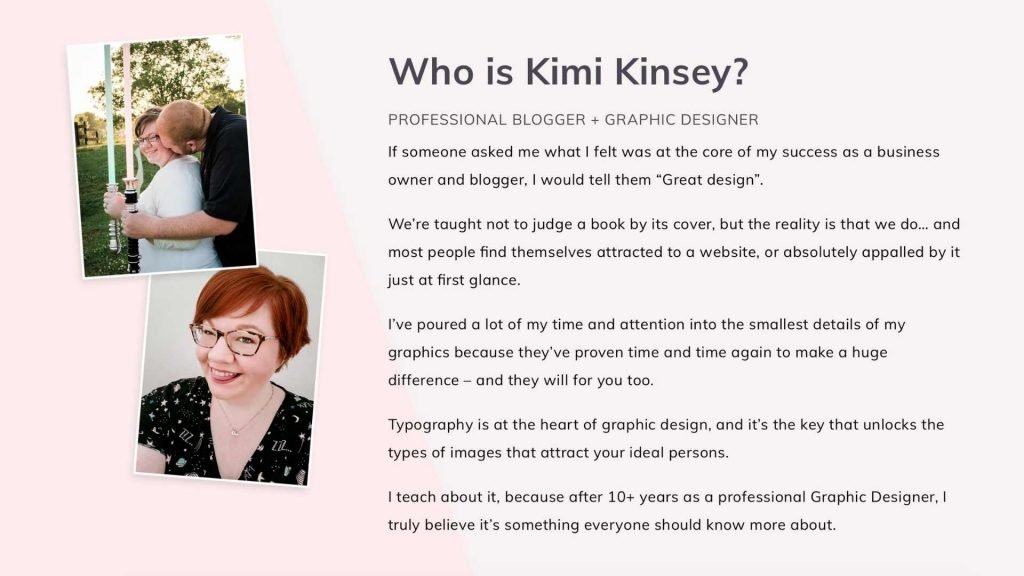 Kimi is the founder of The Blog Dept.®. She helps entrepreneur hopefuls find their path, make quick moves, and grow a profitable online business.
Kimi has helped over 13,500+ students and customers since 2014 and she helps entrepreneurs get "unstuck" in their businesses.
I enjoy learning from Kimi a lot because she gives a lot of examples in all of her courses and knowledge. Even as a beginner or someone with no design background, you can follow along and have a lot of aha moments. Her designs and presentations are so beautiful and I get weirdly calm listening to her audio lessons and going through her website.
What's included in Designing with Typography?
These are the main modules and things you will get inside of Designing with Typography.
The basics
Elements of typography including:
Typeface vs font
Alignment
Contrast
Colour
Hierarchy
Consistency
White Space
Using Typography
Bonus Course goodies
Designing with Typography Pricing
List by Number costs $197.
Conclusion
Designing with Typography might not be the first course in your mind when embarking on your online business journey. You might be focusing on starting your website and making money online. However, mastering typography is very important in helping you stand out and make your audience trust you, through your designs and the way you make your audience feel. 
I truly believe the value in taking this course but if you're not ready to take the leap yet, you can check out all the free resources that Kimi Kinsey has for you here!