Are you an entrepreneur thinking about starting your business but struggling with creating a cool logo? Or are you spending way too much time creating videos every time and looking for a way to save time? In any case, Design.ai might be the right tool for you as it can help you to design almost all kinds of products that you can think of (even speech :).
Designs.ai Review
What is Designs.ai?
Designs.ai is an online platform that makes design accessible to everyone. You don't need to hold an art major to be able to design your product or logo, or anything you wish. Design.ai does not only help you with visual design such as images and videos, but its service also includes audio design. As the name suggests, the tool uses AI technology to help you make instant designs possible.
Designs.ai Features
Logomaker
Once you put in your brand information, Designs.ai will analyze it and generate thousands of options for you. For example, it will suggest what kind of font, colour, or icon you should use. You can also create a full brand identity package with it; this package will explain the design idea behind their recommended designs such as different choices of colours and possible variations. If you want to try out different designs for your product, Designs.ai will show you tons of options and alternatives. You can save your logo in different formats including PNG, JPEG, SVG, and PDF. In the case you have an idea and would like to make changes of their design, you can use the logo editor to save and share your work. You can directly use these modules on all kinds of social media channels.
Videomaker
Do you know you can convert your text into video? I didn't know either until I discovered this tool. Based upon the keyword you give, Designs.ai will provide you with appropriate content suggestions. You can select the industry that the video is for, the mood, the language, and the kind of voice (e.g., male vs. female, US English vs. UK English) in the video. Then, you can just edit the automated video with their video editor to make changes as you like. You can also edit the video after you download it, which makes editing easy and flexible. This feature really saves so much time for entrepreneurs who need to create hundreds of thousands of videos all the time for their business.
Designmaker
It doesn't matter if you would like to design your online ads, flyers, graphics, or invitations, you can come up with everything with Design.ai within a very short amount of time. If you want to design an ad for your social media channels, all you need to do is to enter the details about the product and choose a colour theme (they have many gorgeous combinations of colours). Then, you will receive hundreds of suggestions of templates that you can use. You can make necessary editing and resize it. It is a time saver because Design.ai can instantly resize all your designs for any social media or marketing channel.
Speechmaker
Sometimes you may want your audiences to hear human voice so that they feel they are closer and more connected. Design.ai will help you to convert text into speech. You don't have to be a professional broadcaster to record your speech because Design.ai will automatically adjust tone and pitch by analyzing your script. It is also applicable when you have a global audience because Design.ai features different languages and accents.
Designs.ai Pricing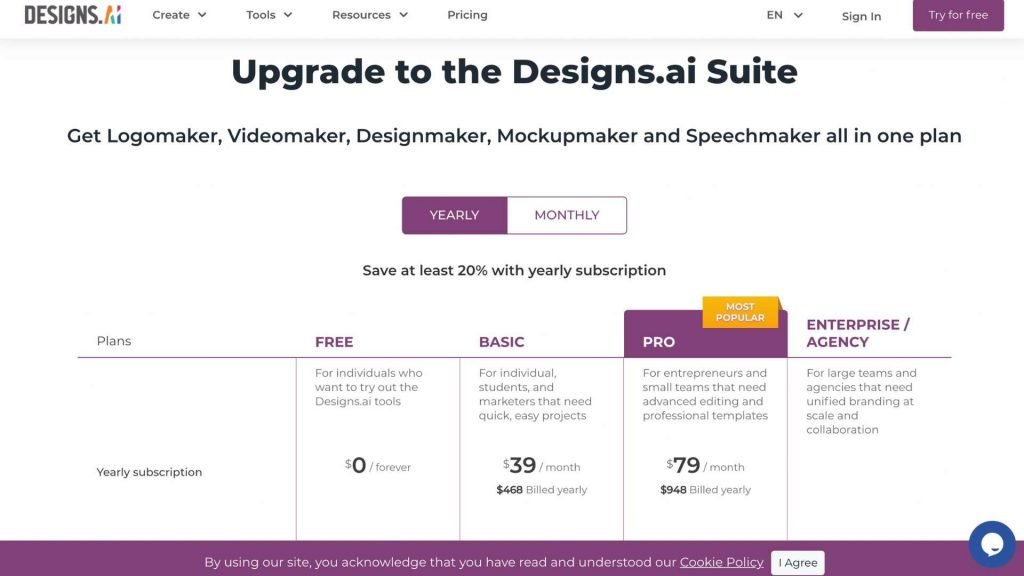 Designs.ai have four featured plans: free, basic, pro, enterprise/agency. The free plan does not provide you much generation but at least you can try out their tools such as colour matcher or their calendar (which is a free collection of all kinds of holidays). This plan is obviously free and gives you a good hint at how Designs.ai can be a useful tool for you. In the case you are convinced of their free tools, consider updating it to the basic plan.
You can do an unlimited number of projects with the tool but you won't be able to get full branding or social media kits, for example. I would suggest entrepreneurs who need more professional looking templates and editing suggestions to go for the pro plan. You can share the plan with up to 5 members and you can unlock features such as AI text-to-speech voice-overs in 20 languages. If you have a large team, then of course the enterprise plan is your go-to.
You have two billing options with Design.ai, meaning that you can choose to bill either yearly or monthly. Of course, the yearly subscription will save you money (at least 20%). The basic plan costs $49 per month ($39 if billed yearly), the pro plan is $99 per month ($79 if billed yearly), and Design.ai will give you a special offer deciding on your specific case if you want the enterprise plan.
Designs.ai Pros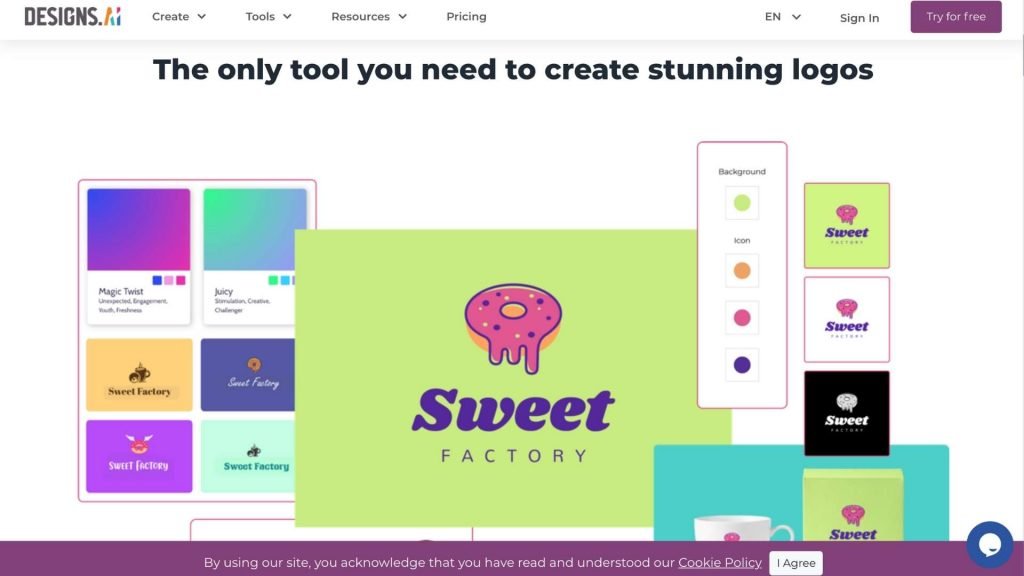 sample tutorials to help you get started
intuitive and easy to use
free plan available
provides you with lots of professional suggestions and designs; can pretty much act as your designer
Designs.ai Cons
a bit pricy in comparison to other tools
sometimes it loads slowly and you might need to refresh it
Conclusion
Design.ai might not be the cheapest option in the market but it will actually save you lots of time by generating lots of automated designs, especially if your business requires you to create many posts or ads all the time. You can always give it a try and see if you like it.