Choosing an eCommerce platform to sell your digital products or physical products can be such a pain. There are countless options for you and with all the different features to consider, it can be tough to figure out exactly which to use. Don't worry, we are here to give you an honest and easy-to-digest review. In this Gumroad review, check out what is Gumroad, the features, pros and cons and pricing, to help you figure out if Gumroad is right for you.
What is Gumroad?
Gumroad is for artists and creators including writers, designers, software developers, musicians, educators and filmmakers.
Gumroad is an online platform that helps creators make sales directly to consumers.
Creators such as authors, comedians, designers, filmmakers, musicians, and software developers use Gumroad to sell products directly to consumers; mostly digital content like albums, comics, ebooks, films, games, music, or tutorials. Gumroad is built as a plug-and-play product that offers payment processing, file hosting and delivery, marketing and communications tools, and consumption experiences for a diverse array of verticals
Gumroad Features
Landing Page
Make it your own: Personalize your landing page to your heart's content. Change some colors around or use CSS to style anything you wish — it's up to you.
Embed your follow form: Gumroad makes it easy to include our follow form on an existing blog or website. All you have to do is copy and paste a few lines of code onto your website.
Build your audience with Gumroad
With Gumroad, you can easily import your existing email list and export your followers and customers at any time. This is very important to help you get on or off to another email autoresponder.
With posts and workflows, you can easily deliver content and engage with your audience.
Gain access to powerful data. Discover what's working for you and what could be working better.
Along with all of these features, Gumroad has a 30-day audience building challenge, and a 10-day product launch program. They can help you figure out how to grow and scale your online store.
Start selling your digital products
You can offer discount codes on your products with full flexibility, both as a percentage or fixed amount off.
Gumroad has a powerful pay-as-you-want feature to allow your audience to pay what they wish for your product.
One feature Gumroad has that similar eCommerce platforms don't is the ability to generate licence keys. If you are selling a software, Gumroad just might be the right platform for you!
Gumroad supports different currencies to help you increase your conversions by selling in the currency your audience is used to.
Gumroad supports various formats so you can allow your audience to pick between a PDF, ePub, or Mobi version of your book.
On top of all of these features, you can pick your own release date, allow your customers to have rentals along with features to avoid your products being shared by turning off downloads for your product, or have Gumroad stamp a PDF you're selling for each customer.
Selling memberships through Gumroad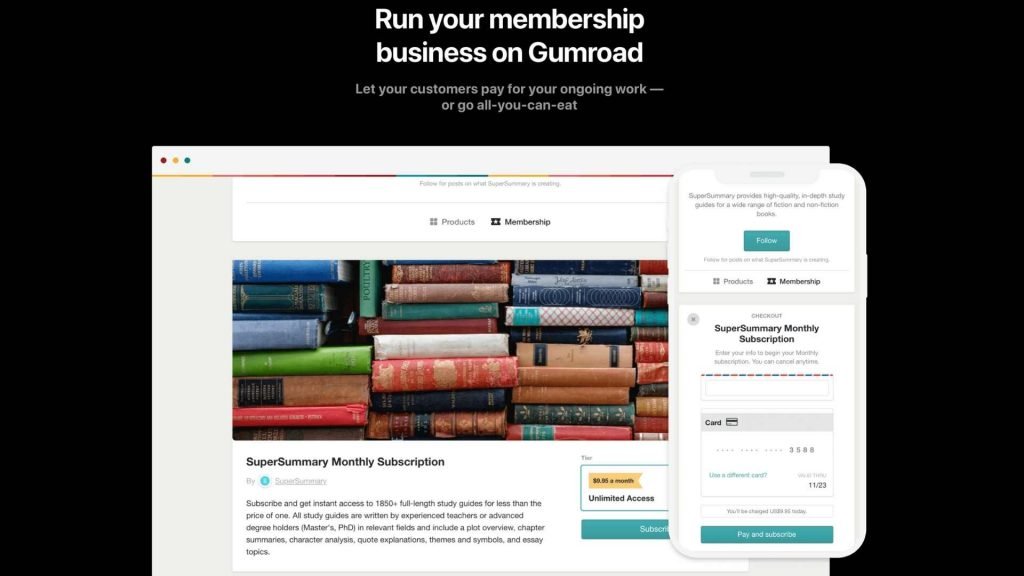 Besides selling digital products, you can run your membership business on Gumroad.
You can set up subscription payment options, allowing your customers to pay monthly, quarterly, biannually, or yearly.
As mentioned before, Gumroad can assign license keys to the software that you sell. You can combine subscriptions with license keys to easily sell your software to your users.
Gumroad manages everything and allows your customers to have access to a library of content for as long as they are subscribed.
Selling physical products through Gumroad
While most other ecommerce platforms might focus mainly on digital products, Gumroad has a wide range of features to help you sell your physical products all through the store.
You can edit the variants for your products and add as many options as you'd like.You can also add shipping charges to your products and manage the shipping with tracking numbers to keep your customers up to date. You have the ability to control and manage the product sales by country and verify addresses to avoid mistakes.
These are great features to help you streamline the process of selling physical products.
Gumroad Discover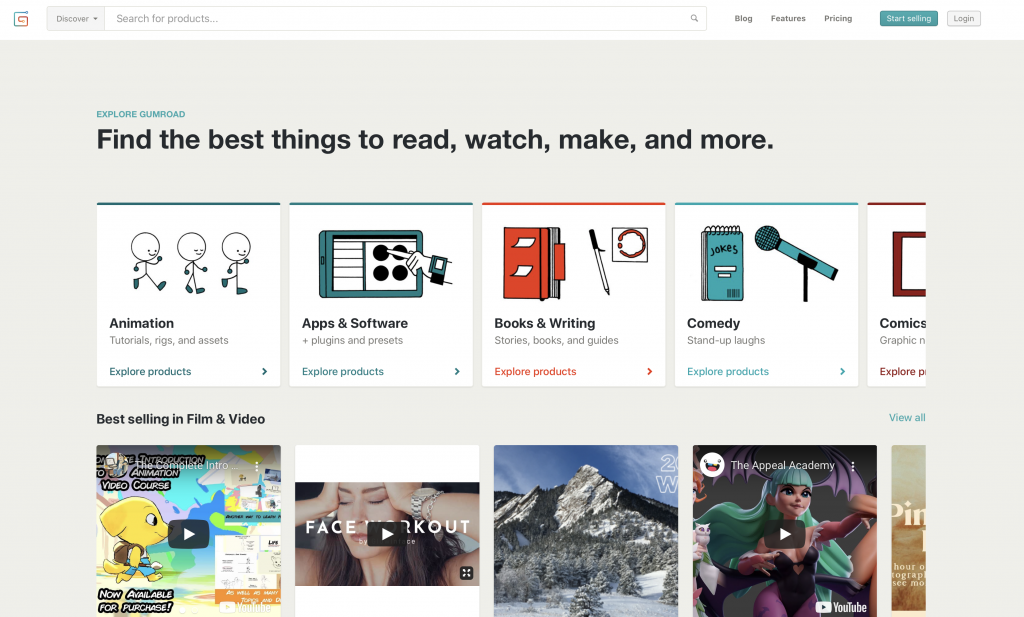 The one feature that Gumroad has that truly makes it stand out from the crowd is the Gumroad Discover.
You simply have to enable Discover and your products become searchable at gumroad.com/discover. This exposes your products to anyone and everyone that is browsing on this Gumroad Marketplace. If someone is looking for a specific solution and search for that, your product just might pop up in front of them.
Discover also works by recommending your products to buyers of related work after they've made a sale. Recommended products will show up on receipts and download pages.
To be completely transparent, products purchased by new customers via Discover— on receipts, download pages, and at gumroad.com/discover— are subject to an additional 10% fee, for recommending your products and making that sale for you.
Gumroad Pricing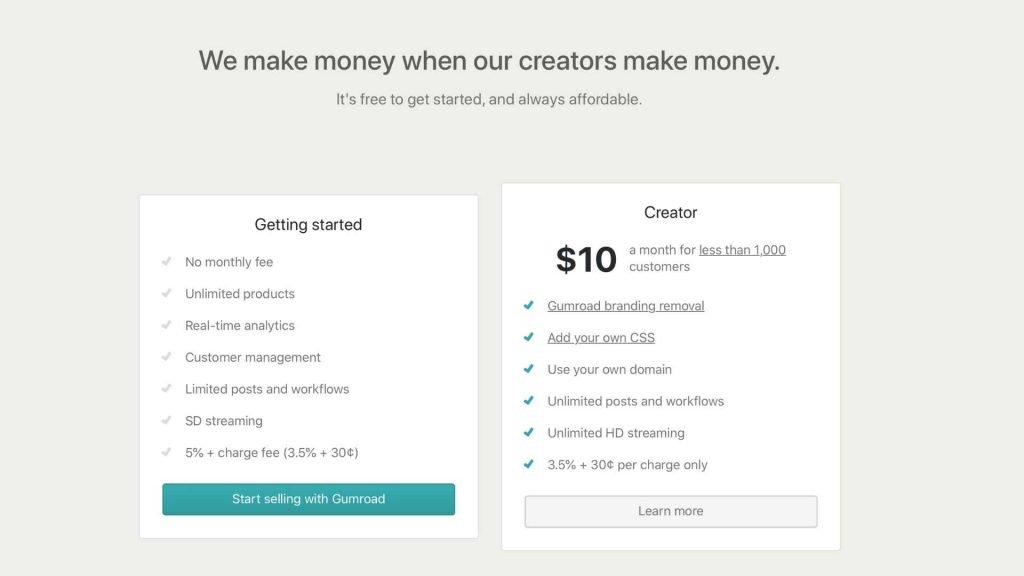 Getting started- Free with transaction fee
Unlimited products
Real-time analytics
Customer management
Limited posts and workflows
SD streaming
Transaction fee: 8.5% + $0.30 (USD) per sale for credit cards and 6% processing fee + PayPal transaction fee for PayPal
Creator- $10 a month for less than 1,000 customers
Gumroad branding removal
Add your own CSS
Use your domain
Unlimited posts and workflows
Unlimited HD streaming
Transaction fee: 3.5% + $0.30 (USD) per sale and 1% processing fee + PayPal transaction fee for PayPal
Gumroad Pros
Gumroad Discover
Easy to navigate interface
The option of a Free plan and a low-cost paid plan
Built-in membership platform
Affiliate
Accepts credit cards & PayPal
Discount codes available
Able to generate license keys
Features to help you sell your physical products
The option to integrate Gumroad on your website
Gumroad Cons
Doesn't have the options for bump offers, upsells, or downsells
Only email support
The transaction fees might be high in comparison to other ecommerce platforms, although the monthly subscription is comparably lower
Conclusion
Gumroad is a great eCommerce platform, especially if you want to use their Discover feature to help show your products in front of potential customers. It also has a wide range of functions that other eCommerce platforms don't necessarily have, such as the ability to generate license keys and all the features to help you sell your physical products.