Let me be the first one to say, being consistent is hard. It's so easy to just put off uploading a social media post, replying to that email and uploading that content piece. Sooner than you realise, it has been a week since you have showed up online.
If you are nodding along with me, don't worry, you are not alone. Let's take a look at exactly how to be consistent as an entrepreneur and 7 key tips that can help you make sure not to scramble at the last minute every again.
How Does Consistency Affect You
You want to be more productive, right? Get more stuff done. Make more progress and drive your business forward. It's the goal in some way, shape, or form for all of us. And most of us think we have to make some big leaps to get there. But here's the big secret.
It doesn't have to be that way. If you focus on consistency and do something to make progress every single day, you'll greatly increase your chances of success.
Think about the story of the turtle and the hare. There's a lot of truth in that old story and it applies to all areas of your life, including your business.
Yes, you can go all out and get a lot of work done all at once. There's a time and place for that. For example, you may put long and hard hours in for a week or two to prepare for a new product launch, or when you're first setting up your website. It shouldn't be your default strategy. Why? Because you'll burn out.
Burnout is a serious problem. Most entrepreneurs and small business owners have experienced it and it can take a long time to get over it. 
A much better strategy – aside from those brief periods of hustle – is consistency. If you make an effort to get something done every single day, you'll make a lot of progress in the long run. Over the course of a year, you will go further and your business will grow more than if you overdo it and then go into a slump because you have no energy for anything else.
Remember, slow and steady wins the race. It's much easier to motivate yourself to get something done that takes fifteen minutes and to do it every day, than something that takes you hours. It's much easier to justify not doing something that's hard or takes a long time.
Instead, keep it easy, make it fun, and get into the habit of doing it each and every day. In the long run, you'll get a lot more done if you put in half an hour per day, six days a week, than working for two hours once or twice a week.
Habit is one way how consistency can help you grow your business. But there's something else that will work in your favor when you start to put in a small bit of effort every day. You will start to build momentum that will carry you much further than you would have gotten otherwise.
I encourage you to shift your mindset towards a focus on consistency that will allow you to continue growing, expanding, and most importantly moving the needle in the right direction.
Keep Readers And Search Engines Happy By Publishing Content Consistently
One area where consistency will start to pay off quickly is when it comes to your website or blog. Putting out fresh content regularly is great for both your readers and search engines. Both will reward you for your hard work in their own ways. Let's take a look.
We all want Google to send us as many new potential customers as possible, right? They in turn want to send the freshest and most up-to-date information to their customers.
Who are their customers? People who search something via their search engine, of course. And it's the search engine company's job to ensure they deliver the best possible result.
What does that have to do with you and consistency? Great question!
When you update your website regularly, you're showing the search engines that you are up to date and relevant. This isn't an article or blog post on a website that's been sitting there for ten years and could be outdated. This is something you're actively working on and the search engines will reward you by giving you higher priority over dormant sites.
Of course there are many other factors that go into ranking, but the easiest thing you can do to improve your SEO is to create content consistently.
Just as important is nourishing the relationship you have with these readers. Think back on the last time you've landed on a new blog or website through a Google search. Assuming the content was up to snuff, you appreciated the information, but you were probably a long way off from considering buying from this website, or even giving them your email address. 
But if you were curious enough to browse around, you may have become interested enough to bookmark the site, or at the very least have it on your radar when you come across it again later. By the way, making sure that happens is becoming easier with targeted advertising like FB ads for example. But that's outside the scope of this post.
When you update your website regularly, you're training your website visitors to come back for more. They'll get in the habit of visiting and reading often. Of course that's not going to happen with every single person who comes across your site, and that's okay.
You want your target audience, the people who are really interested in what you have to share. You'll get their attention by publishing regularly and as they read and engage with you on your blog, they'll move closer to becoming a subscriber and then a customer.
Of course, as an added bonus, all this content you're adding regularly is out there attracting new people through search engines, social media, and other people sharing links to your valuable content. That's why you want to publish consistently to continue to grow. 
Why You Need To Email Your List Regularly
I have a question for you. How often are you emailing your list? Do you sit down once a month to create a newsletter for your existing subscribers? Or are you waiting to reach a certain number of subscribers before you even start to mail? If you are waiting, I think you're making a big mistake.
Email lists only work when you use them to get in touch with your subscribers regularly. If you wait too long, they'll forget about you. When you're no longer relevant or important to them, they'll unsubscribe, or worse, mark your emails as spam.
Yes, even if it is something they opted in to receive. People forget. It's your job to stay on top of mind. And you do that by emailing them regularly.
Emailing once a week is a good start for most people. If you're not crafting email messages for your readers regularly right now, start there.
Send out a message and let your readers know what to expect. Good email lists are all about setting and meeting expectations. Tell them that you're excited to kick things off and that you'll have something fun and valuable stuff to share with them each week.
If possible, set a date and time and tell them to keep an eye out for your emails. This will do wonders for your open rates. For example, you could tell them to look for a new message from you every Wednesday morning. Then deliver on that promise.
Meeting expectations builds trust. Not only are your subscribers more likely to stick around, open, and read your emails, they'll also trust you when you make an offer or a recommendation.
That means you'll start to see more clicks and sales on your affiliate links, and of course higher conversions on your own product offers. Build that relationship with your target audience and move people from prospect to customer, and eventually to raving fan by staying in touch regularly via email. 
And here's a little bonus tip.
Ask your readers to share you with others. Every so often invite them to share your opt-in page or even ask them to forward one of your emails to people they know who may be interested in the topic. Keep it light and casual and don't overdo it. You'll be surprised how quickly your subscriber list will grow when you enlist the help of current readers.
To get started, commit to an email schedule. Start weekly and stick to it for a couple of months. Use the email schedule features of your email autoresponder to make sure it happens even if life gets crazy. Don't miss an issue and work on building that reputation of being reliable and consistent and see what happens. I think you'll be hooked.
Struggling With Staying Consistent with Social Media? A Calendar And System Can Help
Do you have a hard time with social media? Either you aren't finding the time to get around to posting regularly and getting discouraged by a lack of results you're getting. You know what I'm talking about.
You aren't getting a lot of new followers on your page on Facebook or Instagram and when you post something, only a small fraction of those people see the post. It can be discouraging and feel like you have to pay to play by buying ads if you want your content to be seen.
Thankfully that's not true. What is true however is that consistency can help you grow your reach on any social media platform. It can help you with Facebook, Twitter, Pinterest, Instagram, and anywhere else where your ideal customers choose to hang out.
This brings up an important point. Before you dive in and invest a lot of time and effort on every single platform, take a look around.
Where are your people hanging out? What media type does your tribe prefer? For example, if you're running a recipe blog, you should be on Pinterest and depending on your particular niche, you may also want a Facebook presence, including a group, and possibly a YouTube channel. Do your research and do your best to determine where you want to be before you get started.
Once you have that figured it, it's time to come up with a posting schedule.
Remember, consistency is key. You're better off doing fewer posts and shares more regularly, than overdoing it and burning out.
Start with a conservative number that you're comfortable with across all platforms and write it down. For example, you may choose to do 5 tweets per week, 10 pins, 3 Facebook posts, one Facebook Live video and a new YouTube video every other week.
Once you have your schedule, it's time to schedule the actual content using a calendar. You can use Google Calendar or an old fashioned paper one. You can also use tools like Asana or Trello.
The key is being able to stay organised and having your social media goals in writing to making sure it gets done and posted regularly.
How far out should you schedule? That's up to you. If you like to plan in big batches every few months, go for it. If you prefer to be more spontaneous, do it once a week. Play around with different time frames and see what works best for you.
When you know what you'll be posting about and have the text and images ready ahead of time, it's quick and easy to keep up with social media.
To save even more time and make social media content more hands off, take a look at some of the scheduling tools available. I like Hootsuite, MeetEdgar, SmarterQueue, and Tailwind (for Pinterest).
Use them to schedule and loop posts that will go out without you having to log into your social media profiles every single day. Instead, you can set aside time once every couple of weeks to do the bulk of your work. Then check in from your phone throughout the week to respond to comments etc.
Getting organized and figuring out a system that works for you can be such a game changer when it comes to being consistent on social media and growing and engaged following. When you have those main posts going out on schedule, you can then pop in and interact & post in real time as and when time allows.
Work On Your Funnel Each Week And Continue To Branch Out
You should already have at least some very basic funnels set up for your online business. To make sure we are all on the same page, let's quickly define what a funnel is when it comes to your business.
Funnel is a way for people to work their way through what you have to offer. This could be going from the content of your blog, to signing up for your email list, receiving a series of emails and getting an offer for one of your products or services.
While that's a great start, it shouldn't be your only funnel. The goal for any business is to continue to find new ways to draw in more potential customers and engage them.
That may mean setting up several new opt-in offers. It may mean sending out a monthly or weekly newsletter. It should always mean creating new products, or making offers for existing things. And of course it could mean presenting affiliate offers.
Funnels are great and they are never done. For starters, things change. Links break, you find better offers, and you learn more about your subject matter and have more or even better information to present to your audience.
That's why it's a good idea to audit your existing funnels from time to time, updating, editing, and fixing them as needed.
It's also a great idea to test and optimise your funnels.
For example, you could split test two different lead magnets and see which one converts better. Test what product you present to your subscribers when. Tweak and test to improve your overall conversions, open crates, and click-through rates. Split test your sales pages.
The sky's the limit when it comes to testing and tracking your funnels. The goal will always be the same – try to do a little better than what you have been doing. Over time, you'll make huge improvements.
In addition to improving your existing funnels, you also want to set aside some time each week to consistently work on expanding and adding new ones. This could mean adding a couple of new autoresponder emails to your first funnel this week. And it could mean creating a new lead magnet next week that attracts a slightly different audience into your circle of influence.
The important part is that you work on your funnels every single week. Consistency here, like in so many other areas of your online business is key. Doing a little bit each week, will help you grow, expand, and improve your funnels.
Set Up A Product Creation Schedule For Yourself And Your Team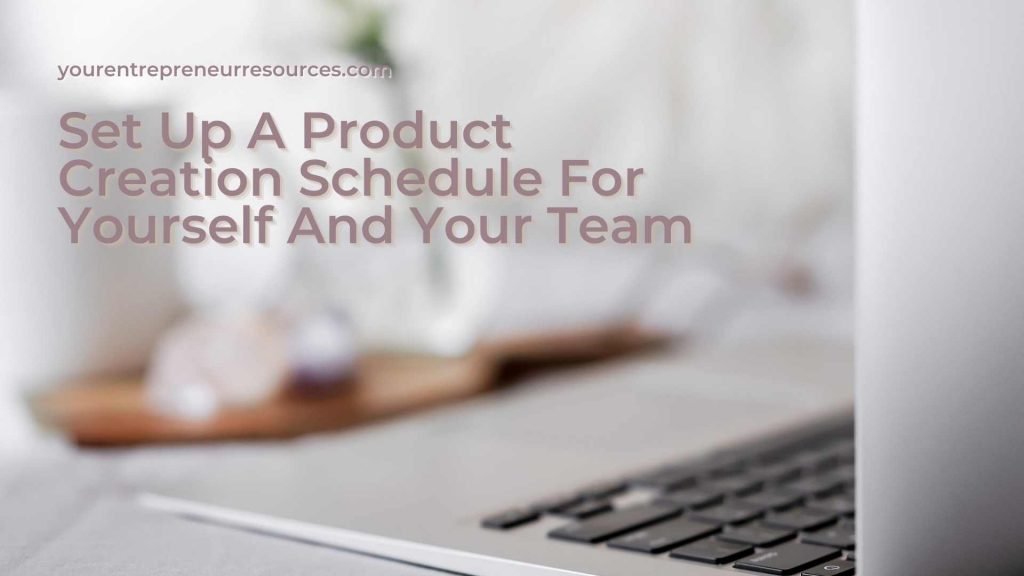 Let's talk about money. More importantly, let's talk about how you profit from your online business.
You can make money online through ads, by making affiliate sales, or by selling your own products. Those products are what we'll be talking about. More specifically, we'll be discussing creating information products consistently.
Why information products? Because you create them once and sell them again and again. No supply line, no storage, no overhead. When you make a sale, it's almost pure profit.
I'm going to let you in on a secret it took me a while to discover when I first started out. It's much easier to sell an existing customer a second product than it is to find a brand new customer. It's even easier to sell them the third, fourth, fifth one. You get the idea.
That's because you've done all the hard work of earning this person's trust already and if you've done your job right, the first thing they purchased from you is already helping them solve their problem.
That's what information products are all about. Solving a problem. To create that next product, look at where your customers are at and think about what they need to do next. What's another problem they will face and how can you help them solve it.
For example, your first product may be an eBook or course on setting up a WordPress site. Next, your customers may need to learn about creating content that attracts the right type of reader. And then they need to learn about traffic, and list building, and effective social media strategies. Each one of these could be a new info product or new content for your paid membership site.
Once you have an idea of what types of products you want to create, it's important to get them out consistently. You want to have a new product out there for your existing customers to buy.
Of course you'll also attract new buyers along the way who will then not only buy the new thing you've come out with, but hopefully also some of the other titles and courses you have out there.
Start with a list of products you want to create. Do your best to estimate how long it will take you to create the product and all the infrastructure that goes along with it like a sales page, a download page, autoresponders and solo emails to promote it, a promotion schedule etc.
Make a list of everything you need to do before you can launch this new product. Then get to work. Chip away at it every day and continue to consistently work towards each of these new product launches, adjusting your timeframe as needed.
In the beginning it will probably be just you working on this product creation. Maybe you're hiring out the graphics. Put that on the schedule and communicate with your graphic designer early to avoid bottlenecks.
As time goes by, you may choose to outsource some of the product creation. Maybe you're hiring an editor to proofread your work. Or a VA to help with the setup, infrastructure and customer service.
Eventually you may even hire some writers to create these products for you. As your team expands, it's even more important to have a schedule for everyone to make sure these new products come out regularly.
Putting It All Together And Developing A Routine That Will Keep You On Track
We've talked about the importance of consistency and how it can help you grow your traffic, your subscribers, your customers, your product catalogue and most importantly your income. Now it's time to bring it all together and create a daily, weekly, and monthly routine that will keep you on track to continue to grow your business.
Any online business can be broken down into three different areas that need your effort and attention. They are traffic, list, and offer. You need visitors to your website. Then you need to convert those visitors into subscribers. Finally, you need to make those subscribers an offer so you can make money. Keep this in mind as you build your routine.
Do something every single day to send more traffic your way. This could be content marketing. It could be social media. It could be tweaking your SEO. Or it could be paid ads.
Start by making a master list of things you can do to get more traffic. Pick things you can quickly do and rotate through one or more of them on a daily basis. Things that take a bit longer should become part of your weekly and monthly routine.
For example, you may choose to learn how to run Facebook ads this month as one of your bigger projects. The most important part is to do things consistently to drive more traffic to your website.
Next, think about what you can do to get more subscribers. Adding an opt-in box to your latest blog post is a quick task that could go on your daily to-do list. Setting up a new opt-in funnel with a fresh lead magnet may make a great weekly project. Writing a book to tap into a new market via Amazon would be more of a project that takes a month or more. Come up with a variety of different things you can try, tweak, and do more to grow your list consistently.
Last but not least, you've got to make an offer. This could be something evergreen like crafting a new autoresponder email for your flagship product. It could be a daily task of running and tweaking ads. Or it could be a free SEO and social media campaign that you work on for a few weeks.
Make a list of what you can do to get your offers in front of fresh eyeballs and get to work. And don't forget to set aside some time each week to work on the next paid product as well.
Keep chipping away and continuing to build and fine-tune your routine. Your consistent efforts will start to pay off and more importantly, they will begin to compound as you get more traffic, grow your list by leaps and bounds, and add more products each new customer may be interested in. Keep at it. Consistency is the key to long-term profit.