Do you know the quizzes that Buzzfeed has? Don't they seem to be so intriguing that you just can't help yourself and want to click on them? Creating quizzes can be a good way to attract your target audience, answering a burning question that they might have, or even helping to give them a customised solution to pain points they might have. Let's take a look at this Interact review, a popular quiz builder platform, and see exactly how to make a BuzzFeed style quiz for your business.
Interact Review
Why use BuzzFeed Style Quizzes?
First of all, let's talk at the hype of using quizzes in your business. There are so many ads out there on the internet right now, on search engines, social media platforms and websites. People no longer think about these ads when they are blindly scrolling through Facebook. Instead, they tend to "block out" these advertisements.
This gives advertisers a headache and pushes them to find a new way to advertise. Interactive marketing has been found to be 23% more effective than traditional, static advertisements according to Inc.com. Interactive advertising could be anything from polls, competitions, calculators, games giveaways and, of course, marketing quizzes.
Quizzes can give a personal touch and allow you to better serve your audience, by directly answering their problems and personalities. You can also better segment your subscriber list with a quiz since you now know what it is that specific audience group needs.
Quizzes, just like Buzzfeed-style quizzes, also tend to get more shares. They encourage you to share your results on Facebook and other social media channels, prompting your followers and friends to take the quiz. It's easier for your quiz to go viral than with a regular post.
What is Interact- the quiz builder?
Now that you know why it's a good idea to add quizzes into your marketing efforts, let's look at what is Interact and how it can help you.
Interact is a tool to help you create online quizzes and generate leads, segment your audience, and drive traffic. Interact was created in 2013, and since then they have worked with 55,000 companies and generated more than 8,000,000 leads. It is trusted and used by big names such as Forbes, Eventbrite, American Red Cross, HelloFresh and Marie Forelo.
Features of Interact
Interact helps you create three types of quizzes that are proven to increase engagement, with personality quizzes, scored quizzes and assessment quizzes. You can easily embed Interact quizzes on your website or share it as a link.
Interact has an intuitive interface. You can use one of the many templates Interact provides to quickly create your quiz. Once your audience takes the quiz and you have captured their information, you can then show them the answer immediately on the screen and also set up your email autoresponder to send them follow-up emails, based on their answers.
Besides lead generation, you can use Interact to engage with your existing audience, get to know your existing audience better, help with market research and add an interactive element to your business and let your audience have some fun.
Here is a breakdown on the features of Interact and what Interact has to offer.
Interact Templates
Interact provides over 800 free quiz templates in over 50 categories for you to use. Some of the categories include animals, beauty, blogging, books, branding, entertainment, entrepreneur, family & parenting, fashion and a lot more.
Customisation
You can easily style your quiz with Interact and customise the colours, logo, font and images. They also have stock images within the quiz builder which you can easily use for your own quizzes.
Besides the design customisation, you can also customise the path that your audience takes depending on their answers and choices. For example, if you were to ask the question "what's your age?" You can then customise the next set of questions, depending on the answer the quiz-taker gives.
You can also add images in your questions to increase engagement and allow your audience to have the option to "select all that apply".
Drag and drop builder
This is what makes the interact builder easy to use. You can use their visual drag and drop builder to see exactly what happens when your audience answers in a certain way and what their next questions will be. If you want to change something, you can also easily do so in the drag and drop builder.
Opt-in form
You can set up a quiz without capturing the information of your audience, although if you want to capture the lead, you should definitely have an opt-in form. Interact claims that the opt-in forms on quizzes often convert quiz takes 50% or even higher than traditional opt-in forms.
The opt-in form shows up after your audience has already answered all the questions. Since they have taken the time to answer the questions, their curiosity has peaked and they are more likely to provide their information.
Interact integration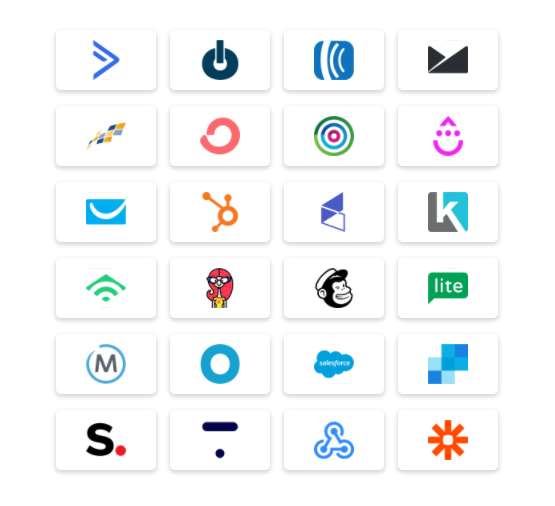 Rather than having to go back and forth between Interact and your email autoresponder, Interact allows you to connect your quiz directly to all the major email autoresponders, including Convertkit, MailerLite, GetResponse and ActiveCampaign.
Through the integration, you can tag and segment your audience into your list all within the Interact quiz builder.
Share the quiz
Interact quizzes work on websites and website builders such as WordPress, Squarespace, Wix, Shopify and Leadpages. It can be embedded within a blog post, on your homepage, as a standalone page and as a popup form on your website. You can also share the quiz using a link that leads to an Interact landing page and use the quiz inside your Facebook ads.
Analytics and tracking
Interact comes with great analytics tools to help you figure out who has taken the quiz, the answers and where do people drop off. You can see the engagement score on each question, so you can pinpoint the problem and fix the issues.
Track conversions
With Interact, you can track the conversions with the built-in Facebook Pixel and Google Analytics integrations so you can send events about the quiz views, quiz stats and leads to Facebook and Google.
Pro's of Interact
A huge number of templates in various categories available
The dashboard is easy to use and intuitive
Quizzes are easy to set up and Implement quickly on your website.
Easily segment your quiz and directly connect to your email service provider.
Personalise your marketing efforts
Increase lead generation and engagement
Advanced branching logic which lets you completely personalise the quiz results based on users' responses.
Built-in image search functionality to quickly customise your quiz
Con's of Interact
I use Interact on my website and I find it takes a little while for the quiz to load. However, it's not significant and the delay is quite normal since the website is fetching data from Interact.
Although there are a lot of options for you to customise your quiz, you wouldn't be able to fully customise it and get away with the default size and structure of the Interact quiz.
Conclusion
Interact is a powerful tool that allows for you to engage your audience and pin down their needs and pain points. Using this form of advertising will generate higher click-through rates than a traditional ad, leading to higher engagement with your website or social media account. The Drag and Drop feature makes using the platform easy, and in my opinion the pros far outweigh the cons. If you haven't considered adding Interact to your bag of tricks, you should.