Growing an email list can be a difficult process. You have to worry about the tech, the tagging and segmentation, the welcome sequences, the sales sequences, the newsletter… the list seems to go on and on and it can be quite overwhelming. But don't worry, let me give you some insight into List by Number by Start a Mom Blog through this List by Number review. Let's take a look at what this course is all about, how it can help you grow your email list, and whether or not it's worth it.
Start a Mom Blog is hosted by Suzi Whitford and she is THE mom blogger. She has grown her blog to over $20,000 per month while taking care of her beautiful family. This course helps you learn how to quickly and easily set up, grow and scale your email marketing efforts.
A quick disclaimer, I genuinely took this course so now I want to share my honest review about List by Number with you. If you find this review helpful and decide to take this course, it would be great if you could use my affiliate link. If you do, I can send you some exclusive bonuses for free 🙂
List by Number review
Is List by Number by Start a Mom Blog worth it?
This course walks you through the basics of email marketing and the step-by-step process to help you build your email sequences. Both Convertkit and Mailerlite are taught in this course, which I really appreciate. It gives you the option to choose which one is right for you and you can follow the detailed tutorials.
If you are confused about how to get started with the different software and not sure how to navigate and optimise your email marketing efforts, then this course is great for you. From creating opt-in forms and landing pages to automating email sequences, sending out broadcasts and a lot more, you will be able to set up your automation by following along with the tutorials in the course.
List by Number Pros
What I loved the most about List by Number:
The email funnels templates that are provided within the course
The detail step-by-step tutorials inside the course which you can easily follow along
The different freebie ideas to get more people opting in to your email list
The ways to monetise your list
It's a bit of a spoiler, but I had no idea how to create the fancy click-up forms I see in other people's websites. Now I do!
Cons- The things I wished List by Number has
If you are already an expert in creating automation and funnels and are looking for something that is more advanced, then this course might not be for you. However, as someone that has already created multiple funnels and automation, it was great to go back to the basics and refresh myself on the ins and outs of email marketing.
Is List by Number right for you?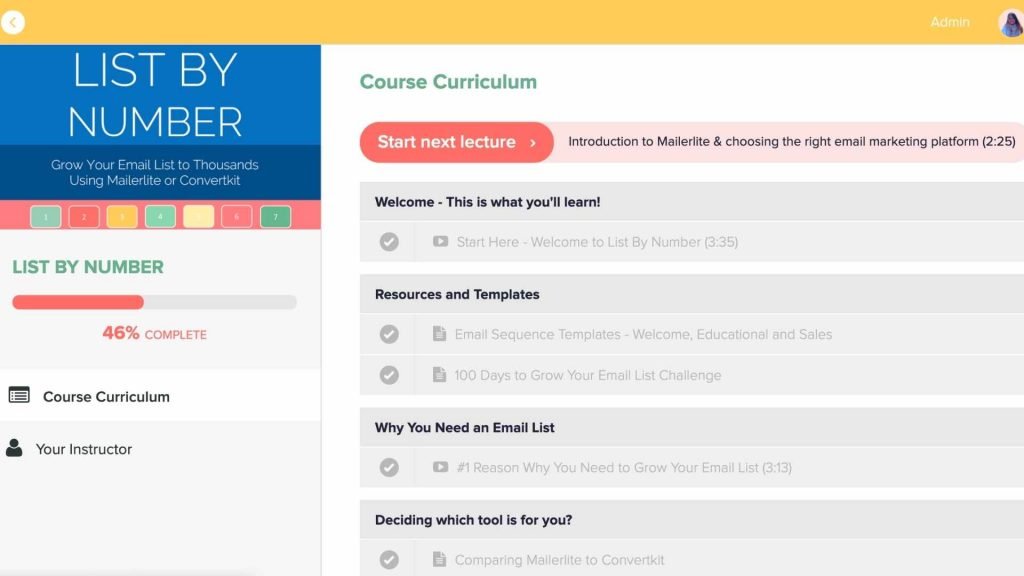 Who is List by Number for
If you are planning to or just starting out with email marketing and want to take your skills to the next level
If you enjoy step-by-step tutorials to help you get your email marketing set up
If you have a good email marketing refresher that might surprise you with features you didn't already know about
Who List by Number NOT for?
If you're already an expert and are looking for a course on advanced email marketing
If you have no interest in using email marketing for your business
Who is Suzy from Start a Mom Blog?
As I've already said, Suzy is THE mompreneur. She launched StartaMomBlog.com on January 18th, three weeks before the birth of her second daughter. She was able to grow her email list to over 1,000 by May, launched her ebook in June, and her course in September, and made $53,000 in her first year.
More than 74,449 Students have taken her courses and she has helped countless moms and bloggers start their blogs.
She is just a cheerful, sweet mentor and I love all of her content, from her blog, Youtube channel and courses. She always provides so much value in her content and she never holds back.
What's included in List by Number?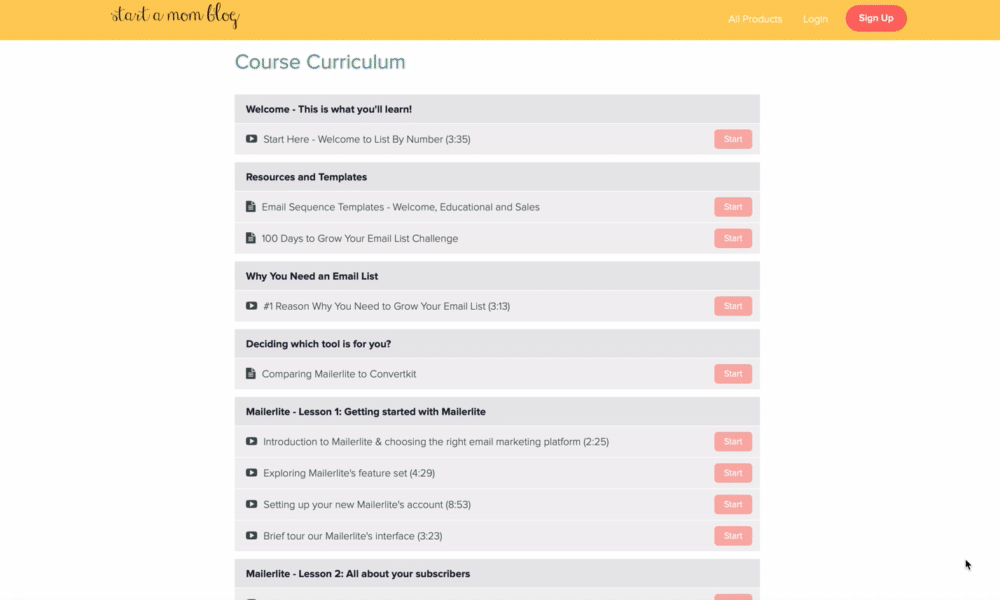 These are the main courses and modules you will get inside of List by Number.
50 Step by Step Video Lectures
Basic & Advanced Steps
Content Upgrades & Opt-In Freebies
Welcome Series & Education Series & Distinct Sales Funnels
Tagging & Segmentation
Automation Systems & Advanced Topics
Everything you need to know about MailerLite and Convertkit to grow your email list
List by Number Pricing
List by Number costs $57.
Conclusion
'List by Number' is a great course for you if you're hoping to up your email marketing game and optimise your freebies, funnels and automation. Suzy does an amazing job at putting everything you need in one place so you can easily learn through the step-by-step tutorials and make the most out of your email service provider.
Especially for such a low price, I honestly think it is a great investment and would recommend anyone that is looking to improve and optimise your email marketing to check out this course.