Video marketing continues to grow and is dominating the online world right now. Video is said to capture people's attention more than any other format. Through this Lumen5 review, let's look at what Lumen5 is, the features of this video maker tool, the pros and cons and let's find out if it is right for you.
More and more people are using video content over text-based content or image-based content. Platforms such as Pinterest have adapted to this change and now have incorporated video pins to their site, and short-form video content such as TikTok, Instagram and Snapchat continue to gain more attention.
Creating professional videos could take a lot of time, money and energy. Lumen5 can help you easily incorporate videos into your marketing strategies and create more engaging content to attract your target audience.
Lumen5 Review
What is Lumen5?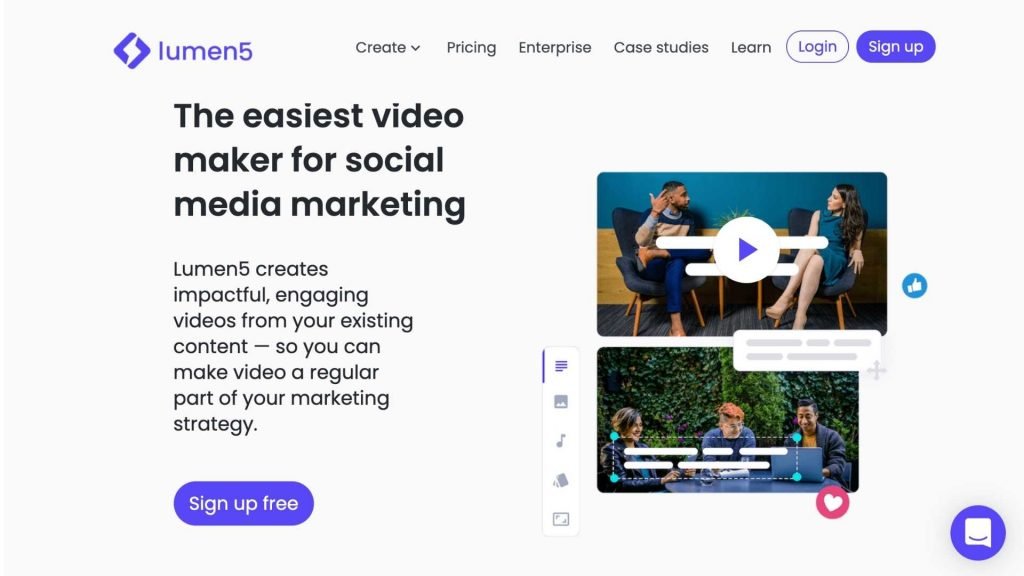 Lumen5 helps you turn your existing content into engaging videos by using their templates. You can use Lumen5 to create videos for your social media, ads and website to convey your brand message.
With all kinds of templates provided within Lumen5, you can create scroll-stopping videos with the millions of stock footage, photos and soundtracks you can choose from.
To use Lumen5, you can simply write a script or choose a template, or input a link into the editor, then Lumen5 will automatically create a storyboard for you with the audio and visuals that match your content. You can edit and change the text, video, style, colours, and font, and add a call-to-action to drive the conversion. 
Lument5 Features
Let's take a look at the features of Lumen 5 and see what it can do to help you with your journey of video marketing.
Video formats
Photo Video Maker
Facebook Video Maker
YouTube Intro Maker
Facebook Cover Photo Maker
Instagram Video Maker
Instagram Story Maker
Promo Video Maker
Video Ad Maker
Marketing Video Maker
LinkedIn Video Maker
Business Video Maker
Ecommerce Video Maker
Explainer Video Maker
Slideshow Maker
Animation Video Maker
Education Video Maker
Infographic Video Maker
Online Video Editor
Voiceover
With all of these different features of Lument5 video maker, you can take your social media marketing to the next level and easily create high-quality videos that engage your audience.
You don't need any background in video production to turn photos into stunning videos. Choose the right video template and the slideshow maker will do the rest. You can showcase your identity by incorporating photo collages and brand watermarks.
A powerful feature Lument5 has is adding voiceover. By adding voice to video brings a personal touch to your marketing videos and makes your content instantly recognizable as your own.
People. A high-quality voiceover will ensure that your audience is really tuned in to and engaged with your video content.
Change your text into video
Lumen5's ability to change your text-based content into a video is very powerful. You can transform your existing blog posts or articles into a video quickly by entering the link of your content, copy and paste it into the editor or even using the RSS feeds.
Simply enter a link to an article or blog post and Lumen5 will automatically fetch the content and populate your storyboard. If your content is in an offline document, simply copy and paste the text into Lumen5 to begin building your video.
For a more automated approach, simply plug in RSS feeds and have video templates created automatically.
Automated Workflow
Lumen5 has an automated workflow, helping you create videos in minutes with the assistance of A.I. The length of each scene is dynamically determined by the system based on the amount of text in each segment.
The positioning of text is intelligently calculated based on the composition of the media file you've chosen. Machine learning is applied to natural language processing to highlight important keywords within each sentence.
Lumen5 Customisation
Lumen5 has such a vast collection of templates with different dimensions for your social media content. For example, they have portrait templates for your Instagram stories, landscape content for your Facebook content as well as content for your website and a lot more.
You can customise these templates and use different animations for your text effects. Depending on the style of your video, you have the option to choose something more playful, something more formal or with minimal effects.
Lumen5 allows you to adjust the length of each screen, where you want your text to be positioned as well as the text size, font and colour. You can also highlight certain parts of the text to emphasise on those certain points.
Extensive library
Besides a large number of templates available to you, Lumen5 also has a wide range of professional video clips, still images and music for you to easily add into your video. Of course, if you want to upload your content, you can also easily do so.
Besides the typical stock videos and images you might find on all the major stock image websites, you can also find some unique stock content for you to use.
I had to create a very specific video about a local area in Japan and they had quite a few options for me to choose from, making the video-making process very easy and quick.
How I use Lumen5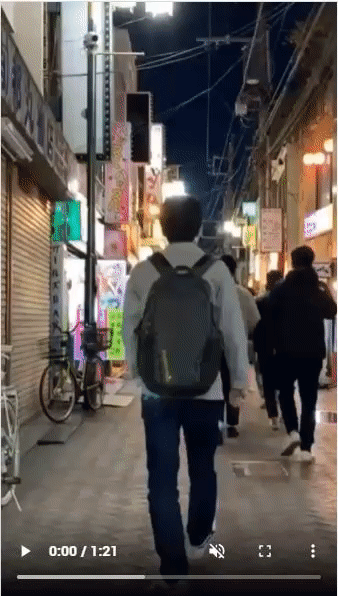 I used Lumen5 heavily for my other business on Japan travel, creating short videos introducing unique restaurants and bars, Japanese culture and different areas of Japan.
I already had blog posts about Japan on my website so it was easy to just import the blog posts, either use the AI-generated keyphrases or my keyphrases to produce the text, then simply customise the videos and style.
It is very easy to create engaging videos that can help my audience learn something new and interesting quickly, without having to commit to a long-form video. I used these videos for Facebook posts, ads, promotions and campaigns.
The entire process is very easy and although you can't fully customise the video, you have everything you need to create simple, information and eye-catching videos.
Lumen5 Pricing
Lumen5 Pro's
Save you a lot of time and money by creating informative and attractive videos within minutes
Easily create short and simple professional videos for different purposes, such as social media, tips, informative video ads and a lot more
Easy to share videos on social media, without having to spend money and time on shooting any footage.
The whole video-making process is straightforward and there isn't much learning curve
Lumen5 Con's
Sometimes Lumen5 wouldn't be able auto-generate stock videos that match the intent of your content or generate the exact phrase that you want to emphasise in your content. It is only understandable since it is a machine-learning tool and it is not perfect (yet!). It might take a little bit of time to go and change the video footage but you can easily do all of that within the editor.
If you want to fully customise the videos, it is not possible. Some additional editing features might be beneficial but Lumen5 continues to change and evolve with new functions. If you would like to customise your videos even more you could consider exporting the video from Lumen5 and adding the clip into your project on tools such as iMovie, Final Cut Pro, or Adobe Premiere. 
Conclusion
Lumen5 is a great content creation tool for people that don't have the time, resources, or frankly skills to go shoot beautiful looking video for their business. The machine-learning system that they have in place to find video suited to your copy is extremely useful, and when it doesn't work you can look for different stock video in their database yourself. Since the video editing tools are limited, you may not always end up with exactly what you want all of the time, but it is extremely convenient and having video form content is a great way to increase engagement.