MailerLite is one of the fastest-growing email marketing services in the world. Designed for people of all skill levels, MailerLite helps you create professional email campaigns.  I like that their features are intuitive and easy to use, yet they're just as powerful as other email tools. Check out this Mailerlite review to find out why I decided to go with this email autoresponder, along with the features, pros and cons to see if Mailerlite is right for you.
Hint: This is the email autoresponder that I tell most of my clients, especially entrepreneurs that are just starting out to get.
MailerLite Review- MailerLite Features
MailerLite Email Campaigns
MailerLite has an easy to use Drag and Drop editor that allows you to build professional and beautiful emails on your own.
You can get a huge design head start with pre-built email blocks that work like templates. These pre-designed blocks let you envision different newsletter ideas as you design. All you need to do is select one and customize it.
All of Mailerlite's email, newsletter and landing page is responsive when viewed from mobile devices and tablets.
A once-powerful tool that Mailerlite is the target content. Mailerlite takes personalisation to the next level by dynamically targeting email blocks to specific audiences. You can build one newsletter, but certain sections are only visible to a designated group of subscribers.
You can combine email and social media to supercharge your marketing. The editor allows you to insert social media content directly into your emails. Seamlessly integrate Twitter, Facebook or Instagram posts.
MailerLite Forms
You can create all kinds of forms with MailerLite. With the pop-up forms on MailerLite, you can convert your website visitors into newsletter subscribers with the dynamic pop-up options. When creating your forms, you can choose from a variety of pop-ups and then customise your settings.
There's also no need for coding or design skills. The drag & drop builder makes it easy with pre-designed blocks and custom settings to help you build pop-ups that match your brand and website.
Within the MailerLite designs, you can create:
Featured Pop-up, where the pop-up appears in the middle of the page directly over your content
Floating bar- The bar pop-up attaches to the bottom or the top of your page. This type of form is the least intrusive and can be integrated into the overall design of your page.
Slidebox- The slide box pop-up appears in the corner of your page. It can slide in when a visitor is about to finish reading your page.
Half-screen- Match this pop-up with the portion of the page that is showing.
Fullscreen- This pop-up makes a big impact, but use it wisely!
These are so powerful since they can easily turn your website visitors into your subscribers!
If you prefer to use pre-built templates, MailerLite has a gallery of pop-up designs created by our experienced designers. The templates are optimised to convert visitors based on research, testing and industry best practices.
MailerLite Landing Pages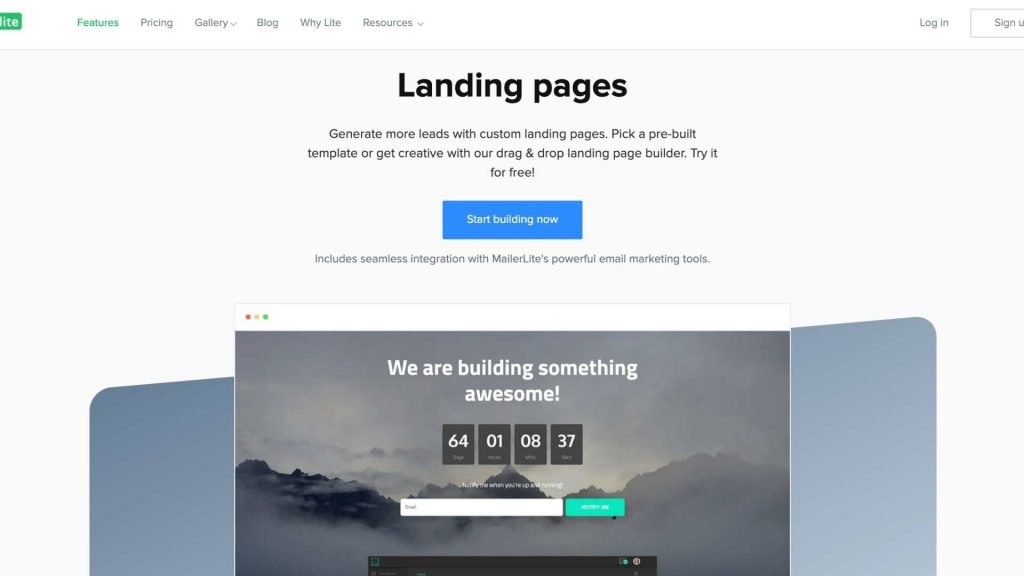 With the MailerLite landing pages feature, you can create professional landing pages like a designer by using a simple drag & drop editor. There are many different content blocks for you to choose from and tweak the settings to create completely custom landing pages.
With the custom landing pages, you can generate more leads. You can either pick a pre-built template or get creative with the drag & drop landing page builder. You can also add testimonials, videos, countdown timers and more into your landing page.
There is a special survey block to help you gather feedback directly on your landing page. You can use the quiz feature to engage your readers with an interactive experience.
I have not come across any other email autoresponder that has such initiative features like the countdown timers and survey blocks. They can save you money and time, since you don't have to go look for these kinds of features yourself.
One incredible feature of MailerLite landing pages is the ability for you to sell digital products and subscriptions using our Stripe integration.
You can even Optimize your landing page for SEO and add the text and image that are shown when you share your landing page on social networks. Track performance by adding your Google Analytics and Facebook data, and you can add custom code in the header and page code fields.
With the landing page feature, you can even create a free website along with 5 landing pages.
Mailerlite Subscribers Management
The email list and subscriber management interface makes it easy to add, filter and organise your subscribers. You can add all of your segments, interest groups (tags) and subscriber details in one place.
Once you collect subscribers through the sign-up forms, API integrations, upload your subscriber email lists or landing pages, MailerLite recognises every field automatically and lets you organise them.
With the filterability, you can find subscribers fast using a real-time subscriber filter tool. You can set and save your filter requirements based on several conditions including interest groups (tags), signup date, time zone, campaigns, automation workflows, time inactive and more.
You can also create custom fields to add and store information about your subscribers using as many data fields as you want.
Segment your subscriber lists based on previous engagement, location, age range or whatever else is relevant to your email marketing campaigns. With the interest groups (tags), you can organise your subscribers based on their behaviours or interests.
Integrations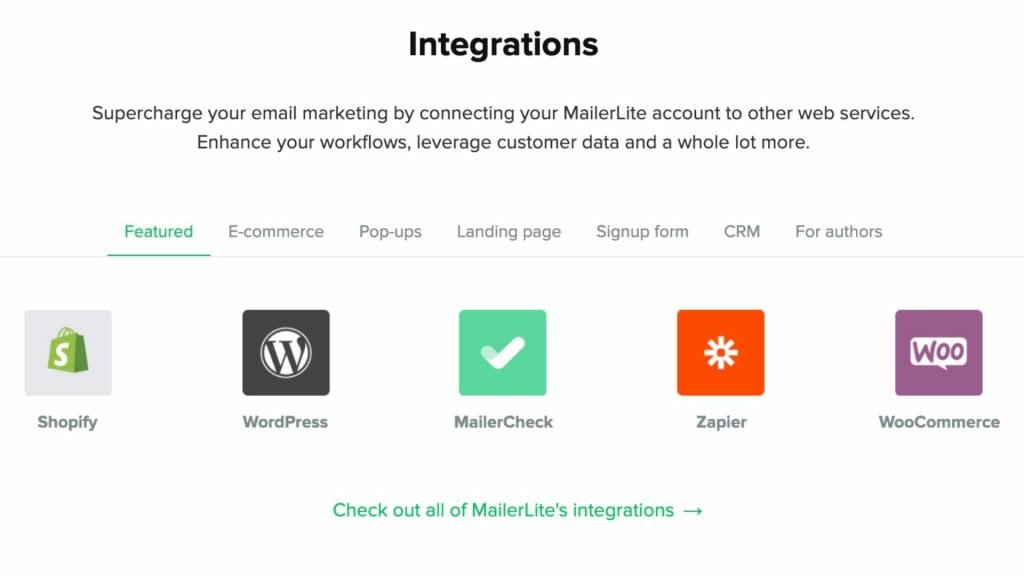 You can easily connect your MailerLite account to other web services. Enhance your workflows, leverage customer data and a whole lot more.
Some of the many integration options include Shopify, WordPress, MailerCheck, Zapier, PayPal, SendOwl, Gleam and a lot more. You can also connect your Mailerlite account to Zapier to connect with more platforms. 
MailerLite Pros
Simple and clean interface with easy drag & drop editor
A wide range of content blocks for you to fully customise your emails
Free version with all the basic features you need
Landing page builder
The many pop-up variations
Advanced automation
In-email quizzes, surveys and other interactive elements
Incredible support
Advanced automation tools
MailerLite Cons
Plugins such as ActiveCampaign and Convertkit have automation that can trigger directly from website visits
Doesn't have extra advanced features for further segmentation and customisation. It might take a few more steps to make sure that your subscribers are not receiving emails they shouldn't be in your automations
I find MailerLite is a tad slower than some other email autoresponders, but it's not a big deal
My experiences with MailerLite
I had heard so many great things about MailerLite and decided to give it a try and I'm so glad I did. MailerLite has so many unique features that are not available with most of the other email autoresponders out there, including the countdown feature, survey block and the huge number of integrations.
It might not have the advanced tagging and segmentation features that some other email autoresponders have, such as ConvertKit, GetResponse and ActiveCampaign, but for anyone that MailerLite has all the features you need and more. 
Another incredible thing that I love is that you can collect payments directly through the MailerLite landing pages with the eCommerce integrations. That is so powerful, especially if you don't yet have an eCommerce platform set up, but want to start collecting payments.
And the best part? It's free to start for up to 1,000 subscribers, with all the features you need. That is so powerful and I love MailerLite even more because of that!
Conclusion
I love MailerLite and would strongly recommend bloggers, small businesses, entrepreneurs, solopreneurs to try it out. The clean email interface is easy to use and especially with all the many features, you can truly use MailerLite to optimise all parts of your email marketing strategies.