Are you a female entrepreneur or an aspiring entrepreneur hustling towards your goals? Are you looking for a supportive community to support each other, learn from and work together with? If you are nodding your head along, you should check out this Members' Club review, a community run by the Female Entrepreneur Association. 
The Members' Club Review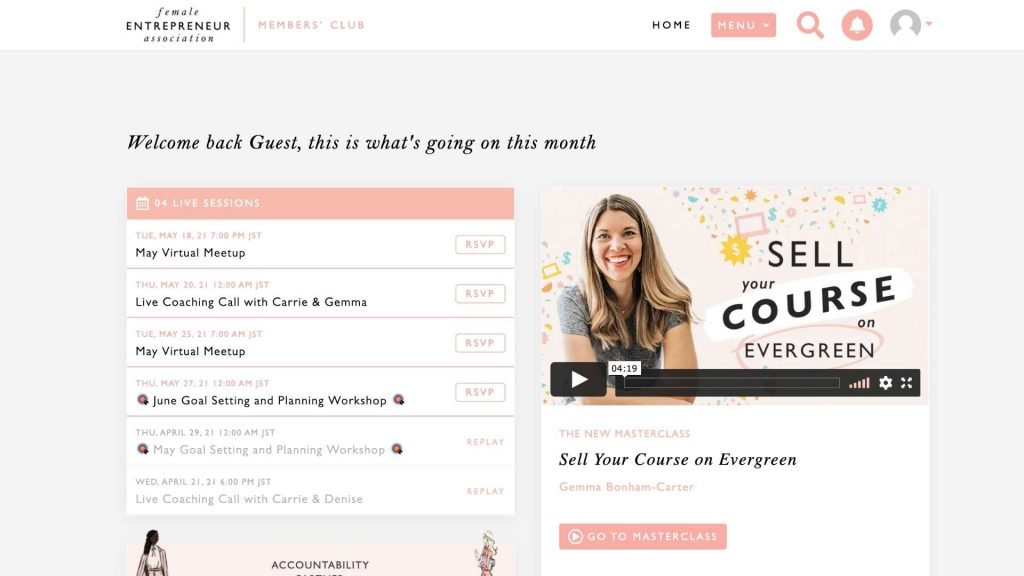 What is the Members' Club by Female Entrepreneur Association?
The Members' Club is an online platform for female entrepreneurs around the world. Carrie Green is the founder of The Members' Club and she has founded this community to help female entrepreneurs feel supported in the big online world.
Not just the community, but you will get access to masterclasses taught by experts in their fields, resources, and accountability partners with the Members' Club. 
Is The Members' Club worth it?
The Members' Club is a female entrepreneurs' dream community, with business masterclasses and a brand new class released every month. YOu will also get resources to help you with your business journey, along with live sessions, coaching calls and more.
The Members' Club Pros
One of the best part about The Members' Club is the community. The Members' Club community is very loving and supportive. The conversations are held inside the Facebook Group, with over 5000 members. If you need any help or have any questions, you can easily find someone inside community to show you support.
With the wide range of masterclasses covering all areas of business, you can get a great grasp on all areas that you need to be paying attention to.
There are many masterclasses inside The Members' Club, covering areas of business such as business foundations, email marketing, social media, client acquisition, planning and more. To help you avoid being overwhelmed, the Members' Club has created pathways to help you understand where to start and which masterclasses to take. 
The live coaching class, networking class and goal setting calls are also very useful, helping you figure out your next steps for your business. The Members' Club also helps to pair you up with an accountability partner to help make sure you are on track and working towards your business goals. 
The Members' Club Cons
If you run a brick and mortar business, you might not find as much support inside the Members' Club, since most of the masterclasses are related to online business and online marketing. You will also likely find that most entrepreneurs inside the membership run online businesses, so you might not be able to find the answers you need. Saying this, it might be a good motivation for you to add extra income streams to your business or bring your business online.
Another con I have noticed is, a lot of the masterclasses are for beginners and touch on the foundations of business. While it is good to get detailed summaries of business foundations and marketing, if you are a seasoned entrepreneur or you want more detailed information, you might not be able to find them here.
There are many different elements inside The Members' Club and while that is great, it can also be a little overwhelming for brand new entrepreneurs. Luckily, the support team is available to answer any questions, along with the supportive community. They truly make things easier for you.
Is The Members' Club right for you?
Who is The Members' Club for?
Female entrepreneurs that want to a part of a supportive community of fellow entrepreneurs
Eager learners that want to learn from top experts through immersive masterclasses
If you are someone that enjoy live classes and learn from experts every month
If you want to find an accountability partner and be there to support each other
If you need some hand holding when it comes to different aspects of your business
Who is The Members' Club Not for?
Brick and Mortar business that has little to no online presence 
If you are a seasoned entrepreneur, the masterclasses might not be as beneficial to you
Who is the Female Entrepreneur Association?
Female Entrepreneur Association is one of the largest, global communities for female entrepreneurs. Their goal is to help you build the business of your dreams and create the success you want, while making life-long friendships and having fun.
The Female Entrepreneur Association has worked with thousands of women from all over the world, across multiple industries to turn their ideas into a success.
Carrie Green is the founder of the Female Entrepreneur Association and Author of the Best-Selling Book She Means Business. She has been on this wild entrepreneurial journey for over 10 years. She finally created FEA in 2011 after dreaming about it for years. Her mission is to inspire you and give you the tools you need to create the future you want.
What's included in The Members' Club?
50+ on-demand business masterclasses and a brand new class released every month – uplevel your business and get the results you want.
Access to our Ultimate Business Checklist – this will guide you through our 5 phases for business success.
Mastermind Pods – each month you'll be added to a small group of 10-15 members to mastermind.
In-depth Workbooks & Guides – to help you plan and stay on track.
Virtual Meetups – connect and chat with our members, it's so much fun!
Coaching calls every month – get your questions answered by incredible business experts.
Live goal setting + planning workshop every month – get super clear on what you want to achieve and how you're going to do it every month.
Monthly accountability partner – partner up every month to stay on track.
Access to our community of over 5000 female entrepreneurs – 24/7 support from our members and Team FEA.
Extra resources – templates, visualisations and trainings.
The Members' Club Membership Pricing
You will receive a 30-day money back guarantee with the membership.
Conclusion
I don't join a lot of memberships and stay with them, but Members' Club is definitely one that I would highly recommend. The community is supportive and helpful. I have met a lot of incredible entrepreneurs through the live networking sessions and I have loved meeting my accountability partner through this platform. Most of the masterclasses are also very actionable and even if they are topics that I am already familiar with, I always manage to find nuggets of information.