Ever wanted a dedicated community to your business but find websites such as Facebook exhausting? Would you like to create your own professional courses such as the ones created by popular websites like Skillshare and Udemy? Today, I am going to introduce you to Mighty Networks. A unique hybrid of community and course creator. If you're looking for an easy-to-use and affordable service to create your own community and sell your own online courses, then take some time to keep reading this Mighty Networks review.
What is Mighty Networks?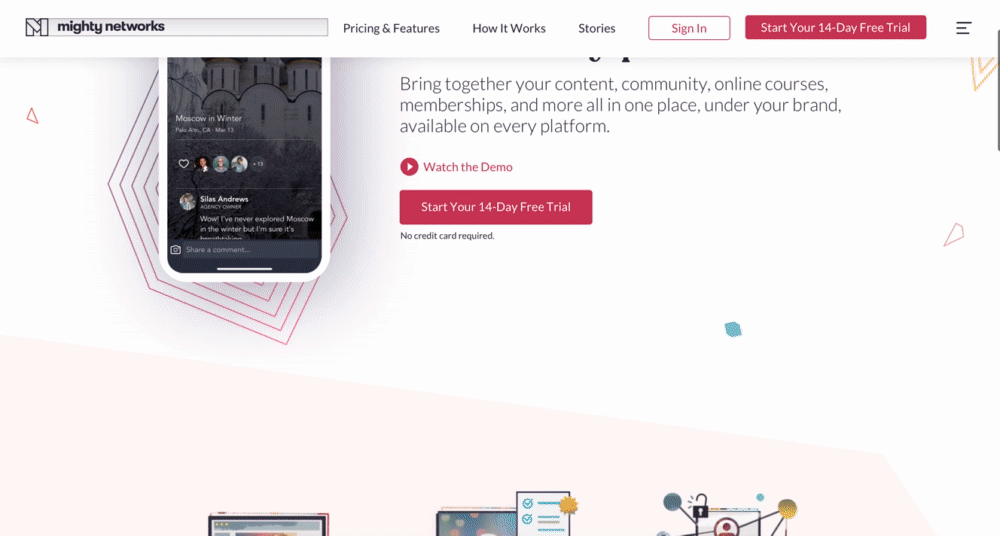 Mighty Networks is a cloud-based service that allows you to create content, community, online courses, memberships, and more, all in one place, under your brand. It is a unique hybrid of services that aim to be your one stop shop.
Mighty Networks Features
Online Community Builder
Usually, most people rely on Facebook groups or Discord servers to have a dedicated community space. But many people tend to feel burnout with social media based communities as the rest of the platform puts too much in their face.
With Mighty Networks, it creates a community space for you. It takes the best out of platforms such as Facebook, Discord, Slack, etc, and puts it into one dedicated space.
Your community can either be public for anyone to join and explore or private for people to sign up. Engaging with your members is an important aspect to a community builder and Mighty Networks gives you a lot of options. This makes offering exclusive content for community members easy. Not only can you choose to create quick and easy to read posts, but you can also do full article and blog style posts for community members.
You can also add admin-level users, called Hosts and Moderators, within your community. Hosts have the same access to all of the settings in your network including payment settings and income reports as you. Moderators focus on moderating content and members within your community. They can create and remove content, invite members, approve requests to join, remove or ban members, etc. Slack integration allows admin-level users to monitor all activity in real-time.
Online Course Creator
The next important feature that Mighty Networks offers is online course creation. Unlike other course creator websites where you need to pull in users from all over the internet, here you create an online course for your members right inside your community.
Mighty Networks offers a simple drag-n-drop builder to create structure and content. You can also organise the course in sections and lessons, and you can easily change the order by dragging and dropping.
However, any files you add over 25MB will need to be hosted somewhere else and embedded inside Might Networks. For example, videos will need to be hosted on a platform such as Vimeo.
Events
A really great feature that I personally like about Mighty Networks is that it lets you create events with the Events feature. Firstly, you can make the events either a one-time event or recurring, secondly, you can make events occur whenever you would like.
Another cool feature is that Mighty Networks has a direct integration with Zoom so you can create meetings/webinars from right inside of Might Networks or use a meeting URL from other services such as Google Meet for live events. This allows for community members to join the events and meetings via their phones. Additionally, you can create a text chat event where you can interact with community members through live chat.
Discovery Page
The Discovery Page is one of the most important pages for your community and Mighty Networks gives you complete control over what your members see here. This page lets you check out pages and get an idea of your community and those you can join. You are able to place the sections on your discovery page in any order you would like and choose which ones to hide.
There are many types of sections such as "Welcome Section" and "Featured Section" where you can include articles, courses, events, and more. The Welcome Section and Featured Section are pinned areas for users to see any content you pin to them. This lets the content you want to most convey appear at the top of your members' activity feeds and the discovery page.
Sales and Analytics Tools
Looking for a boost to foster community interaction? Mighty Networks allows you to create an ambassador program by giving your users badges and custom rewards when they refer new members to your community. While it may not be the same as an affiliate program, ambassador programs are great for building community loyalty and word-of-mouth marketing.
Another helpful tool that Might Networks offers is a dedicated analytics area so that you can easily get an overview of how your community is performing. This lets you see how many members you have, who is online and when, how much your community has grown over time, and more.
Mighty Networks Paid Features vs Free Features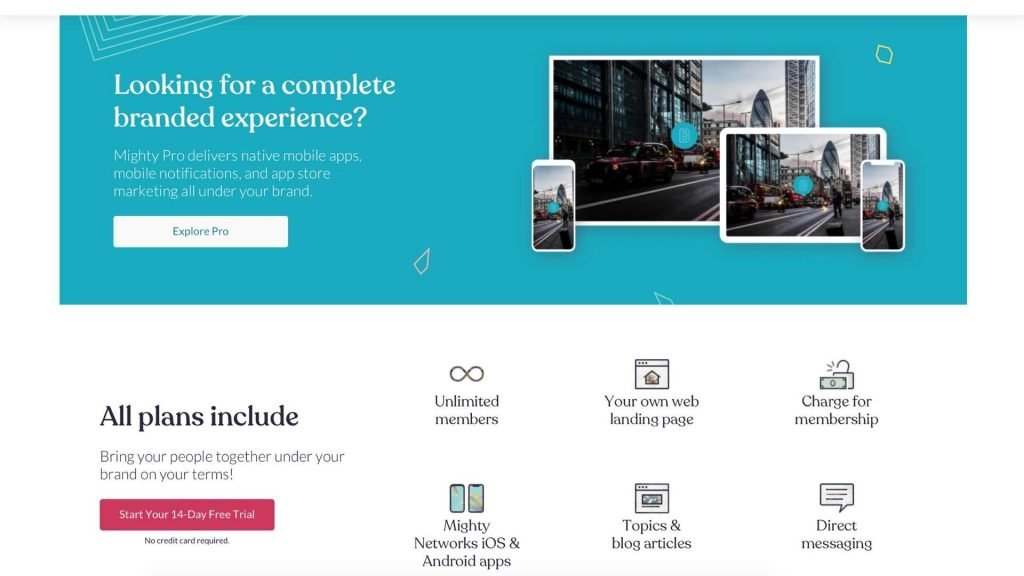 Mighty Networks offers a great free version that includes unlimited members in your community. You can easily get a jump start on building your community with it's free version.
Although I will mention, if you are interested in creating an online course, you will need to eventually upgrade to their Business plan.
Here are some of the other many additional features you can get with their premium versions:
Custom web domain
Unlimited moderators
Charge for membership
Online courses
2,000+ Zapier integrations
Premium analytics
Mighty Networks Pricing
The Community plan is set at $28/ month ($23/ month when paid annually)
The Business plan is set at $98/ month ($81/ month when paid annually)
Currently, Mighty Networks is also offering a free 14-day trail for their Community and Business plans with no credit card required.
Mighty Networks Pros
Offers itself as a great alternative to massive social media websites.
Mighty Networks has both an iOS and Android app.
You have the ability to keep your community free but charge for access to courses and groups inside the community.
The events feature is very powerful and gives you a lot of options.
Offers the best parts of social media but without the fuss, such as personalised activity feeds for members, articles, and direct messaging.
Mighty Networks Cons
Can only create online courses with it's most expensive plan
You can't integrate Mighty Networks with third-party analytics and tracking services such as Google Analytics.
No current options to create coupons or affiliate links for your product plans.
Conclusion
Mighty Networks is a breath of fresh air, a unique combination of social media groups and online learning services. It comes with many fantastic features for growing a community as well as for selling online courses. With their free version, you can take the time to immerse yourself in the platform. You'll be in good hands.