It's rare for anyone to stick to one career for their whole lives. It's now pretty common for professionals to move between jobs, roles and industries. This means that the ability to adapt and evolve is now essential for the modern professional.
This is why online courses have skyrocketed in popularity, and given the lockdown requirements during the Coronavirus pandemic, remote learning has now very much been accepted into the mainstream.
It's easy to see the potential online courses hold as a flexible, low-cost way of upskilling as a professional, so even without the pandemic, there is no doubt that online courses have been a revolution for both higher education and adult learning.
What are online courses?
Online courses come in so many shapes and size for students of all ages and experience levels. Learning is no longer confined to stifling classrooms, blackboards and uncomfortable desks. There is an online course for nearly anything you would want to learn.
Most online courses have one or more of the following aspects:
Written content
Audio content
Video content
Community aspect
Nowadays, you can find online courses covering all kinds of topics, from business to hobbies, the sky's the limit. Here are some online courses topics that you can find:
Social media- Facebook, Instagram, Pinterest, TikTok
Content Creation- Blogging, Video creation, Designs, Podcasting
Computer training & Coding
Finance
Legal
Arts and Crafts
Cooking
Sports
Are online courses worth it?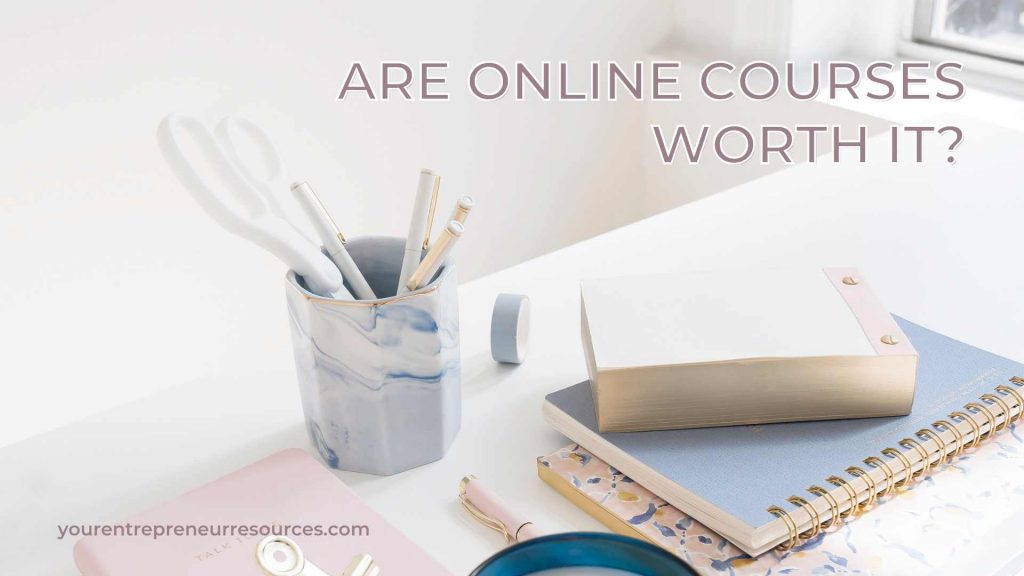 While in traditional learning, you go into a classroom, get educated by teachers and professors, mingle with other students and get homework assignments and exams, online courses take away the physical aspect of learning.
But, this is not to say that online courses are bad. In fact, there are a lot of benefits of online courses we can find here.
Benefits of online courses
Learn from industry experts: There have always been ways to learn from industry experts in the past, like reading their books or watching their interviews. But now, a lot of industry experts have online courses and programs that you can take. Online courses have raised the bar and now, you can truly absorb knowledge from experts in one place. We will discuss this further down this article.
The freedom to learn whatever you want: You can find an online course on just about any subject you can imagine. Plus, if you can't find a course that interests you, online platforms give you the chance to create a course yourself. Online classes also allow you to drill down as deeply into your subject as you wish.
The comfort of learning from your own home: The element of flexibility is one of the most attractive aspects of taking online courses. You can also take your classes with you on the go, studying new subjects from coffee shops, doctor's office waiting rooms, and subway cars. Online learning also gives students the option to learn in whatever setting is most productive for them. While classroom courses force a specific ambience and format, studying online lets you mould your environment to your personal preferences.
Ability to work a job while you study: If you take online classes, you can study while you work. Most people can't afford to take six months off work to learn a new skill, which is the typical duration of a classroom course semester. After you get home from the office, knock out an online lesson or two, then repeat the process the next day. You might even squeeze in study sessions during your lunch break and on the weekends.
Reduced education costs: You can choose an online course that fits your budget, and it will almost certainly be cheaper than any university or college course because you won't have to pay for classroom space, building utilities or other overhead costs that come with learning in a classroom.
Study at your own pace: Everyone works and studies at their own pace. There's nothing wrong with your learning style, but learning in the wrong environment could be detrimental to your progress. Fast learners may feel held back when they're taking a course with slower learners. Meanwhile, slower learners can't rush through a lesson before they've fully absorbed the material. Online classes benefit both styles and students set the pace. No one will feel pressured to catch up or feel held back.
Expand your professional Network: This is an unexpected advantage of online learning. However, it can't be overlooked as talking online courses can introduce you to your next business partner or collaborator as you will gain access to like-minded ambitious individuals all over the world, across different industries.
Disadvantages of online courses
Easier to procrastinate: If you don't have good time-management skills, then online course won't be for you. There is no one to tell you to get to class on time, no one reminding you that assignments are due. You have to be responsible for your own learning, which means being a self-sufficient and independent learner. Don't rely on your instructor to hound you to stay on task.
May create a sense of isolation: In an online course, no one is with you. You can't share any frustrations, tips or advice. With only your computer as your companion, you miss out on the sense of community and the social aspect of learning in a classroom. Remote learning can take some getting used to, but remember that a quick email to a classmate, your instructor or a counsellor can help you get used to the different atmosphere when learning online.
Difficult to find good courses: Developing a really effective e-learning course takes time, money and a great amount of expertise. The best practices for e-learning courses are still evolving and are a lot trickier to get right. This means there are a lot of courses out there that may not be worth your time.
Why should you take online courses from experienced experts?
While yes, it's great to learn from teachers and professors that know all about the theory of running a business, creating a financial plan or working with clients, they are likely not able to give you the practical tips that can only be learnt through experiences.
While the theory is still very important in all areas, especially industries such as medicine and law, experiencing and taking action is also very important.
Experienced experts have been working in the designated fields and industries for a long time. They have likely gone through the ups and downs before getting to where they are today. Not just the theory part, but they have physically experienced the different aspects when it comes to the industry they are in and the skills that they have mastered.
They were likely where you are a few months, a few years before, so they can understand you and your problems, possibly even better than you know them yourself.
Obviously, it depends on the expert, but because of their experiences, they are able to address the issues, give you actionable tips that actually work, and help you achieve your goals.
Are Online courses worth the investment?
Well, that depends on you and the online course you're hoping to take. I know, this is not exactly what you want to hear, but let me elaborate.
Let's first talk about the investment of money.
If you are planning to invest into an online course that is related to business, investment, finance or just about any topic that can help you make money, it's likely that you are more willing to spend the money on the online course.
Say the online course is about making money online and it costs 2,000 dollars. It might seem like a lot but the strategies and testimonials show you that you can likely make that 2,000 dollars back within a couple of months. Then it might be worth the investment, even if it's a bigger one.
But what the online course is not about business, but a hobby or other types of topics? It might be more difficult to measure the tangible benefits and you won't be able to technically "make the money back". However, you are rewarded in other areas, such as enjoyment, relaxation, clarification and connection.
These are intangible elements that are valuable, some might say even more valuable than money. Would investing in the online course make you feel a certain way or accomplish something? If you think the price tag is justified for what you can get in return, then the online course is worth the investment.
Now, let's talk about time.
Think about how much time will be required to learn from this online course. Will it take up so much time that you will need to stay up late or wake up early every day to consume the content? Will you be able to pace out the content of the online course and study one module every week?
If you already have lots of online courses and tasks piled up in the corner and adding an online course will likely just stress you out, then I advise you not to add another online course to your plate.
The way each person studies differs from the other. Some people might want to consume everything quickly, then revisit the course again while taking actions. Some might prefer to take their time with each lesson and take actions simultaneously.
As mentioned earlier, it's easy to procrastinate when it comes to online courses. You might be tempted to put off the online course, especially if it is educational and not entertainment.
To make sure you are able to accomplish the online courses, think about the reason why you're taking this online course. Will it be able to help you solve a problem you're facing? Will it give you the step-by-step actions that no Youtube video or free blog posts can give you?
Once you figure out your motivation in taking the online course, block out time slots throughout your coming days or weeks to lock in the time to help you complete each lesson.
These could be times when your kids are having naps. Or you could wake up 30 mins earlier every day and study with your clear mind.
What to look for when taking online courses?
Given the surge in popularity of online courses and online learning in recent years, good-quality online courses are getting harder to find. The high potential for profit combined with the low-start up costs and few barriers to entry mean that virtually anyone can start an online course, regardless of whether they are qualified or know what they're talking about.
Is the Online course what you're looking for? This might sound simple, but it's very important when it comes to looking for an online course. What problems do you have? Can this online course solve this problem for you? What are you looking for in an online course? If you prefer video content, have a look at whether or not this online course consists mainly of video content. If you want a community aspect to the online course, does it provide for you?
Does the Online course fit your budget? The price of online courses can be drastically different depending on the content and educator. Evaluate what your budget is and check if the online course matches your expectations. Understand that some courses could be more expensive because of the quality, so make sure to evaluate accordingly.
How qualified are the educators? Educators at universities would likely have PhDs and most teachers at colleges should at least have a masters, and you don't have to settle for less just because the course is online. Also, teaching experience is just as crucial as qualifications. Be sure to research your teachers. You are, likely, paying for this course and you have a right to find out whether you will be receiving the right quality of education you are looking for.
Is the program innovative in the way they use technology? Online learning has the potential to be innovative in the way they use technology, but not all course providers are taking advantage of this aspect of remote learning. Technology can make or break online student engagement experiences. When participating online the quality of the video, audio, graphics and design are key to student retention.
What do past students say about the course? These are the people who have taken the course already, so they are in the best position to judge and tell you whether the experience is worth your time and money. It's important to keep in mind, however, that everyone will have different expectations and experiences, so don't expect a 100% 5-star rating, that may be more suspicious. Keep an eye out for genuine reviews. The course doesn't have to be perfect for everyone, just right for you.
Is there an opportunity for professional development? Nowadays, because there is an excess of online courses available, lots of course providers are offering added incentives to attract students, including the opportunity to connect learners to employment, help with CVs or access to networking events. Look out for these perks!
There are many online courses out there and if the online course you have come across doesn't tick off most of your boxes, then it might be better for you to check out other options. Don't worry. Keep an open mind. There is bound to be an online course out there for you.
How to find worthwhile online courses?
There are so many online courses these days and it can be overwhelming and difficult to figure out what to invest in. Here are some tips for finding worthwhile online courses.
Search
Most online educators produce content such as blog posts, videos, audio around the topic that their online courses are about. Search the problem or the specific topic you're looking for on Google or YouTube. Have a look at the content that's presented to you.
You can also find freebies online that are related to your topic and sign up to them. They can be webinars, checklists, mini-course, email series and a lot more.
In the process of searching, you can start learning more about your topic and also understand the educator's teaching style, giving you a rough idea of what to expect when it comes to their paid content.
If you like a particular educator's content, you can then look into what kind of online courses or other products they offer. Even if they don't have a product of their own, they would likely be able to recommend online courses that they have taken to you.
Online Education Marketplaces
There are various online education marketplaces that you can check out to find relevant courses that you can take. These marketplaces usually have reviews from previous students for you to check out, so you can get an idea of what to expect. You can also filter and find online courses around the particular skills that you're looking to master out of their big databases.
Some of these marketplaces include Udemy, Skillshare and Masterclass. You can find the full list of online education marketplaces here.
Your Entrepreneur Resources Connect
If you are looking for an online course about social media, online marketing or any other topic around business, you might be interested in checking out our platform, Your Entrepreneur Resources Connect.
We have a selective number of courses that we include inside Connect. All of these courses are held and taught by experts that have mastered their skills, and we have taken, completed and reviewed these courses.
Besides online courses, you can find books, mentors, coaches and service providers in Connect. You can easily use our filter feature to find the resources that match your criteria and budget.
Ask in your network
If you have a topic in mind, then you can go into the relevant Facebook groups and ask if anyone has taken an online course in that area. If you have entrepreneur friends in your industry, you can contact them and see if they have any recommendations for you.
You can check out the entrepreneurs inside our Facebook group to see if there are any entrepreneurs or even business coaches that can help you.
Coming back to the question about are online courses worth it, well, I would say so. Taking various different online courses have given me more aha moments than studying a similar subject in university for me. As I mentioned, taking online courses that are taught by experienced experts truly give you practical tips and knowledge that you simply can't study through textbooks.
Hope you find this article useful and cheers to finding the right online course for you!