Creating content can take up an enormous amount of time. We hear that Google loves fresh content, Facebook loves fresh content, Instagram, Pinterest, Youtube and just about every platform loves fresh content. But how are you supposed to keep creating content without being stuck on the content hamster wheel? Take a look at this PLR.me review and see exactly what PLR.me is and how this done-for-you platform can help you streamline your content creation process. 
What is PLR?
Before we start discussing what is PLR.me, let's take a look at exactly what is PLR?
PLR stands for Private Label Rights. Private label products allow you to get to market faster, without the usual headaches of doing everything from scratch.
With PLR, you can take the content and make it your own. Depending on the rules of the particular PLR product, you can rebrand, edit, then give away as a lead magnet or paid product. PLR can be content such as ebooks, articles, blogs and videos.
Just like large retailers, such as Costco (Kirkland), Walmart (Great Value), Walgreens, or Target, they have their generic line of products like clothes, napkins or toast bread. But how do they make so many things? They don't make any of them.
They buy proven products with private label rights and they put their label on the product. With private label rights, you will be branding content instead of napkins or clothes. You can put your name as an author on existing content, like articles blog entries and ebooks that your business can use, just as if you created it and all at just a fraction of the time and cost of you developing it yourself here's, An example: this is John, he sells Pet Supplies online.
With PLR, you can still inject your personality, voice, examples, and stories. It's yours to make your own (without having to write from scratch!)
What is PLR.me?
Plr.me provides done-for-you PLR content for coaches that you can brand as your own. You can browse the content library for brandable, coaching resources that are a fit for your clients. Search Plr.me, check out what's new or browse the different categories and find something you like.
You can check for more details to preview the product or click on "go to item" to learn more or to download the product. Plr.me also has content bundles to make your life super easy with the collection of resources that you can download all at once.
Plr.me content is great to inspire you when you're feeling stuck on what to write or talk about. The content can also help you streamline your content creation process, so you don't have to waste time on creating content, even courses and coaching programs. 
Within Plr.me, there are thousands of resources that you can brand as your own and you don't have to struggle with writer's block. Nor do you don't have to worry about hiring expensive freelancers because you'll never run out of ideas. You'll have a virtually never-ending supply of products to sell to your clients.
Credits
The currency PLR.me uses is credits.
When you want to download something, you will see the credit value of that item. It's the same as a stock photo site or an arcade when you go to an arcade, you exchange your cash for tokens. The more credits you purchase, the more credits you save.
With the credits within PLR.me, the more you buy, the more you save. You might be asking yourself, what can I buy with 400 credits? You could buy 10 ebooks, 10 slide decks, 5 challenges and one-course bundle.
You may decide that you want to buy several courses and spend your credits that way or you could decide that you want a couple of courses, some ebooks, some reflections and some worksheets.
If you run out of credit, you can buy additional credits at a special member's price.
PLR.me Content
Plr.me covers a wide range of topics, from Confidence, Self Esteem and Self-care, Self-improvement, Parenting & Family, Dating & Relationships, Goal Setting, Making Money, Life Coaches & Counselors, Business and Marketing and a lot more.
You can find different content types including articles & blog posts, affirmation reflection, worksheets, reports & eBooks.
Once you have your content, you can turn that one piece of content into multiple formats and use them in your business.
For example, you can turn it into a lead magnet, content upgrades, emails, articles, products, videos, courses and webinars. Anything you want!
The sky's the limit, you can truly play around with different content types and try out different strategies to build your email list and generate sales.
My experience with Plr.me
Have you ever sat in front of your Google docs and nothing comes to you? I have and it is not a great feeling.
Having Plr.me can give you so much done-for-you content, saving you hours and hours from creating content yourself. You don't have to use them as they are, but you can change the format, content and structure freely, to fit whatever you're looking for.
I have used different articles through Plr.me for my own content on different websites and my clients' websites. Some of my clients have even turned these done-for-you content into challenges, videos and webinars! Once you add, adjust and modify the content to fit your brand voice and brand message, the content piece will be able to fit right in inside your website.
Since Plr.me is offering Your Entrepreneur Resources community 10 extra credits right now, you can check it out for yourself and download a few content pieces to try them out 🙂
Exclusive Features for Members
Besides all the incredible PLR content that you can get with PLR.me all the monthly and annual members also get exclusive access to a suite of web-based software to automate your content marketing.

These are all extremely incredible and probably the most attractive part about being part of the membership. Have a look at these features and what they can do to help you create even more content without having to worry about wasting hours on end.
Auto Slide Deck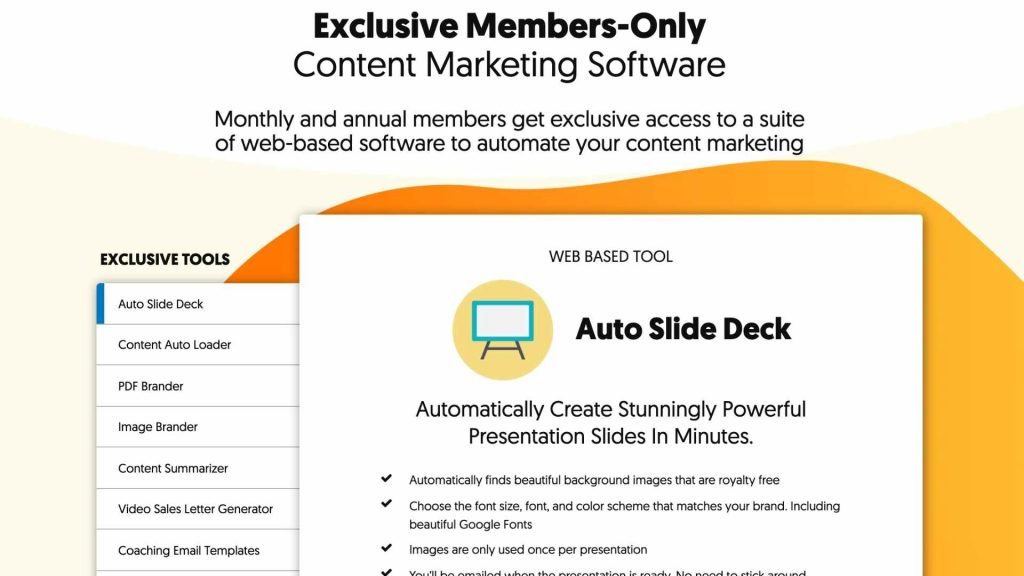 The Auto Slide desk automatically creates presentation slides in minutes for you. The program automatically finds beautiful royalty-free background images. You can choose the font size, font, and colour scheme that matches your brand. Everything is done automatically for you.
Content Auto Loader
The Content AutoLoader is very powerful to help you pre-load a year's worth of content on your WordPress website in minutes. You can backdate posts to fill out your blog. Schedule one, three, or six months of affirmations or articles and load an entire year's worth of content into a new membership site and put it on auto-pilot.
PDF Brander
The PDF Brander helps you to automatically add calls-to-action and branding inside of your PDFs in seconds. You can add your logo to done-for-you content as well as add a hyperlinked call-to-action to your lead magnets and content upgrades. This way, you can make your content library much more shareable.
Image Brander
The image brander automatically adds watermarks or branding on multiple images in seconds. You can add your logo image, add your website URL and add a call-to-action branding to your images.
Content Summarizer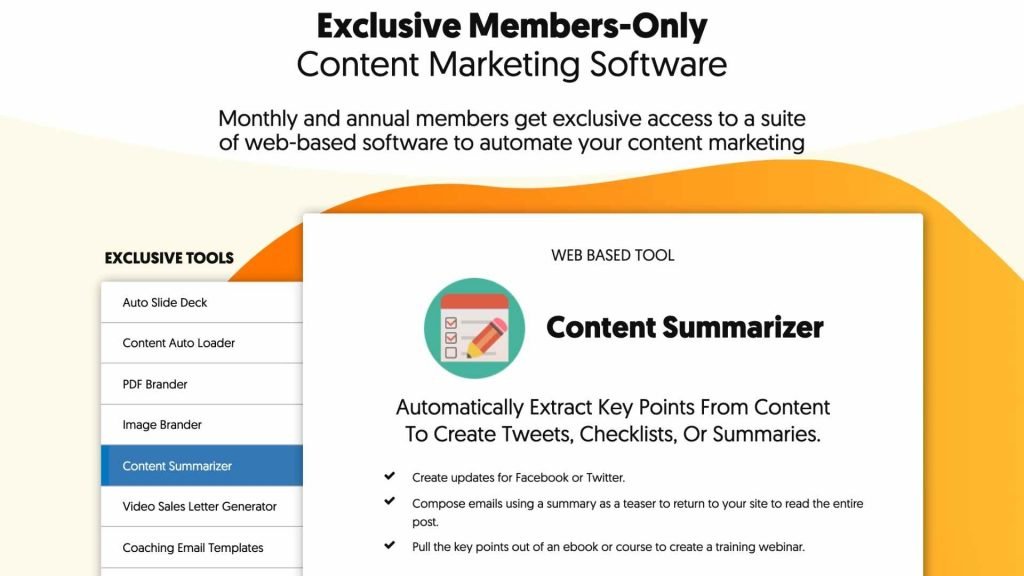 Content Summarizer automatically extracts key points from content to create tweets, checklists, or summaries. You can use this to create updates for Facebook or Twitter. You can use this to compose emails using a summary as a teaser to return to your site to read the entire post. Pull the key points out of an ebook or course to create a training webinar.
Video Sales Letter Generator
Video Sales Letter Generator can instantly transform the text into a video sales letter or PowerPoint Presentation automatically. This is incredibly useful to quickly convert your text to PowerPoint, no more cutting and pasting or fiddling with slides, fonts, and formatting. Simple interface visually shows the number of slides in your sales letter presentation.
Coaching Email Templates
These email templates are proven fill­-in­-the­-blank email templates for health & wellness Coaches. Write effective emails to attract joint venture partners or podcast guests. You can use these to convert prospects who abandoned your shopping cart and re­-engage your list.
Perfect Email Formatter
With the Perfect Email Formatter, you can create perfectly formatted mobile-optimized emails. Apply HTML formatting to plain-text emails to enhance readability and ensure that your emails are easy-to-read on all mobile devices.
Image Animator
Gifs are so powerful to capture people's attention! You can use the Image Animator for your website and emails. This can be used for product demos, memes, visual tutorials and a lot more!
Check The "Uniqueness Score" of your re­written content
Rewrite content to the recommended uniqueness score of 70-­80%.
Adjust for your market and audience.
Add your voice, style, and personal stories to done-­for-­you content.
Virtual Fax Machine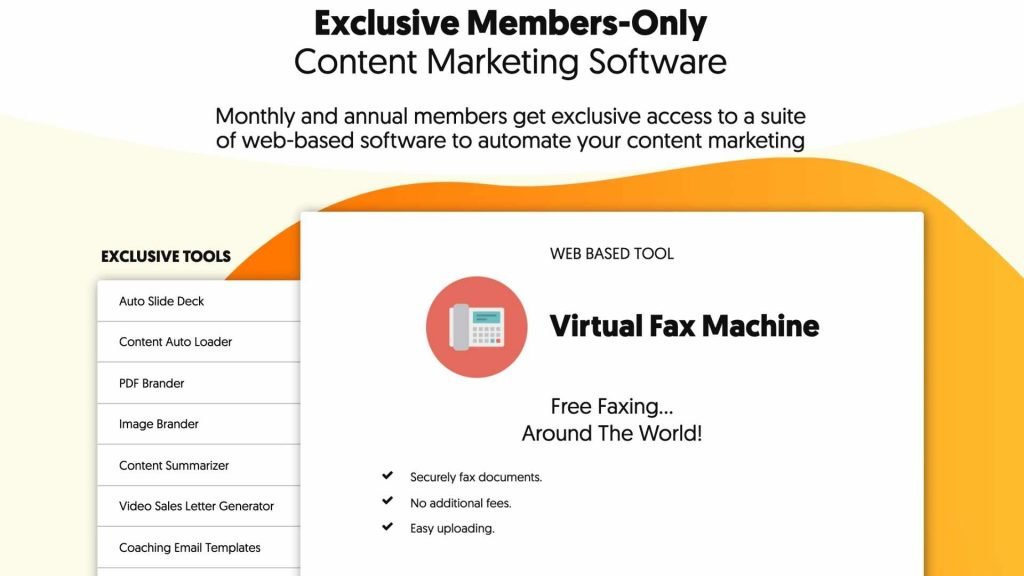 Fax might not be as powerful today but it is still used in various countries. You can use the Virtual Fax Machine to fax for free around the world. Easily upload the documents you need and securely fax the documents with no extra costs!
WP Swipe & Deploy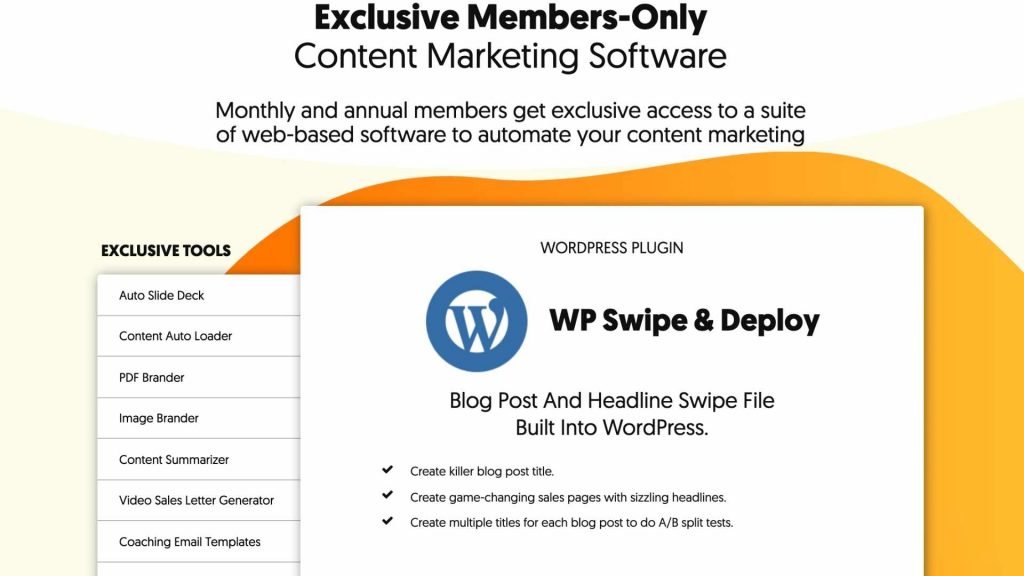 Headlines are so important. If your headlines can't capture your audience's attention, then they will likely turn around and walk away. WP Swipe and Deploy is a blog post and headline swipe file built into WordPress. You can easily create killer blog post title, game-changing sales pages with sizzling headlines and also create multiple titles for each blog post to do A/B split tests.
Product Showcase
Create beautiful grid-style images that show off your products in seconds with Product Showcase. You can create graphics and page spreads for your sales pages, membership sites, and emails. This also helps to provide a preview of what your clients will get from your products and increase customer comfort and confidence so they buy from you again and again.
Pricing
One of the best things about PLR.me is that they have a variety of plans with flexible pricing that can fit your budget.
To put it simply, you can start with the free plan that gives you 2 credits a month, and these credits don't get rolled over so they expire every month.
You have the option for the Pay-as-you-go, where it costs $2.20/credit. Then there is the 100 monthly plan where you can get 100 credits per month for $0.99 per credit. Again, there is no long-term commitment, you can cancel anytime. Also, you get all the perks of the membership with this plan.
Then there is the 400 annual plan, 800 annual plan and 2,500 annual plan. You can check out their pricing table for more information.
If you were to create content by outsourcing, you would have to spend quite a lot of money, which could cost anywhere from $50-$200 per content. If you were to create them yourself, you could be spending hours on end researching, brainstorming, and creating. 
When you're considering how much money and most importantly, the time you could be spending with creating this kind of content, you can see that you are saving a lot by investing in this done-for-you-content.
PLR.me Pros
Access over 14,539+ ready to use PLR coaching resources that you can brand as your own
Download what you need, when you need it
Brand, tweak and sell as your own. No royalties or extra fees
Create courses, products, webinars, emails, or nearly anything else you can dream of
Cancel anytime
From just $0.40 per download
Plr.me Cons
There would likely be other people in your industry with the same content from PLR.me, so make sure to adjust and tweak what you think is necessary. One easy way to tweak the content is to change up the format.
Conclusion
I was blown away when I first came across PLR.me and I think it is one of the best resources out there for coaches and content creators to save time and money without having to worry about reinventing the hamster wheel.
Since we have the special deal at the moment for you to grab 10 extra credits, check it out for yourself and download a few content pieces to use for your own business right away!