If you're looking for a thorough review of the learning management solution, Podia, then you're in the right place. If you're here, you've probably been thinking about taking a skill and turning it into an online course as many people are making great money from doing that. In this Podia review, let's check out this all-in-one platform for digital products, course creation and membership site for your online business.
Podia is a multi-billion dollar industry at this point, so you might want a slice of the pie. In fact, there is a growing number of creators who are earning full-time incomes or more selling courses online, and it's a pretty good way to earn an income.
The problem is once you've decided you want to sell courses online then you're bombarded with all of the choices, for example; which learning management solutions should I choose? How will I engage with my students? How will I generate ideas for the course? How will I market the course? And the list goes on and on you. You have to choose pricing and course names and, and so many other things – this can all be overwhelming.
So in this review, I want to help you make your decision on which learning management solution to use as easy as possible and as a result in this podium review, I'll be telling you what it is, how it works, pros and cons and what it does.
Podia review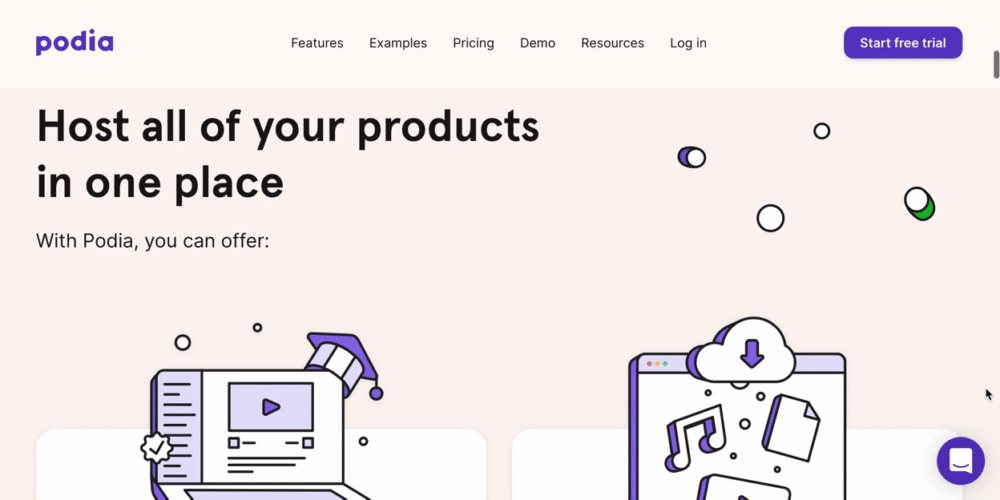 What is podia?
So first, let's talk about what is podía is one of the most feature-rich learning management systems on the market. They offer lots of great features, including email, marketing, cross-sell or upsell aprotic.
Unlimited everything, including video hosting you – can sell a limited number of products. You can see an unlimited number of digital downloads they offer analytics and they offer more than that. I'm using podía.
Podia is your all-in-one stop for sharing your expertise with others and using that to add to your income.
Podia features
With Podia, you can add a variety of resources to your paying members such as video lessons, product bundles, and discussion groups. Paying members can also have exclusive access to member-only posts that include various exercises for them to practice with or use.
Podia also includes a blogging feature, so you can have your store and blog all in one place.
Setting up content on Podia
Podia boasts that their platform is highly customizable and an easy place for you to keep your branding consistent with your own website, social media, or other blogs. They also offer free content migration, the ability to integrate with google analytics, and custom URL support.
Podia allows you to set up your plans however you would like, so it's possible to have a cheap or even free beginner course to help give your members a taste of what you are offering. This can be a great way to hook people into paying the membership fee to start selling them the bulk of your content. They also allow you to go in and update your content, which is particularly helpful if your content may be time-sensitive and at risk of becoming outdated.
Monetising content on Podia
Once people are at your website and starting to make use of your content, there are a variety of ways to begin to monetize yourself. One of the main ways often used by people who are looking to teach hard skills is to offer a multitude of paid courses on the subject, broken down into topics. An artist, for example, could run a course on line weight, a course on colour choice, and a course on lights and shadows, each with their own price tag.

Another way to monetize your content is through a membership fee that allows access to all of your content. This is great if you are going to use Podia to host things like webinars, run member-only discussion boards, or offer one-on-one coaching sessions. You can also set up different levels of membership, allowing for different levels of engagement depending on how much they are willing to pay for your knowledge and experience.
Marketing features
One of the other features that podia offers on both plans is email marketing. Through a variety of tactics, you can reach out to current, past, and potential future members through their email, and use their tools to track click rates, conversion rates, and more.
I might make the case that the biggest reason to use Podia over its competitors is customer service. Podia has a live chat feature that will let you talk directly to potential customers, so from a customer-facing side it allows you to interact directly with your customers. They also offer live support 24/7 to you, so if you are ever having issues setting up something the way that you want it, there is someone there to save the day.
Podia pricing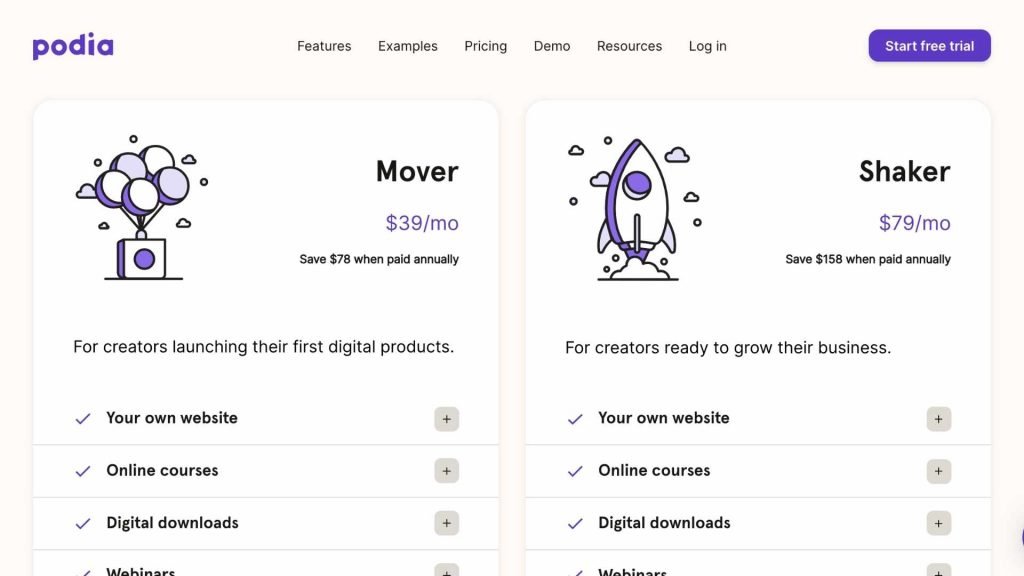 Podia offers two levels of membership, one for $39 US per month, and the other for $79. The cheaper plan does not give you access to blogs or memberships, but is a great place for someone planning on offering video lessons and free webinars to host their content.
The more expensive plan gives you access to blogs and memberships, but also gives you an affiliate marketing code so that you can reach out to other content creators to market your products.
Other major sites such as Thinkific, do not have a free plan (though they do offer a two-week free trial) which could be considered a drawback, but their paid plans are more affordable and offer more content than the lower tier plans on several other lessons hosting platforms. Podia is probably the best value out of any of these sites for your buck, especially if you're only starting out. 
Conclusion
Podia is an excellent resource to market your knowledge to anyone that feels like they could learn from your lessons. They offer a large variety of resources for an affordable price, especially compared to their competitors. They offer excellent customer service and the ability to set up your store how you want to. If you find this Podia review useful or have any questions, feel free to leave a comment down below.