If you're looking for a thorough review of the learning management solution, Podia, then you're in the right place. If you're here, you've probably been thinking about taking a skill and turning it into an online course as many people are making great money from doing that. In this Podia review, let's check out this all-in-one platform for digital products, course creation and membership site for your online business.
Podia is a multi-billion dollar industry at this point, so you might want a slice of the pie. In fact, there is a growing number of creators who are earning full-time incomes or more selling courses online, and it's a pretty good way to earn an income.
The problem is once you've decided you want to sell courses online then you're bombarded with all of the choices, for example; which learning management solutions should I choose? How will I engage with my students? How will I generate ideas for the course? How will I market the course? And the list goes on and on you. You have to choose pricing and course names and, and so many other things – this can all be overwhelming.
So in this review, I want to help you make your decision on which learning management solution to use as easy as possible and as a result in this podium review, I'll be telling you what it is, how it works, pros and cons and what it does.
Podia review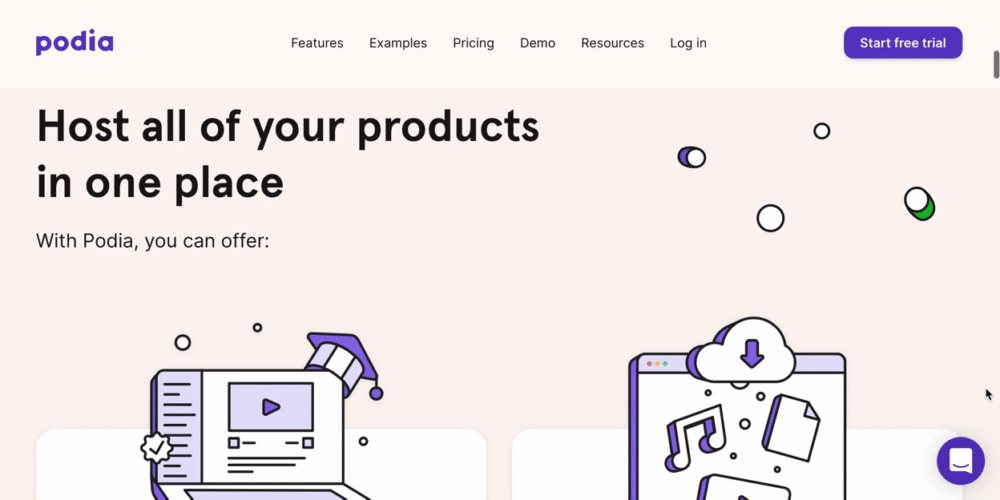 What is podia?
So first, let's talk about what is podía is one of the most feature-rich learning management systems on the market. They offer lots of great features, including email, marketing, cross-sell or upsell aprotic.
Unlimited everything, including video hosting you – can sell a limited number of products. You can see an unlimited number of digital downloads they offer analytics and they offer more than that. I'm using podía.
Podia is your all-in-one stop for sharing your expertise with others and using that to add to your income.
With Podia, you can add a variety of resources to your paying members such as video lessons, product bundles, and discussion groups. Paying members can also have exclusive access to member-only posts that include various exercises for them to practice with or use.
Podia also includes a blogging feature, so you can have your store and blog all in one place.
Podia features
Podia is an all-in-one platform that you can start using, without worrying about getting another software. Here are all the different features Podia has for you.
Unlike many other platforms that limit how many emails you can send, the amount of pages you can create, the number of products you can sell, Podia has no limit and with their monthly plan, you can use all of their included features as much as you want.
Let's take a look at the features that Podia offers. 
Podia Content
With the Website Builder, you can quickly create your about page, contact page, or any other page you'd like your visitors to see. You can also use it as a blog to post updates, share articles, ask questions, and more.
No matter if you're using Podia for your digital downloads, online courses, memberships, or any other platform, you have complete control over what your audience sees. You can easily add rich text, images, videos, and testimonials.
With Podia, you can sell eBooks, PDFs, cheat sheets, checklists, video files, audio files, text, or any content you want.
You can use the Podia feature to drip content. By dripping content, you can give students immediate access to your online course or deliver it section-by-section over time.
You can also use the quiz function to test your students' knowledge with interactive quizzes through the online courses.
Another great feature that Podia has is the ability for you to sell bundles with your store. This can encourage your customers to buy more by bundling your digital downloads together as a package, or by combining them with online courses and membership plans.
Podia Payment  
Podia offers various payment plans for you. With the payment plan option, you can increase conversions by giving your students the option to pay for your course in monthly instalments. You can also presell your products, so you can start selling your course before it's ready by setting a start date in the future.
Podia also offers the function of upselling and it can help increase the size of every order by offering relevant upsells to anyone who downloads or purchases your products.
An additional feature you get with the shaker plan is the ability to create offsite buy buttons so you can embed buy buttons on any website, blog or landing page on the internet, and your visitors will be able to purchase your products without ever leaving the page.
This feature is so powerful to help boost your sales and streamline the sales process.
Podia Membership 
Membership is only available with the Shaker plan. You can publish members-only content. Add pinned posts, schedule content in advance, and control which membership plans see which posts.
Instead of having its community feature, you can link to your Facebook Group or Slack Channel so only paying members can join.
Webinar
Podia integrates directly with webinars so you can give them away for free to grow your email list. You can also schedule them in advance directly through Podia.
After your webinar ends, Podia will automatically store the recording. Customers who paid for it will be able to access recordings, and you can choose to allow new customers to purchase the replay after it's over.
You can schedule in advance, deliver them live and share replays, all in one place. YouTube Live integration is included in the Mover plan, whereas the Zoom integration is included in the Shaker plan.
Podia Email Marketing features
As an all-in-one platform, it is no surprise that Podia also comes with built-in email marketing features.
Email marketing is important to help move your customers from a cold subscriber to a warm lead. Podia helps to trigger your drip campaigns to start when someone grabs a free download, and move them down the funnel into your paid products.
You can quickly start sending newsletters or share one-off updates with your entire list or send more targeted updates to specific segments.
You can also create automated drip email campaigns that engage your subscribers through every stage of the sales funnel.
Some extra features Podia offers include helping you segment your campaigns by which products your subscribers have purchased and pitch them something else they'll love. Through the dashboard, you will be able to get all important metrics like open rates, click rates, and unsubscribe rates for every email you send.
Podia Affiliate Feature
With Podia, you can build your own sales team with an Affiliate Marketing program. Your affiliates get a unique code to promote, and you can choose how much you want to pay them per sale.
Within the Podia platform, you can easily change and adjust who can join your affiliate program, the payout amount and track the performance of your affiliates.
Be aware that the affiliate feature is only available for shaker plan users.
Podia On-site Messaging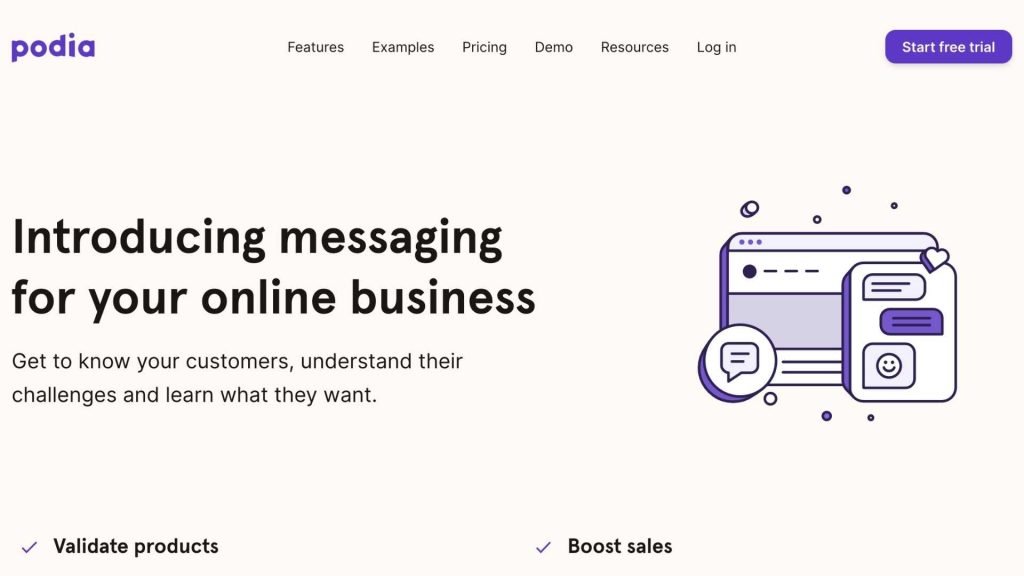 This is a special feature that Podia has and I love. The on-site messaging feature allows you to chat with people contemplating purchasing your products. Podia is the ONLY product platform with integrated live chat, which will help you sell more products and memberships.
Live chat gives your customers a reliable way to reach you when it's convenient for them when they are going through the course, so you can quickly help them solve any issues they might come across.
Podia Sales Pages
The sales pages of Podia are customisable and you can add rich text, images, testimonials, and more. You can drag and drop, move elements around to build the sales pages.
Podia boosts their conversion-optimized checkout, which can help remove friction and help you get more sales through the 12-second checkout that's simple.
Podia Support
I might make the case that the biggest reason to use Podia over its competitors in customer service. Podia has a wide range of documentation and tutorials to guide you through anything you need to set up your platform.
They also have regular webinars, Q&As as well as live support. So if you are ever having issues setting up something the way that you want it, there is someone there to save the day.
Setting up content on Podia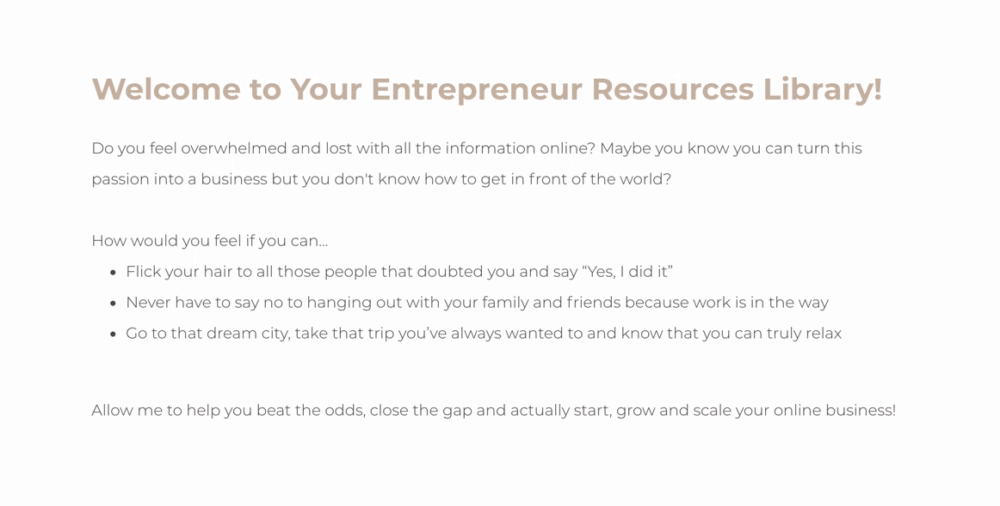 I loyally use Podia to house all my digital downloads, courses and more. This is a screenshoot of my Library 🙂
Podia boasts that their platform is highly customizable and an easy place for you to keep your branding consistent with your own website, social media, or other blogs. They also offer free content migration, the ability to integrate with google analytics, and custom URL support.
Podia allows you to set up your plans however you would like, so it's possible to have a cheap or even free beginner course to help give your members a taste of what you are offering. This can be a great way to hook people into paying the membership fee to start selling them the bulk of your content. They also allow you to go in and update your content, which is particularly helpful if your content may be time-sensitive and at risk of becoming outdated.
Monetising content on Podia
Once people are at your website and starting to make use of your content, there are a variety of ways to begin to monetize yourself. One of the main ways often used by people who are looking to teach hard skills is to offer a multitude of paid courses on the subject, broken down into topics. An artist, for example, could run a course on line weight, a course on colour choice, and a course on lights and shadows, each with their own price tag.

Another way to monetize your content is through a membership fee that allows access to all of your content. This is great if you are going to use Podia to host things like webinars, run member-only discussion boards, or offer one-on-one coaching sessions. You can also set up different levels of membership, allowing for different levels of engagement depending on how much they are willing to pay for your knowledge and experience.
Marketing features
One of the other features that podia offers on both plans is email marketing. Through a variety of tactics, you can reach out to current, past, and potential future members through their email, and use their tools to track click rates, conversion rates, and more.
I might make the case that the biggest reason to use Podia over its competitors is customer service. Podia has a live chat feature that will let you talk directly to potential customers, so from a customer-facing side it allows you to interact directly with your customers. They also offer live support 24/7 to you, so if you are ever having issues setting up something the way that you want it, there is someone there to save the day.
Podia pricing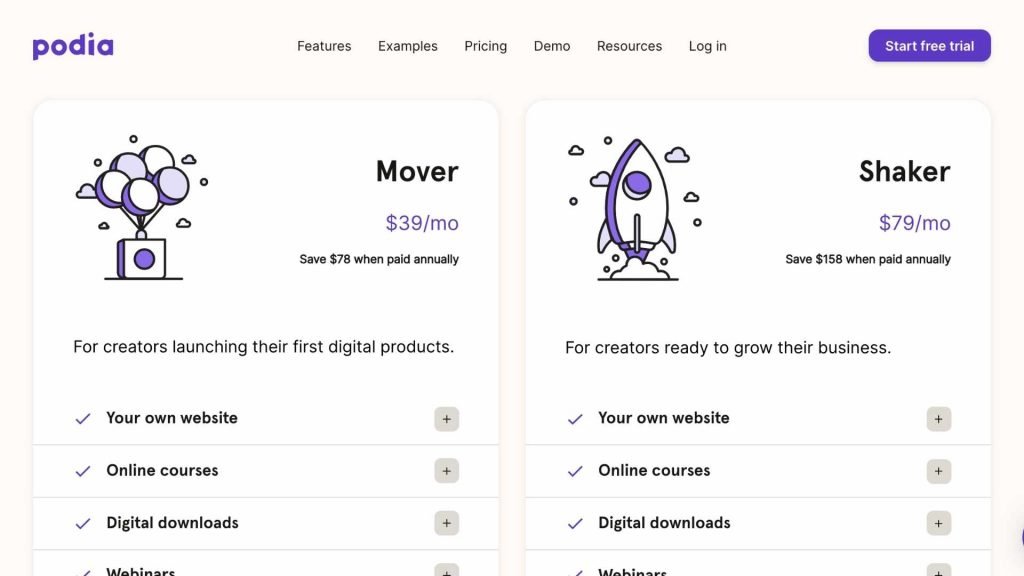 Podia offers two levels of membership, one for $39 US per month, and the other for $79. The cheaper plan does not give you access to blogs or memberships, but is a great place for someone planning on offering video lessons and free webinars to host their content.
The more expensive plan gives you access to blogs and memberships, but also gives you an affiliate marketing code so that you can reach out to other content creators to market your products.
Other major sites such as Thinkific, do not have a free plan (though they do offer a two-week free trial) which could be considered a drawback, but their paid plans are more affordable and offer more content than the lower tier plans on several other lessons hosting platforms. Podia is probably the best value out of any of these sites for your buck, especially if you're only starting out.
How I use Podia
I love Podia and it is the platform that I couldn't resist getting from the second I launched my business. I use Podia to host all of my digital downloads, courses, sales pages and hopefully coming very soon my membership platform.
I love the interface of the course section and the downloads. It's very easy to navigate and you can see all the information in one place. Once you have gone through a lesson, Podia crosses out that section for you, so you can easily find where you had left off.
The simplicity in the design is one of a kind, and there is a lot of flexibility in what you can do with your content. You can add audio, text, video or mix and that's the part I love about Podia.
In comparison to a lot of other software out there such as Kajabi, Podia is a lot more affordable. Although it is simpler, if your brand is clean and minimalistic, then you might find Podia to be the perfect platform for you.
Podia Pros
All-in-one platform
Affordable pricing
Beautiful interface
Easy to use
Offer additional features such as upsells, webinar hosting, messaging and more
Podia Cons
While you can customise a lot of elements within podia, it's not very flexible in terms of spacing on your pages and the overall look for the website. If your brand requires a more complex user interface, Podia might not be for you
If you want to use a built-in community aspect inside your membership, this also might not be the best option for you, since it relies on a Facebook group and Slack 
The affiliate program for you to implement for your online store can only set up cookies for up to 15 days, which is quite short.
Conclusion
Podia is an excellent resource to market your knowledge to anyone that feels like they could learn from your lessons. They offer a large variety of resources for an affordable price, especially compared to their competitors. They offer excellent customer service and the ability to set up your store how you want to. If you find this Podia review useful or have any questions, feel free to leave a comment down below.