There are so many websites out there that offer services to upload and sell custom designs, and it can be difficult to choose which one to use for your business. Among the many available to choose from, if you're looking for an easy-to-use and affordable way to sell your custom designs online, Printiful and Printify are two great services to choose from. Check out this Printful vs. Printify review to find out more about the features of both websites, the pros and cons, and to see which is the right choice for your business.
Printful vs Printify
What are Printful and Printify?
Both Printful and Printify are services to create & sell your own custom design products online, with print-on-demand and order fulfillment. Similarly to other custom design services, they give you a stress free option to upload and sell your designs without having to worry about inventory or shipping.
Printful and Printify Features
Here, let's take a look at the features that both Printful and Printify share.
Creating Custom Products on Demand
Print-on-demand (or POD) is an order fulfillment method where items are printed as soon as an order is made. With POD, you can create customised designs for a variety of products (including t-shirts, mugs, hats, etc) and sell them under your brand.
eCommerce Integration
With both Printful and Printify, you have the option to integrate with many eCommerce platforms and marketplaces. This means you can link your shop on websites such as Etsy or eBay, list the products on your storefront, and have Printful or Printify handle your order for you. Printing orders as they are placed.
Order Fulfillment
Not only can Printful and Printify create your products on demand as orders are placed, they also handle order fulfillment. This means not only can you link your shop on websites such as Etsy or eBay and have Printful or Printify print your order on demand for you, as I stated earlier. It means you can also sit back and relax, letting them handle shipping the order as well.
Printful and Printify put ease into creating and selling custom products. Once you create your design and choose your product types, Printful and Printify take over from there. Allowing ease of creation and fulfillment of orders.
Printful Specific Features
With Printful, their services not only include Print-on-Demand and order fulfillment. Printful also offers other creative services for your business for a free. Including:
Graphic Design – Have an idea for a design but don't have the right skills? Printful allows you to create designs for your business even if you did not make the design yourself. Printful offers on-staff graphic designers to work with you to create a design for your business.
eCommerce Photography – Printful will print and photograph your products right on site with their talented team of in-house models and photographers.
Video Production – Printful also offers video services for your business, including options such as a video showing your product on a model in a studio setting, a video combining production footage and the final product on a model in a studio setting, or video editing services by sending video footage you need to be edited which can be adjusted to fit any social media format.
Store Setup Services – No tech skills to build your online store? Printful will do it for you. When you're busy building your brand, you don't want to waste your energy on the technical details of setting up your online store. Save time and let Printful's expert team handle the setup for you.
Printify Specific Features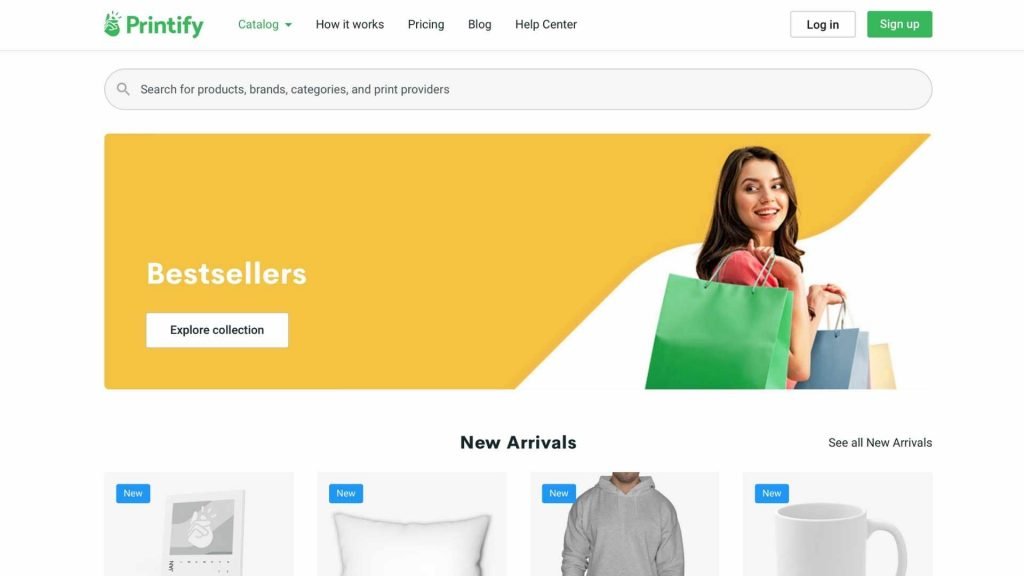 Unlike Printful, Printify has a much more simplified structure. While Printify may not have as many features as Printful offers, it's simplicity to use and minimalist website makes it a strong competitor. Such as with Printful, their services do not only include Print-on-Demand and order fulfillment.
Samples – With Printify, you can order samples from your chosen print providers to make sure the end products look and feel exactly as you imagined. This allows you to test out different products and find the right print provider for your business.
Handpick Your Supplier – Unlike Printful, you can handpick your print provider. This gives you more freedom to feel confident in the quality of your products.
Streamlined Experience – Printify simplifies and automates the process of sourcing and creating print on demand products in 5 easy steps. Print, customise, sample, publish, and then relax as Printify will take over from there.
Printful Pros and Cons
Printful Pros
Printful has a significant number of unique products to work with
It has a quick turnaround time.
Centralised fulfillment locations. Printful has warehouses in Los Angeles, North Carolina, Latvia, and Mexico. They're planning to launch another base in Spain. Since they do in-house printing, drop shippers can sell their print products globally and fulfill orders promptly.
Printful has a large customer base across the US and Europe
Printful Cons
While the product quality is streets ahead of its competitors, Printful's products are slightly overpriced. You might want to research your customer base to know how much they're willing to spend on custom branded products.
Printify Pros and Cons
Printify Pros
You can choose your printing provider
A flexible pricing model
Over 200 products to choose from
Products are a bit cheaper
More simplified experience
Printify Cons
A limited number of integrations
The branding services are quite limited
Its print quality is sometimes fluctuating
Printful and Printify Pricing
Printful Pricing
Free sign up and use, no order minimums. Pricing based on product and fulfillment fees.
Printify Pricing
Free sign up and use, up to 5 stores per account & unlimited product designs.
Premium is $29/ a month or $299.88/ annually ( save 14%). Includes 10 stores per account, unlimited product designs, and up to 20% discount on all products.
Enterprise (for merchants with 10, 000+ orders a day) is custom priced. Includes unlimited stores per account, unlimited product designs and up to 20% discount on all products.
Conclusion
Both Printful and Printify are great options and powerful tools to create, sell, print, and fulfill custom designed products for your business. In the end, which service you use comes down to your preferences. Need an extra hand? Printful offers many extra services that you can pay for to make your brand pop. Looking for a service with simplicity and a streamlined experience? Look no further than Printify. With either choice, you will be in good hands.