Being a solopreneur means to set up and run the business, and it requires efficient productivity skills. The one success metric every entrepreneur or solopreneur needs to master is the art of getting things done. When you are a solopreneur, it is easy to get lost in the endless amount of work, being overwhelmed, and sometimes not sure where to start. Here are 9 productivity tips every entrepreneur and solopreneur needs to know to help you with your online businesses.
You might have heard the expression "Ideas are cheap," suggesting that just because you have a good idea it doesn't mean you will be successful. It takes time, effort, and taking consistent small steps to get to your goal.
It can be unbelievably tough to manage your productivity. It's easy to get distracted or end up spending several hours deliberating over the color scheme of your business cards or the design of your website.
Every entrepreneur has those days when it is difficult to feel productive, yet that doesn't mean you can not make the small changes. If you need to be productive today, right here are 9 productivity tips to help you get going and also complete the required tasks.
Productivity Tips
1. Delegate
A lot of the time, solopreneurs and entrepreneurs find themselves spending time setting up the business rather than running the business. Business owners spend hours doing every small thing, rather than being the leader and navigating towards success.
That means that you are working ridiculously long hours, for potentially little to no pay. It may lead you into an early grave, with no freedom at all. You are the entrepreneur and you need to delegate the tasks.
Your job is to run the business. You are the captain of the ship and you need to get a team together to support you in reaching your vision.
It is essential to understand what you are good at and what you should be spending your time doing. If you are not particularly good at a particular task and end up spending hours working on it, you're just wasting your time. Assign the tasks to the right person who can get things done with minimum time and effort.
If you are unsure where to find people to help you, you can start with looking for freelancers or virtual assistants on Onlinejobs.Ph (my favourite outsourcing platform), Fiverr, Freelancer or Upwork.
2. Stop Multitasking
Many entrepreneurs believe that having the ability to multitask is a good thing. Multitasking is a part of the nature of many entrepreneurs and solopreneurs. A lot of people think that it is a great skill to have, but it can actually hamper your productivity and effectiveness.
By multitasking, you're spending more time shifting your attention from one task to another, rather than working effectively and efficiently.
Rather than multitasking, take particular times for particular jobs and also concentrate only on them. The phone as well as emails are often distractions to take focus away. Try to set a specific time for returning phone calls and emails.
If you find it hard to close all the open tabs and struggle with focusing, then check out these tools to help you:
3. Batch work
The opposite of multitasking is batch working. This is an important productivity tip, where you spend a big amount of time focusing on one task or one type of work, rather than going back and forth.
Through batch working, you will be able to produce more content in less time. Batch working can help you decrease the amount of distraction that you might come across and help you to concentrate so you can focus on a single task at a time. Once you have enough content for one platform, you can then move onto another platform and focus on that.
When you start batch working, by grouping similar tasks together, your effectiveness increases, helping to skyrocket your efficiency and your productivity. This is an important productivity tip to have to help you skyrocket your productivity.
4. Tackle one thing at a time
Have you heard of Brian Tracy? He is the world-renowned productivity expert. He encourages us to tackle the most challenging, dreaded, and uncomfortable task first. Once this dreadful task is out the way, you would feel a tremendous sense of achievement, which can then help you build momentum, stay focused, feel increased self-esteem, and squeeze more out of each day. 
Make it a habit of not calling it a day without building a to-do list for the next day. Your daily to-do list should end with a "build to-do list for tomorrow."
5. Get laser focus
As a solopreneur, a lot of the time we spread ourselves out too thin across multiple projects. It is also easy to get shiny object syndrome, where we see new opportunities, new tools, new methods and new platforms and get distracted.
It is also a result of FOMO, the fear of missing out. When everyone else out there seems to be doing something, as a solopreneur, it's hard not to feel like you should get in there and see what's happening as well.
Getting distracted by other people, other tools and other tasks would make us run around, chasing our tail, and not finishing anything because we are reacting to situations around us rather than deliberately responding to necessary tasks.
Get laser focus on exactly what you want to achieve, when you want to achieve these tasks by and stop letting yourself get distracted by outside factors.
6. Make use of different apps
Whatever industry you're in, there is an app that will help streamline your productivity as a small business owner. It will save you both time and money in the long run.
If you're battling to focus on getting something done, try setting a timer to concentrate on the task for a certain period of time and afterwards, allow yourself to have a break. This can help you to break a task down into smaller pieces and avoid the paralysis of being overwhelmed.
Here are some amazing tools to get you started with automating your systems. Take these productivity tips in mind to help you save time and money, while working towards your success.
Social media tools
You can use these tools to post on social media channels. They are great tools that have additional functions to help you better analyse your results.
Email autoresponders
These email autoresponders to automate your email process and segment your list so you can serve your customers even better.
Chatbots
Chatbots can significantly increase your level of productivity. There are different chatbot services to help you with your customer support and answer frequently asked questions.
These are amazing plugins that will be able to help you improve your SEO rankings on your website and figure out the right keywords to target:
Here are some other platforms that can help you automate your process and help you with creating amazing content for your audiences, without investing hundred and thousands of dollars outsourcing to other people.
Automation is just one of the most effective methods to enhance your output and it can free up your time to concentrate on the things that truly matter.
7. Give Yourself a Deadline
It's very easy to put something off when you have an open timeline or due date. Instead, create deadlines to finish specific tasks on your list for the day. Set a goal to end your day at a specific time and have everything done before that.
This psychological trick will help you get more done and have more time to enjoy your life instead of worrying about all the things you have to complete.
8. Write It Down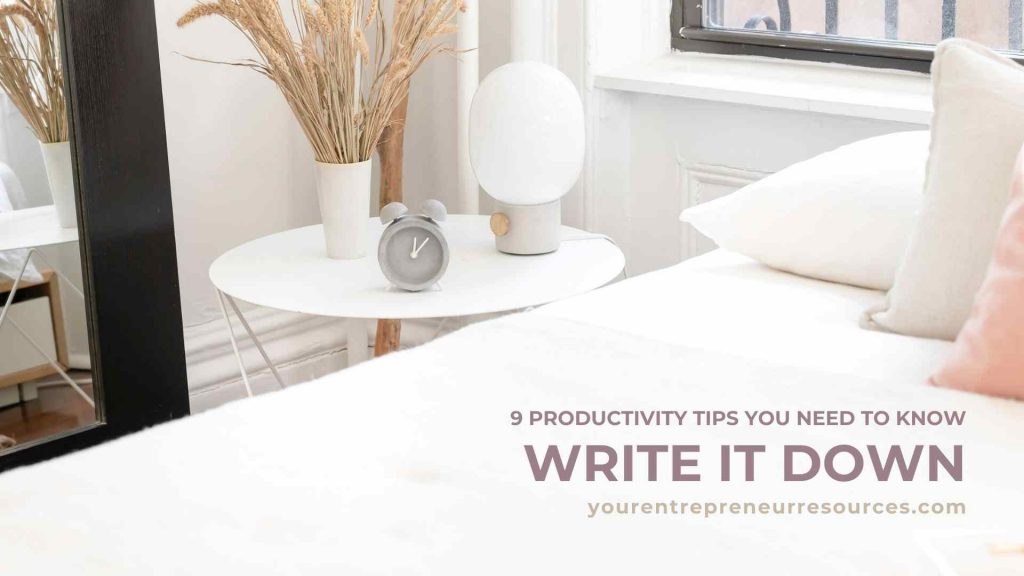 If you're the type of person that gets sidetracked with brainstorms of new ideas, it's an excellent idea to write them down. Keep a pen and paper nearby (or an electronic notepad) to make sure that you can jot down your ideas.
This allows you to place them down so you won't neglect them and then you can get back to what you need to do. At the end of the day, you can look into your list and choose if you need to do anything with those fantastic ideas. This way, your time won't be taken away from the urgent tasks.
9. Move your body
Moving your body is an important productivity tip to help you with your entrepreneurial journey. Exercise is something that entrepreneurs often put at the end of the list, yet by working out first thing daily, you'll help your brain get more oxygen as well as nutrients.
This productivity tip can help increase in nutrition will help increase productivity throughout the entire day. If you invest way too much of your day sitting and not moving, the result will certainly show. Try to get up from your chair once an hour and move around throughout the day by walking, jogging or doing a few leaping jacks to get your body moving.
Conclusion
Sometimes, it is difficult to figure out how to be productive and you might get distracted by different tasks, people and things happening around you. Try to take these productivity tips into account and use them to help you stay productivive on your journey.
Check out our Facebook group to find other entrepreneurs to connect with, and weekly free and discounted resources.