With evolving technology and an ever-growing pile of resources available for authors online, it's easy to create and publish a book without the hassles of dealing with agents, editors, time-lags that are associated with traditional publishing. In fact, this has become an extremely popular option for authors in recent years, as more and more authors go down the route of self-publishing an ebook online, causing traditional publishing to lose their share.
Here in this step-by-step guide, let's have a look at the ways you can create an eBook and begin your self-publishing journey.
Step 1: Ebook Basics
It should be clearly understood that eBooks are now something one can actually "hold" in the conventional style often associated with regular books. Invented and tailored to be used as readable information for electronic gadgets such as tablets, mobile phones, computers and such.
Initially, these E-books were designed to only address a limited audience, consisting mostly of technical information for those related to the world of computers. Today, eBooks can be written on every topic imaginable as it is easily accessed by a wide array of people with much-diversified interests, even libraries – once considered a sacred place for books and reading – have started providing the facilities to allow a visitor to indulge in this style of sourcing for information.
eBooks are the rave now as most people have access to electronic gadgets that facilitate the experience. This makes eBooks more accessible than physical books, not only because they are much more convenient, as compared to having to lug around a variety of conventional books to gather the same amount of information, but they are considerably cheaper.
Despite still being a relatively new technology, the market has grown exponentially due to its numerous benefits. This growth has also benefitted self-publishers, because self-publishing an eBook online is significantly easier and cheaper than self-publishing conventional books, as the problems of price and distribution are eliminated.
Epublishing distributors often allow authors to sell on multiple platforms, and there are plenty of tools available online to help create eBooks with no up-front or per-book cost. Consequently, a large proportion of the eBooks in the market are now self-published, for instance around 40% of eBook titles on Amazon – the largest eBook platform – were self-published in 2017. Now that you understand the basics of what an eBook is, why they are so popular, as well as why so many authors choose the self-publishing route for their eBooks. Let's break down the steps you need to take when self-publishing an ebook online.
Step 2: Decide If Your Book Will Be Used For Profit Or Promotion
Because eBooks can be designed and used for a variety of reasons, deciding its primary use before writing an e-book would be beneficial. However, before making such a decision perhaps understanding the different advantages of using an eBook for profit or promotion.
Advantages of using an ebook for promotion:
eBooks are an excellent and cost-effective way of promoting anything. As the target audience is varied and wide, using this form of promotion to reach people is very beneficial indeed.
This unique collection of information is always available and accessible for all at any time and place where there is an internet or other electronic gadgets accessibility.
The eBook style of information feeds the general need for information and is a tremendously growing platform for delivering information. Basically, E-books can be used to promote regular businesses particularly an online business.
The reason this is such a popular avenue is that most surfers browse information randomly and with specific intentions. An informative E-book will create the excitement necessary to direct the interested party to the intended site in order to garner revenue.
These eBooks can comfortably take the place of sales promoters without actually having to cost much. The cycle of duplication and passed information is virtually endless and thus giving the well needed promotional elements vital to any endeavour.
eBooks only need to be written once and can be used for months or even years, as long as its contents are accurate, and on multiple different platforms.
Advantages of using an ebook for profit:
When it comes to the profit-making aspect of designing and churning E-books there is also a lot to be said. Revenue can be earned for well-designed and informative E-books.
Also, the general outlay is virtually non-existent as everything can be done via the internet.
Time and money are also minimal when it comes to creating E-books. Manuscripts uploaded to Kindle Direct Publishing or Smashwords do not cost the author anything.
Being a very large industry, these publishing entities are able to reach a wider audience perpetually.
Whilst publishing distributors might take a small percentage of each book sold, Self-published ebook authors earn a greater share of royalties as opposed to how much you earn with traditional publishers.
We only have to look at a few examples to see how self-publishing an ebook online has the potential to garner a lot of profit. Andy Weir's self-published ebook 'The Martian' not only became a bestselling novel but later a major motion picture. The 'Fifty Shades of Grey' trilogy was also a self-published ebook before it became the phenomenon it is now.
Step 3: Decide on the format
Here again, there is a variety of styles that can be adopted when designing an E-book. There are several options and understanding the differences would assist the individual in choosing the type of format most suitable to the material intended to be posted.
Although the end-user of an E-book generally just wants to read the material content, there may be other more technical aspects that contribute to the choice made.
When self-publishing an ebook online, the author is responsible for formatting their book for digital conversion. For beginners, this step may be the most difficult and time-consuming part of the process, but it's not impossible to learn how to do it yourself online.
Below are some of the technical aspects of the different formats available:
Amazon Kindle
Amazon Kindle is created with the proprietary format, AZW, it is designed to follow different serial number notations and has its own DRM formatting, which is conveniently delivered through the wireless systems.
Archos Diffusion
This format is very versatile and supports a variety of input formats in text, audio and video. Using PDF, WMA, MP3, WMV it consists of interactive functions like bookmarking, advanced plain-text searching, dynamic text highlighting and many more.
Broadband eBook
Broadband eBook is done in a proprietary format and those who use reader software for general purpose computers can easily read the material.
Comic Book Archive file
Comic Book Archive file is as the name depicts, is used for sequential image files for fluent viewing. Stored as a single archive file it is very useful for comic book type designs as it is not a distinct file format. There are also applications that support additional tag information.
Compiled HM
This is a proprietary format style based on HTML. Here there is the advantage of multiple pages and embedded graphics compressed in a single file.
Desktop Author
Having the electronic publishing suite that allows the virtual turning of pages, this style is useful for publications such as brochures, eBooks, digital photo albums, e-cards, digital diaries, quizzes and many more. These can be viewed inside web browsers or as standalone features.
Step 4: Find A Self Publishing Company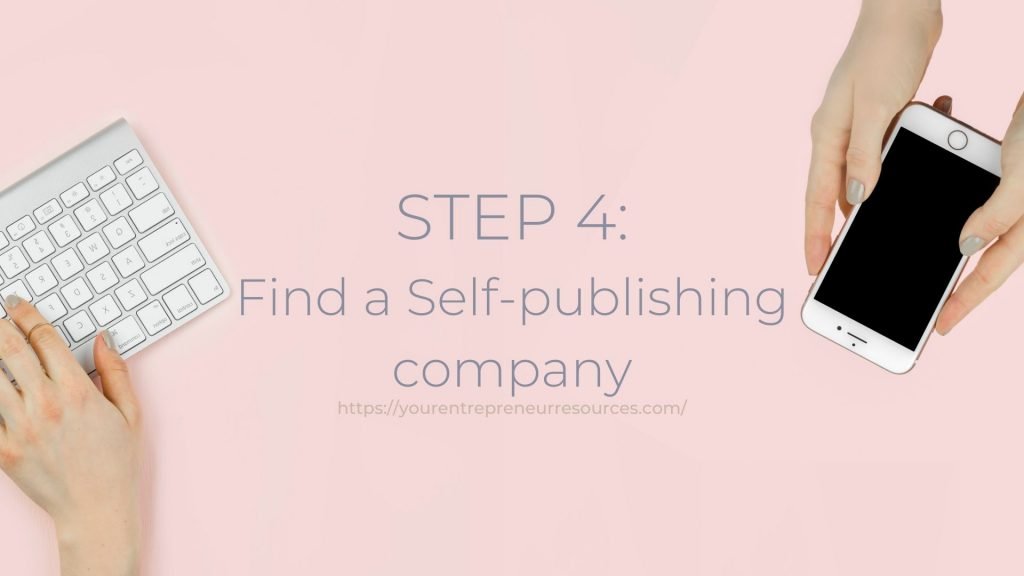 There are several reasons as to why this comparatively new form of publishing is fast gaining popularity. Exploring and understanding these reasons will better allow the individual to make informed decisions that eventually affect the sales and popularity of the material.
Generally understood as a more personalized venture, those involved basically decide on almost every aspect of the material to be published and the process it goes through. These may include the control of the designing of the cover and contents, formats to be used, pricing, distribution avenues, marketing strategies and perhaps even PR works.
This can be done personally or with the help of some more specifically experienced experts, depending on the assistance needed. Remember that every part of the self-publishing process can be outsourced if you need it.
Aligning oneself with the right complimenting assistance also helps to lessen the burden of having to address every aspect yet this style still allows the individual to have relatively total control within the entire process. This also comes with the advantage of retaining all rights and royalties.
This style is very attractive to authors as it definitely denotes more autonomy of the entire process, which in most cases is very important to the writer, but perhaps one of the most desirable factors that self-publishing an ebook online has to offer is the time frame needed to actually get the material to the intended target audience. Where the more traditional method may take a number of years, self-publishing an ebook online can be done within a fraction of the time.
The stigma previously attached to the self-publishing an ebook online no longer exists as its popularity is now well accepted as a norm. This has been facilitated by a whole range of different self-publishing platforms online, where ebooks are sold and bought.
Whilst the dominant platform, Amazon, controls over 70% of the market there are still plenty of other options for authors to self-publish their own eBooks. Including Amazon, the most popular platforms for self-publishers are:
Amazon's ebook publishing subsidiary is the largest platform and the highest amount of self-published ebook titles. Being a huge multinational conglomerate, Amazon's global clout and reach is unmatched, making it an appealing destination for authors.
Apple's free app allows authors to create and publish eBooks on its Apple Bookstore. Whilst this has the limitation of only being available on Apple devices, Apple does pay its authors 70% of their ebook's sales.
Smashwords converts the manuscripts uploaded to its service into multiple ebook formats which can be read on various devices. A huge benefit for the author is that they can control what price is set.
This is an open publishing platform Scribd that lets anyone self-publish and sell their own eBooks, they even offer authors 80% of the sales price.
Step 5: Set Up Payment Processing
The setting up of a successful payment processing page does not necessarily just mean collecting money though it is of course implied. There are several items that should be included to ensure each transaction is easily and correctly done to everyone's satisfaction. Ideally, some of the things that should be included are a catchy sales pitch, a thank you page, affiliate pages and the terms or policy of the service provided.
The pricing and billing policies should be clearly outlined within the sales page. Then there should also be some information on the refund policy if any. It would be a good idea to have some form of refund policy in place as this also shows the confidence in the product or service being offered. Strong guarantees go a long way.
There should also be well thought of the order of buttons that are hyperlinked to the payment avenue picked. When all this is clearly outlined the next step that is equally important is the thank you page. This should be made accessible when the payment part of the transaction has been made. The information to be included is support links where the customer can address any queries or dissatisfactions effectively and quickly.
It is also a good idea and marketing tool to source for other merchants that may be willing to form a partnership of sorts with the intention of providing freebies.
Incentives can be designed to be beneficial to all parties especially the one making the purchase. When there are added benefits such as discounts, free processing for subsequent purchases, coupons or any other value-added incentives the entire process becomes more appealing to the customer.
It should be noted that being bombarded with too many accompanying adverts and promises of freebies is also not a good marketing strategy as it only ends up confusing the potential purchaser. 
Step 6: Promote Your Book
The most disadvantageous part of choosing to go down the self-publishing route rather than with traditional publishing is that traditional publishers offer marketing help. Self-published ebook authors, on the other hand, are responsible for the marketing and promotion of their eBook.
You will need to stand out in a saturated market that is constantly flooded with new titles every day, but there are many ways to attract attention for your ebook:
Synopsis
Providing an intriguing synopsis of the material to be sold is the first step to reaching the target audience. Accompanying these will strong positive reviews from either previous works or the intended publication also carries a lot of weight. Compiling positive feedback and presenting it as a marketing tool is very persuasive.
Blogging tool
Using the blogging tool to promote the material will also help generate the interest needed to create a "buzz". Once the attention is guaranteed the follow up processes will be much easier to garner.
Affiliate Program
Creating an affiliate program will also be an added benefit as it widens the audience base and thus garners the needed attention for the material. By linking to other similar material content sites, the individual is able to also promote the eBook as either a complimenting element or as a fresh angle altogether which is mutually beneficial.
If you're interested, check out our article on Affiliate marketing!
Social Media
Creating and actively participating in social media platforms is also another form of ensuring awareness for the eBook. Popular sites like Twitter and Facebook are just some example of social sites that can be used to promote the material effectively and successfully.
However, one should be careful in how the eBook is depicted within the promotional exercise, as most social site visitors have short attention spans and such wide varied interest that it may prove to be hard to keep the said attention if the material is not interesting or long-winded.
Reviews
Having an established reviewer endorse your ebook is a good way to get you lots of attention. Consumers are also more likely to buy and read your ebook if someone they trusted as given it their stamp of approval. Unfortunately, self-publishing an ebook online still attracts less attention and notoriety than books attached to big companies like Harper Collins and Penguin, so getting a positive review is crucial for sales.
The Blogger Alan Sepinwall released a self-published book called 'The Revolution Was Televised' which became an instant hit after getting a positive review by The New York Times' Michiko Kakutani.
Conclusion
The previous barriers to self-publishing an ebook online have slowly gone away because of the vast array of resources available for wannabe authors online. This combined with an ever-growing market, low costs of production, and soaring popularity amongst readers and non-readers alike, it's now easier than ever for a self-published ebook to get readers.
Take advantage of the eBook popularity and be a published author by writing an eBook and publishing it online.