Are interested in making your own learning courses such as the ones created by popular websites like Skillshare and Udemy? Today, there are many services offering to help you create and sell your own online courses, but it can be difficult to choose which exactly to use. Among this sea of services, Teachable is one that manages to stand out. If you're looking for a platform to sell your online courses, check out this Teachable review to find out more.
Teachable Review
What is Teachable?
Thinkific is an online course and coaching service creator that allows you to build, market, distribute, and manage your courses and coaching services online. It allows you to build your course with videos, rich text and images, and downloadable files.
Teachable Features
Dashboard Interface
The Teachable dashboard is the first screen you see after signing up for an account. It provides a very easy to use interface and shows all of the features you'll need to create and launch your course. When you enter the dashboard for the first time, you will see certain tasks that Teachable will require you to complete. These include signing up for a free live webinar that teaches various tips and tricks of how to create your online school and first course, you'll also see tabs to create a product, how to set up your domain, and when you've done all these tasks, you will unlock a tab to launch your school.
Teachable also offers simple yet integral customisation options. You can add your logo, upload a background image or choose from a variety of stock images provided by Teachable, and you can change the fonts and colours that will be used throughout your site. Even with these basic tools you can put together a professional site, but for more tech-savvy users, there is also an option for inserting custom CSS.
Blogging
Interested in starting a blog and want to integrate it with your course? That's no problem with Teachable! Teachable offers the ability to publish a blog within your course site. If you are already blogging somewhere else, to some it may not be big news, but to others it may add a personal touch to your course.
In either case, if you don't have a blog or just want a place to publish content that integrates directly to your courses, this can be very valuable. A good blog is one of the most valuable assets any entrepreneur can create.
Products
Interestingly with Teachable, online courses are not the only thing you can create and sell with the platform. You can also sell services such as:
Ebooks
Audiobooks
Workbooks
Templates
Tutorials
Guides
Workshops
Webinars
Live classes
And as mentioned earlier, you can also sell coaching services. Teachable recently added a new feature that makes it easy to sell coaching, consulting, and tutoring services.
You could use this feature to offer services such as a one-time 15 minute Q&A session, a 1-hour tutoring class, you could create an 8-week coaching bootcamp, etc. Teachable's coaching feature also integrates seamlessly with Calendly and Zoom. This makes scheduling client appointments with you easy and automatic.
Shockingly, one of the best features about coaching is that it's something that you can start offering right away, even if you haven't created a course or product yet. Wow!
TeachableU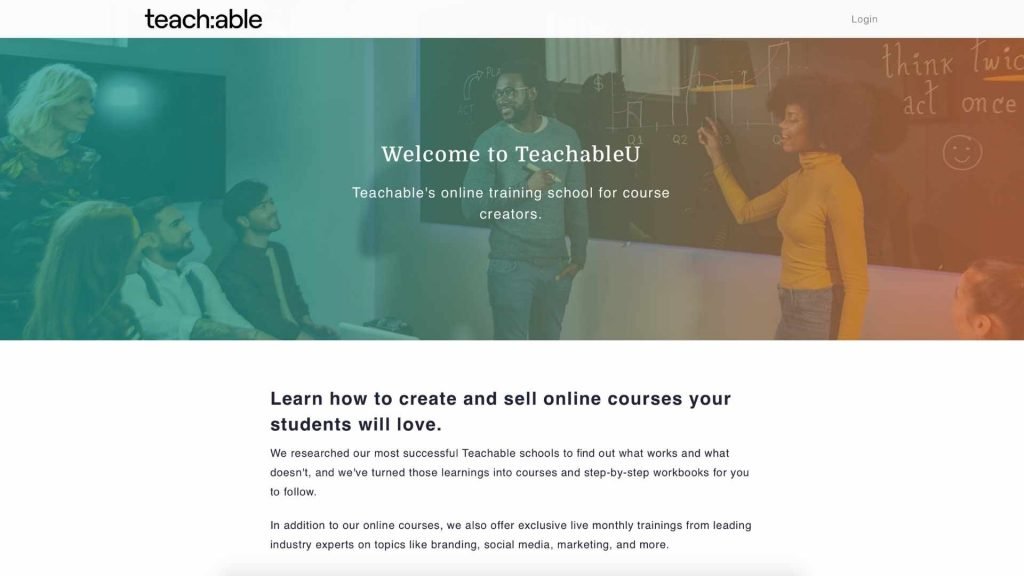 Need an extra hand in creating your course? Teachable provides all of its users, no matter which plan you have chosen, dozens of courses and bonus resources to help you plan, create, and sell your online courses.
The current topics and bonus resources TeachableU offers include:
Choosing your course topic
Building your audience
Creating your course
Launching your course
Get your first sale
Clicks to clients
Group coaching information
Impact your niche
Build your challenge
Ad, set, go!
Sell out your courses using webinars
Millionaire Mindset
and much more.
Teachable is always adding more courses and resources to this section because they have a vested interest in ensuring that their creators and instructors are successful.
After all, if you don't make sales, you won't use their product.
They've included everything that a new course creator needs to design profitable products and start making sales.
Marketing and Affiliates
See for yourself how easily Teachable makes it to market your course. You have the ability to track affiliate programs through built-in features and provide affiliate payouts if they sell your courses and digital products, and integration with leading marketing tools including MailChimp.
One of the coolest features I find is that Teachable allows you to create coupon codes and promo offers to increase new users, or to encourage existing users to promote your course you can set up your very own affiliate program to allow others to promote your courses in exchange for a percentage of each sale.
Teachable Paid Features vs Free Features
While with Teachable you do technically have the ability to sign up for free, you must sign up for a paid plan to use it long term unless you want extremely limited features and a 10% transaction fee.
So instead of adding extra features you may get if you pay, here are some of the many features that you can get no matter the plan you pay for:
Unlimited video
Unlimited courses
Unlimited hosting
Integrated payment processing
Student management
Lecture comments
Basic quizzes
No fees on free courses
VAT (value-added tax) for EU
Teachable Pricing
The Basic plan is at $39/ month ($29/ month if billed annually)
The Pro plan is at $119/ month ($99/ month if billed annually)
The Business plan is at $299/ month ($249/ month if billed annually)
Teachable Pros
Easy to use and user friendly interface.
Strong analytics and reporting tools.
Offers live chat support.
Can pay affiliates automatically when they make sales for you.
Comes with a built-in email marketing tool that lets you message students when events occur, like enrolling or completing a course.
Teachable offers a convenient iOS app that your clients can access your course through.
Teachable Cons
As mentioned earlier, Teachable dashboard is very simple, so there are not as many course and site customisation options as some other platforms.
While it is free to sign up and feel around, there is no sustainable long term free plan.
Even the basic plan has a 5% transaction fee, but no transaction fees starting on the Pro Plan.
Less pricing options for customers.
Conclusion
Ultimately, Teachable is a great and popular addition to the market of creating online learning courses. Teachable may be simple to use, but comes with many fantastic features to help you create and sell your online learning course. With it's free sign up, you can jump right in, get a feel for yourself, and see if it's the right service for you.