TikTok is where the hype is right now. Now, you might think of nothing but short dancing videos when I say TikTok, but did you know that it's possible to monetise your TikTok channel and gain brand awareness from your followings? I didn't know much about TikTok but I wanted to see what kind of opportunity it is for me to use it to potentially grow my reach, so I decided to take this course. Now I want to let you know my experience with TikTok for Entrepreneurs by Beat the Algorithm and what I think about this course, the pros and cons, the main takeaways and help you decide whether or not Beat the Algorithm TikTok course is for you.
A quick disclaimer, I genuinely took the entire course and now I want to share an honest review about the List Building Insanity with you. If you find this review helpful and decide to take this course, it would be great if you could use my affiliate link. If you do, I can send you some exclusive bonuses for free 🙂
TikTok for Entrepreneurs review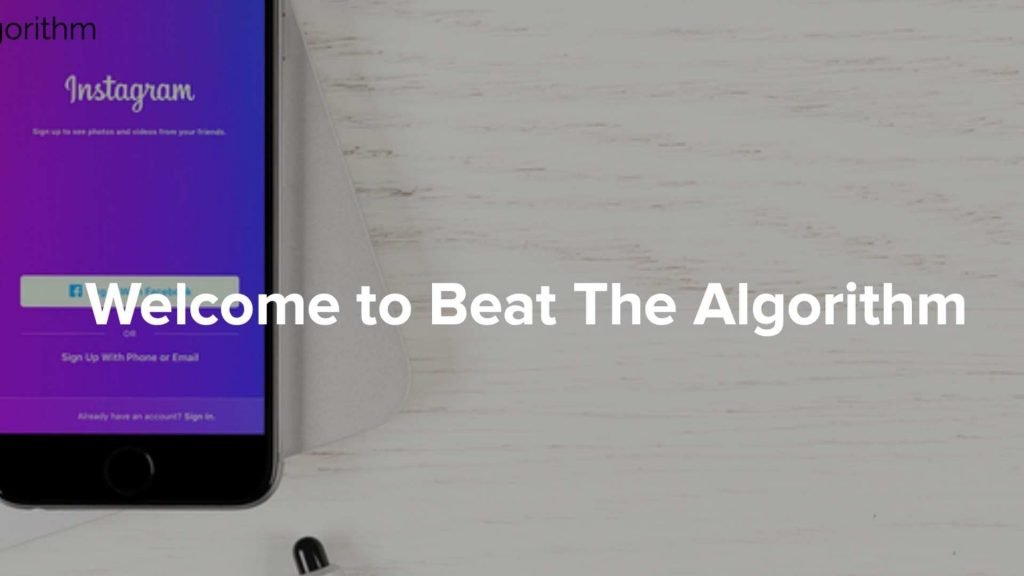 Is TikTok for Entrepreneurs by Beat The Algorithm worth it?
If you're hesitant about taking the step to bringing your business into the TikTok world than you should be happy to know that this course is perfect for you. This course will help you with growing your audience, sending more people to your website and generating more sales.
TikTok is the fastest growing platform right now, and people are spending an average of 45 minutes per DAY on the app. If you follow the steps that are laid out for you clearly in the video, you will be able to tap into a new market.
One big struggle I have, and maybe you have as well, is figuring out how to feature my products/services through TikTok, without being too salesy and this course really breaks that down for you. Without having to do dances, although you can if you want, you can get people to be interested in your content and consume what you have to offer. 
TikTok for Entrepreneurs Pros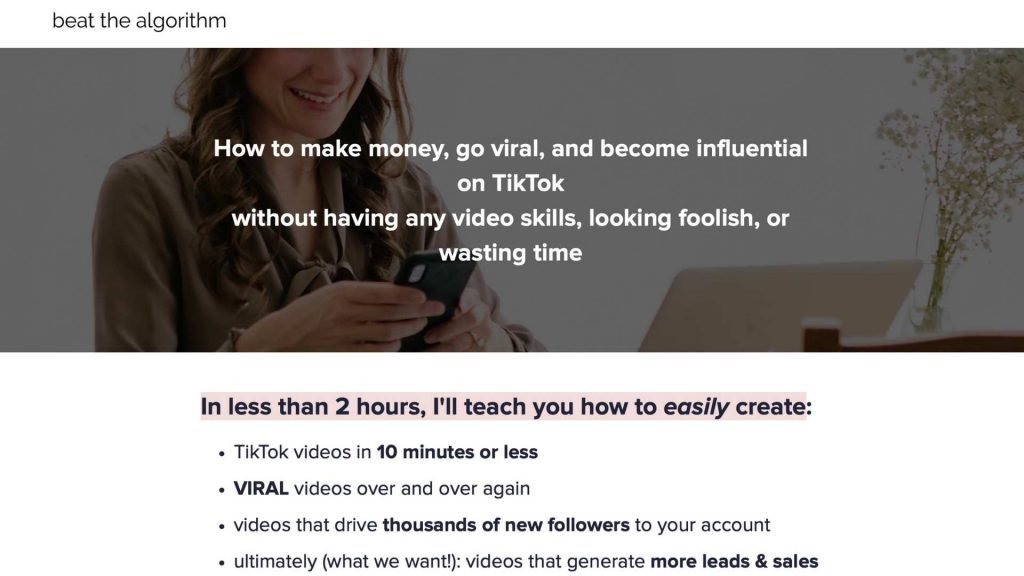 What I love most about TikTok for Entrepreneurs
Learning about the TikTok algorithm and how to post videos that can ride the algorithm
Seeing different examples and figuring out what type of video is good for you
Understanding how to use the metrics to analyse the performances of your TikTok videos
Checklists and workbooks, along with content ideas so you don't have to struggle with figuring it out
My biggest takeaways from TikTok for Entrepreneurs
Just to give you a behind-the-scene-sneak peek into this TikTok for Entrepreneurs course, here are some of my biggest takeaways and my aha moments when I was going through the course.
The different styles of opt-ins that you can create to attract your ideal audiences
The way to properly tag and segment your email list
Exactly how to build the backend of your list building strategies
How to clean up your list and re engage with your list
The importance of adding certain elements inside your emails to make sure you are not violating any legal terms
The legal side of email marketing (not the area I'm most excited about but definitely important)
Cons- The things I wished this course has
I honestly cannot fault this course. If you are even remotely interested in growing your TikTok and growing your reach, then you should definitely check out this course. One thing I have to say is that this course is insanely addictive, possibly because of Rachel's teaching style and the TikTok examples she plays for you. I finished this course in one go and I loved it.
I'm going through this course for the second time now, if I find something, I will come back and add it in!
Is TikTok for Entrepreneurs right for you?
Who is TikTok for Entrepreneurs for
If you want to ride the hype of TikTok and give this social media platform a try
If you want to get on TikTok to attract your target audience for your business but not sure how to
If you have tips to share with the world and want to do that through TikTok
If you are sick of trying to beat the algorithm at every turn with the other social media platforms and want to give TikTok a go
Who is TikTok for Entrepreneurs NOT for?
If you have no interest in getting onto TikTok and leveraging this social media platform
If you just started in your business and already too overwhelmed by all the social media platforms out there (you can always come back when you're ready)
If your business is very serious and might not want to use short videos to promote your products/services
Who is Beat The Algorithm by Rachel Paul?
Rachel grew 50k followers her first 2 months of using TikTok (now over 100k!). In this course, she shares how TikTok has grown my followers and a steady stream of sales! Over the past 2 years, she has taken her business from 0 to multiple 6 figures.
This has led her to only needing to work 2-3 hours per day, get enough sleep and exercise, and truly lead the relaxed entrepreneurial life she's dreamed of.
What's included in TikTok for Entrepreneurs?
Module 1- How to actually use TikTok
Module 2- The Secret to Online Business Success
Module 3- How to Create TikTok Videos in 10 Minutes
Module 4- How to Create Viral TikToks
Module 5- How to SELL Your Product or Service on TikTok
Module 6- Organization & Time Management
Bonuses
How to Work with Brands Crash Course- everything you need to work with brands – email templates for reaching out to companies, Media Kit template, and exclusive advice from me on best practices.
Passion to Profit Training- How to choose a profitable niche that you can have fun with
TikTok Templates- Step-by-step TikTok video creation templates so you can plug in your content and post your first video today
Yearly Content Calendar Schedule- Templates Rachel uses to produce content for her whole business (blog, Instagram, TikTok, etc.) year-round.
TikTok for Entrepreneurs Pricing
You get the TikTok for Entrepreneurs course for a one-time payment of $197.
TikTok for Entrepreneurs BONUSES
If you decide to take this course now, I have a very exclusive bonus for free for you! All you have to do is use my affiliate link, then email me at hi@yourentrepreneurresources.com with your receipt, and I will send this bonus your way!
Making Money Online Bundle (Value: $97)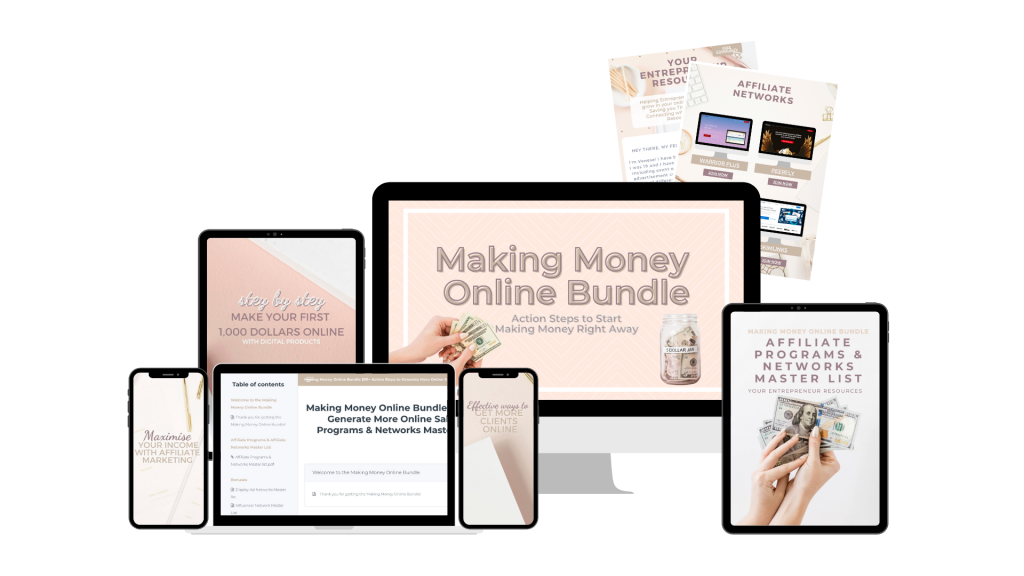 The Making Money Online Bundle is my signature step-by-step action steps to help you reach more people, grow your visibility & make more money online!
Inside Making Money Online Bundle, you will find:
Step-by-Step to Make your first 1,000 dollars online With Digital Products – The exact Actionable Steps you need to take to start selling your digital products & generating Steady income. (value: $97)
Effective Ways to Get More Clients Online- Struggling to get clients and customers online? Find the most effective ways to get in front of your target audience. (value: $37)
101+ ways to generate more online sales- The exact actionable steps you need to take to get in front of more people and increase your online sales right away. (value: $157)
Maximise your income with Affiliate Marketing- Discover the secret tips to use affiliate marketing to start making money (almost) immediately! (value: $97)
150+ Affiliate Programs & Networks Master List- Find Affiliate Programs that you can join according to your niche and industry (value: $57)
PLUS:
Display Ad Networks Master List- Find the right display ad network for you to use for your website, so you can start generating income with your website visitors. (value: $37)
Influencer Network Master List- No matter if you are an influencer or not, here are the key networks you can use to help you connect with sponsorship opportunities. (value: $27)
Tips to Maximise your affiliate links- Figure out exactly how to maximise your affiliate marketing efforts by taking these actionable tips! (value: $37)
Recommended Resources- Besides everything you get in this Bundle, you will get extra amazing resources to help you fast track your success.
You will get this Making Money Online Bundle for FREE, if you get this course with my affiliate link 🙂
Conclusion
TikTok for Entrepreneurs is honestly amazing. There aren't many TikTok courses out there and I think this course by Rachel Paul really hammers in on every aspect to help you grow your reach and raise your brand awareness. The value you get from this course is incredible and I would highly recommend this for anyone looking to reach more people, grow your online presence and generate more sales.