Do you see bloggers making 5, 6-figures a month and wondering how you can implement those skills and do that too? If you want to stop making small ad revenue with Google Adsense and start monetising your blog and bringing in the big bucks, then check out this Blog Monetisation Course Review. Allow me to let you in on what the Blog Monetisation Course by HerPaperRoute is all about if it is right for you and more to help you decide whether or not you should get this course.
A quick disclaimer, I genuinely took the entire course, made a lot of notes and now I want to share an honest review about the Blog Monetisation course with you. If you find this review helpful and decide to take this course, it would be great if you could use my affiliate link. If you do, I can send you some exclusive bonuses for free 🙂
The Blog Monetisation Course review
Is Blog Monetisation Course by HerPaperRoute worth it?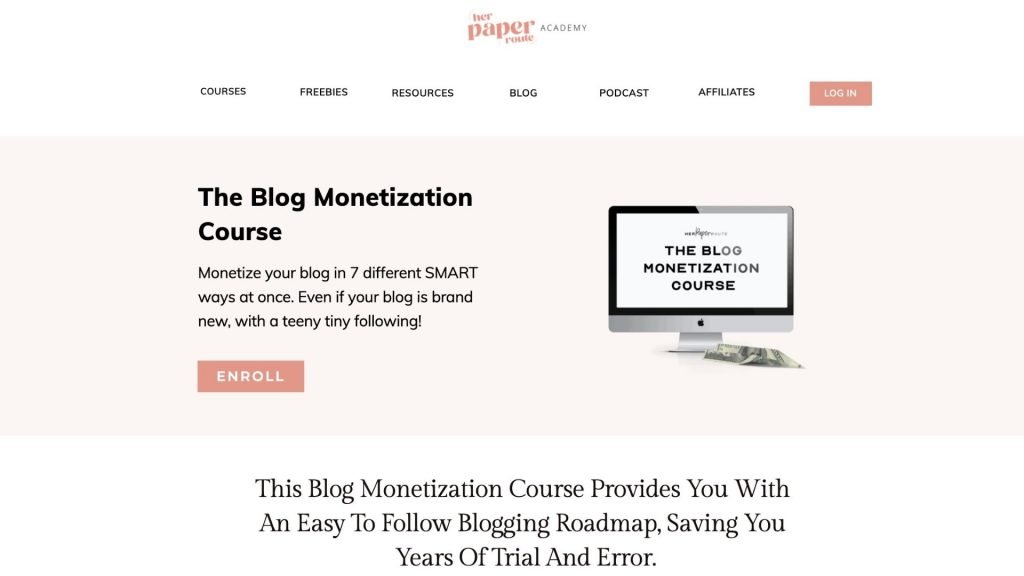 No matter what stage of blogging you're at, beginner, advanced or intermediate, you can still learn something by taking this course. 
You might know about all the ways to monetise your blog but it is the process and the exact steps that are covered in this course that make it so valuable. In this course, you get to know about the top 7 revenue sources and the ways to add them to your blog.
You will also learn about the affiliate programs you should join, how to get approved for sponsorship programs and all the mistakes you need to avoid to have a successful income-generating blog.
Spoiler Alert! You also get two free courses along with this course, so you're getting a 3 in 1 deal.
Blog Monetisation Course Pros
What I love most about Blog Monetisation Course
The common mistakes that you need to avoid when monetisation your blog
How to use social media to monetise
How to increase traffic to generate more income
How to write copies that will get people to buy
My biggest takeaways from Blog Monetisation Course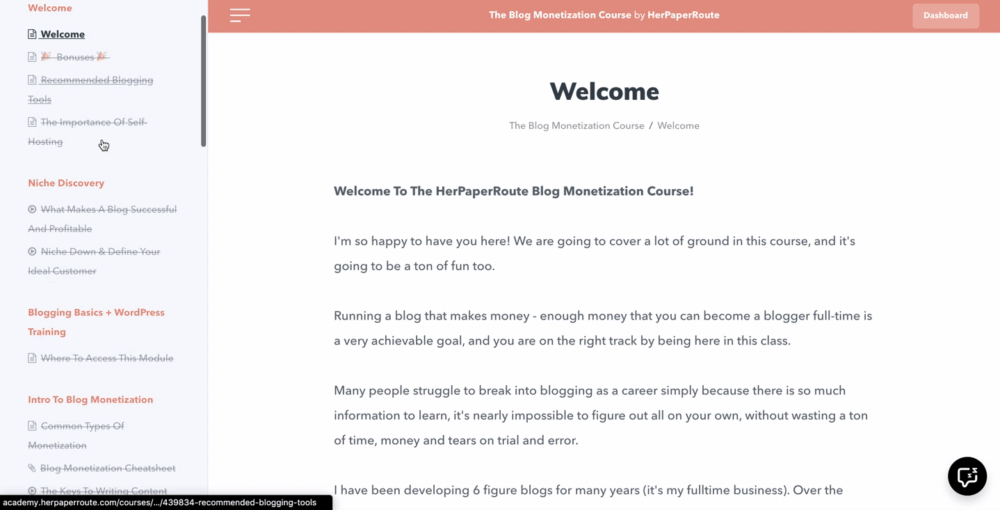 Just to give you a behind-the-scene-sneak peek into this blog monetisation course, here are some of my biggest takeaways and my 'aha!' moments when I was going through the course.
The importance of creating a media kit and exactly how to create one that will attract sponsors
I have been rejected from ad networks before and I found out exactly what I did wrong and was able to fix that
All the different terminologies on affiliate marketing that was able to help me get clear on understanding what all the metrics are about
HerPaperRoute's case study! That's a huge one, it was great to see the case study to know exactly how I can do that too
Cons- The things I wished this course has
Not a con, just a personal preference but I wish there were more video or audio content in the course. About half of the course consists of written content, which isn't a bad thing. I might just be a little lazy to read sometimes.
Is Blog Monetisation Course right for you?
Who is the Blog Monetisation Course for?
If you want to start monetisation your blog, no matter if you don't have your blog yet or if you have it up and running already and want to generate more income
If you want all the methods, tips and secrets put together in one place for you
Who is the Blog Monetisation Course NOT for?
If you have no interest in monetising your blog
Who is HerPaperRoute?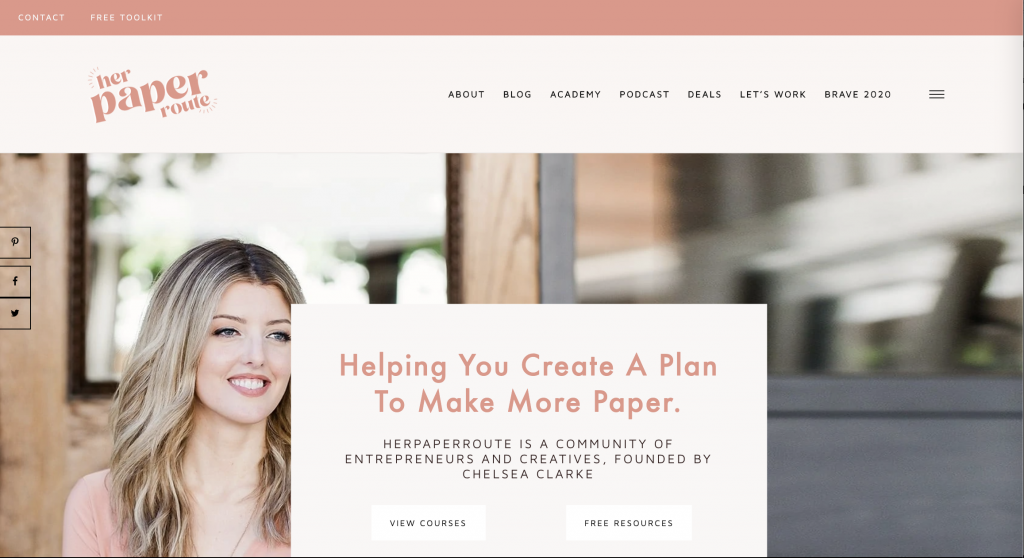 Chelsea Clarke is the brains behind HerPaperRoute. She is a content creator, blog flipper and digital broker. In one year alone, she sold over $300,000 in websites.
Chelsea clawed herself out of $30,000 debt in less than two years and went from a waitress earning $11 an hour, struggling in the most expensive city in the country, to the CEO of a multi-6 figure company.
I love taking HerPaperRoute's courses and take every piece of information that Chelsea offers because you can tell she is genuinely trying to help her audiences grow. She has proven to have immense value to me and can be to you too.
I have posted on her Facebook Group for help and she is quick to get back to me with valuable resources. Plus, she has the most soothing voice, which makes listening to the HerPaperRoute podcast and online courses that much more enjoyable.
What's included in the Blog Monetisation Course?
Blog monetisation
Blog development
Branding
Marketing & SEO
The Blog Monetisation Course Pricing
This Blog Monetisation Course costs $197, including all of the Modules, the extra 2 bonus courses and materials.
The Blog Monetisation Course Bonus 
If you decide to take this course now, I have a very exclusive bonus for free for you! All you have to do is use my affiliate link, then email me at hi@yourentrepreneurresources.com with your receipt, and I will send this bonus your way!
Making Money Online Bundle (Value: $97)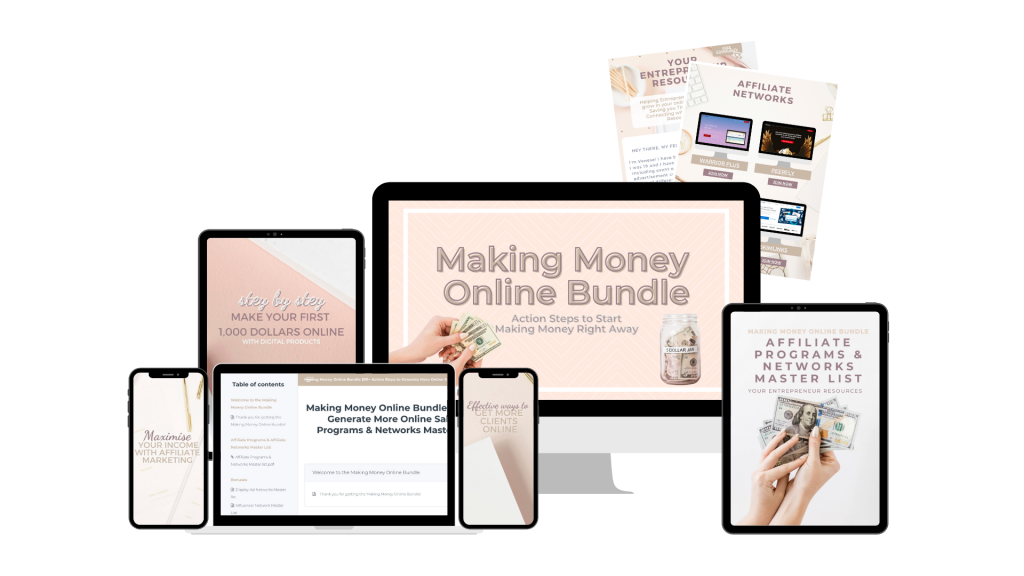 The Making Money Online Bundle is my signature step-by-step action steps to help you reach more people, grow your visibility & make more money online!
Inside Making Money Online Bundle, you will find:
Step-by-Step to Make your first 1,000 dollars online With Digital Products – The exact Actionable Steps you need to take to start selling your digital products & generating Steady income. (value: $97)
Effective Ways to Get More Clients Online- Struggling to get clients and customers online? Find the most effective ways to get in front of your target audience. (value: $37)
101+ ways to generate more online sales- The exact actionable steps you need to take to get in front of more people and increase your online sales right away. (value: $157)
Maximise your income with Affiliate Marketing- Discover the secret tips to use affiliate marketing to start making money (almost) immediately! (value: $97)
150+ Affiliate Programs & Networks Master List- Find Affiliate Programs that you can join according to your niche and industry (value: $57)
PLUS:
Display Ad Networks Master List- Find the right display ad network for you to use for your website, so you can start generating income with your website visitors. (value: $37)
Influencer Network Master List- No matter if you are an influencer or not, here are the key networks you can use to help you connect with sponsorship opportunities. (value: $27)
Tips to Maximise your affiliate links- Figure out exactly how to maximise your affiliate marketing efforts by taking these actionable tips! (value: $37)
Recommended Resources- Besides everything you get in this Bundle, you will get extra amazing resources to help you fast track your success.
You will get this Making Money Online Bundle for FREE, if you get this course with my affiliate link 🙂
Conclusion
Honestly, if you have a website, a blog or any kind of online presence and want to start generating income, this is the course for you. For the crazy-low price, it is such a steal!
Like I mentioned above, I found a lot of value in this course that will help you set up your blog to maximise your reach and profit.
If you are not ready to take the step towards taking The Blog Monetisation Course yet but curious to find out if you will love HerPaperRoute as much as I do, you can check out her other courses or her podcast!