When you're starting an online business and building your business, deciding all the crucial brand elements can take up quite some time – like your brand name, brand voice, brand message, brand colours, your logo, and you have to consider if they are catchy, easy to remember as well as good representations of your brand. This is a step-by-step branding guide at exactly how to start a brand for your online business, helping you figure out if you should go with a personal brand vs business brand and branding strategies you need to help with your brand elements.
Before deciding the name or anything else for your online business, you need to first figure out who you're talking to.
Research
When you're considering to start a brand, it is crucial that you put in the time to specify your niche. It can help you hone in on your target audience and narrow down your product or service in a way that helps you to address your target market and better serve them. It can also help you establish yourself as an expert in that specific field and build strong relationships with your consumers.
Through research, you can also find out what products or services other brands are providing and how they are helping with the problem you are trying to solve for your audience. Write these companies and brands down, take note of their brand name, brand logo brand colours, brand message, products and services to help you understand where you stand in the market.
You can also check online forums like Reddit or Quora to research what people are passionately discussing to help better understand your target audience and competitors in your area. You can use Google Trends to see what people are currently searching for and check the geographic location where the search volume for a topic is higher.
Use social media to see what people are talking about, what questions they might have and who might be suggested to help them solve their problems. Consider what tone is being used by your target audience, what is their age range, what are some common questions that come up? This can help you better build your brand and brand presence.
Now that you have done your research, you still need to decide if you are going to be a personal brand or a business brand, even before choosing your brand name and image.
Let's break down exactly what these two types of brands are all about and how to choose between having a personal brand or a business brand.
Personal Brand
A personal brand is built around you. It usually means having your full name, your first name, your last name or your nickname as the name of the brand.
Having a personal brand means you are the face of your business. You are the one that appears in front of your audience. Your personal brand can be built around your appearance, your personality and values, or your story.
Some famous personal brands include Oprah Winfrey, Bruce Lee, Gary Vaynerchuk, Seth Godin, Guy Kawasaki and Tim Ferriss. When you hear these names, you probably feel a certain way and think of something specific, e.g. what they have achieved. That's because they have built a strong brand around themselves and they consistently convey that message through everything they do.
Business Brand
A business brand is built around a certain identity and entity that you have created for your business. It is not just about the CEO, the founder, the employees, but it's about the team. Your brand message is not about what you do, but more about what your business as a whole strives to do. When people think of a business brand, they usually think about the products or services, the brand logo or overall brand image, rather than an individual inside of the brand.
Some famous business brands include Google, Nike, Apple, Facebook, Microsoft and Coca Cola. We know about these brands not just because of the products and services that they offer, but also the way they make you feel, the way they help you and serve you and how they stand out from others.
Personal Brand vs Business Brand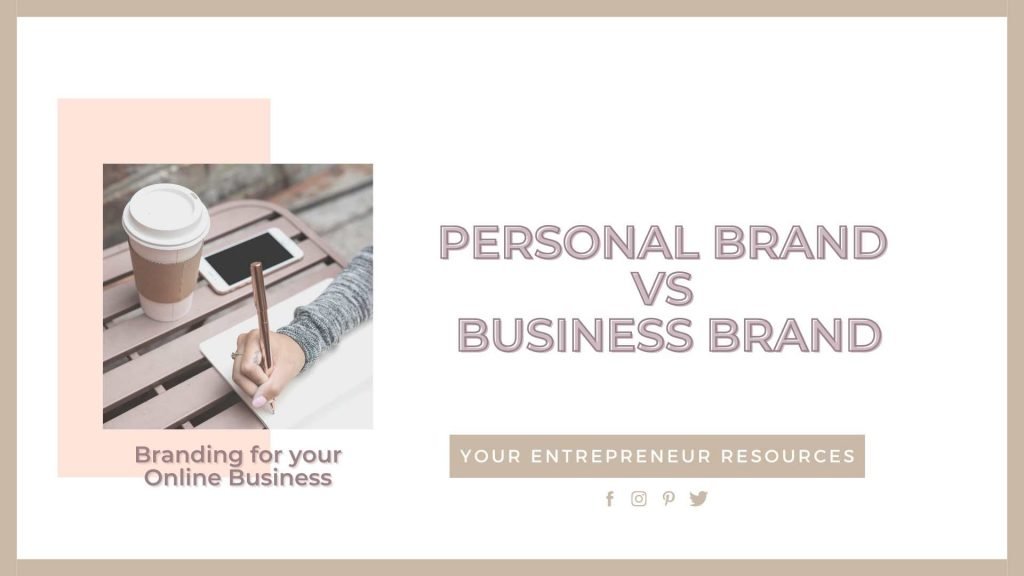 Choosing whether to have a personal brand or a business brand depends heavily on who you're talking to, what are you helping them with and how you want to talk to them.
You might decide to go with a personal brand because people trust people more than they trust a logo. It's usually easier for you to start as a personal brand, especially in the beginning stage of starting up your brand, since you will likely do a lot of networking and building relationships.
A personal brand can give you the status of an expert in your field, and you could scale up from there. You can start with a personal brand and then, as your company grows, focus on branding your company instead – especially if you're no longer the only person working directly with your customers.
A business brand can help you with building trust with your audience and could look more professional than a personal brand. If you have multiple people behind your brand, then having a business brand would tend to make more sense.
With business brands, people will likely know the company, rather than the people running it.
Have a look at other brands in your industry and see if they are portrayed as personal brands or business brands.
In general, if you are providing a personal service, for example, coaching, consultation, education, social media or advertising management, content creator, copywriter, real estate agent and freelance work, then you are likely to be talking to your audience directly to help them with their problems. In this case, having a personal brand makes more sense.
If you are a business that sells software or applications, an agency with multiple people, or if you sell products and have an eCommerce store or a Brick and Mortar store, then you might consider starting a business brand.
Choosing whether to have a personal brand or a business brand is not always a plain white or black decision. You can choose to have a hibernation or the combination of the two.
It is possible to have a personal brand and a business brand. For example, Facebook is a huge business brand. When people think of Facebook, they think of the social media platform. You might also think of Mark Zuckerberg. He has built his personal brand on top of his business brand.
Similarly, when you hear Apple, you would likely think about the Apple logo, iPhones and Macbooks. It is a business brand. However, Steve Jobs has built this massive empire along with his co-founder Steve Wozniak, so we also know Steve Jobs because of his personal brand.
Take into consideration all of these examples and tips to help you figure out whether or not you want to have a personal brand or a business brand. Remember that you can always adjust and evolve as your brand and company grow. 
Brand Name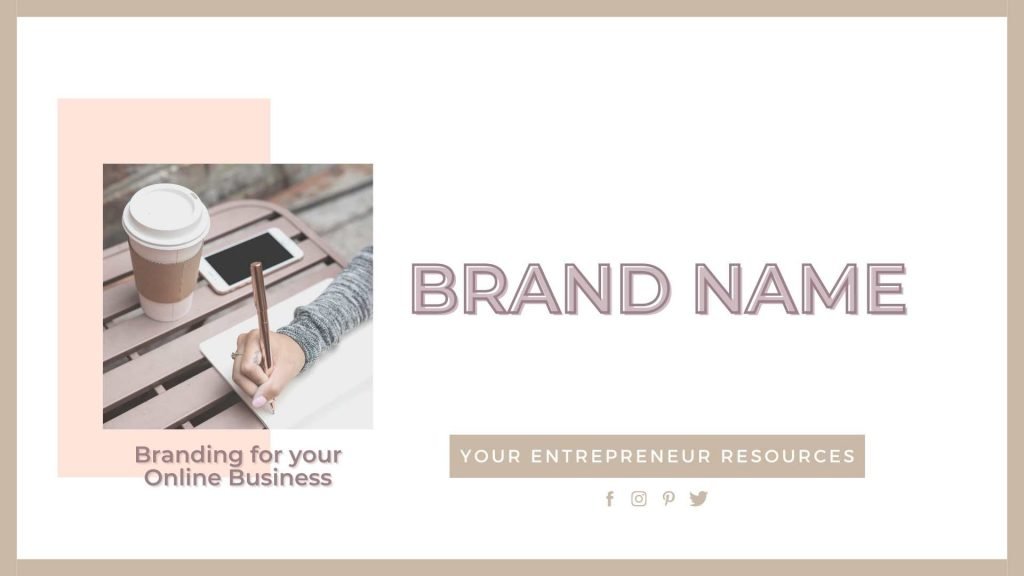 Now that you have figured out if you want to show up in front of your audience as a personal brand, business brand or hibernation of both, it's time to figure out your brand name.
Rather than trying to be smart, sometimes having a straight-forward name can help people find you and trust you easier. Try to portray a positive message with your brand name as our brand name can also describe what you do and the problems or the solutions that you provide.
When coming up with your business brand name, consider these tips:
What is it that your brand offers and how can you describe it in a few words. Try to see if these words can be used in your brand name
What adjectives can be used to describe your brand or how do you want to make your audience feel?
Consider SEO when coming up with your brand name. In combination with descriptive words on what your brand offers, is it likely that people will search for that exact word or phrase to look for services that you provide?
Make sure that your brand name is not taken or trademarked. You can easily check by searching the name on platforms such as Google, Linkedin or social media platforms.
Let's have a look at a few different types of brand names to help give you some inspirations.
Personal name
As mentioned above, if you are focused on presenting yourself as a personal brand or offering services and products directly with your customers, then you might consider using your full name as the name of your brand. Even if you have business brand, you can still use your full name.
If you don't want to use your full name or want to add a twist, then you can consider using a nickname, just your last name or add something to your name.
Some examples of using a personal name as brand name include Tiffany and Co., Walt Disney, Ben & Jerry's and McDonald's.
Multiple words
You can use multiple words in your brand name with subtle references relating to your niche, your audience or your brand. Make sure to still keep the name simple and easy to remember, if you do decide on having multiple words. You could try to abbreviate the words to make them even easier to remember.
Some examples include Facebook, Bitcoin, Convertkit, ActiveCampaign, and Tripadvisor.
Descriptive name
To make sure your brand is SEO-friendly so people might accidentally stumble across your brand just by typing in the certain problem they have or the solution they are looking for, you can have a descriptive name as your brand name.
If you are selling a certain product, you can think about names such as "descriptive word" + "product type".
Some examples include Kylie Cosmetics and Disruptive Advertising.
Other brand name ideas:
Foreign words- use words of other languages
Misspellings- intentionally misspell a certain word that is related to your products or services. Lyft is a good example.
Made-up word- you can get creative and mix different letters together to come up with a unique brand name
Real objects- you can use an actual word, object or feeling that people are familiar with as your brand name. For example, Apple and Amazon.
To give you more inspirations, you should check out the following websites to help you determine how to come up with your brand name:
Brand online presence
When considering your brand name, it's important to build your online presence so people are able to find you, follow you, connect with you and become your customers.
When thinking about building an online presence, having a website and social media channels are crucial. Since more and more businesses are going online, the available domains and account names have also decreased.
That's why when you are considering your brand name, it's also important to have a look at the availability of the domain and social media profile name, before finalising on the name.
You can use NameCheap to look for your domain, as they offers popular and unique domains, WhoisGuard privacy protection, and more – all at a low price. If your ideal domain is taken, they also offer alternative domains to help you check your options.
Even if the exact domain is not available, don't be discouraged. You can play around with adding different elements to your account name or using different domain endings, called Internet top-level domains (TLD). Besides the most common ".com", there are a lot of others for you to choose from, including ".co", ".agency", ".int", ".edu" or ones that are based on your country or city.
Brand voice
Your brand voice is important to help you figure out how you plan to appear in front of your audience. It's important to decide what kind of voice, personality and tone you will use to speak to your audience as this helps determine the way your audience is going to feel when they think about you.
Finding the voice in which you will use to speak to your audience can make or break your brand. For example, if your brand sells high-end furniture to high-income households and your brand voice is casual and informal, you might not be able to gain trust and establish yourself as the go-to expert.
Consider these tones when speaking to your target audience:
Professional
Formal
Friendly
Funny
Authoritative
Technical
Conversational
Informative
Passionate
Authentic
Calm
Creative
Easy
Elegant
Energetic
Sophisticated
When coming up with your brand voice, you should think about the following questions:
What values are most important to you, and how do you want to reflect that through your brand voice?
What is your personality and what tone, what voice would you like to use to talk to your audience to make you more relatable?
What made you decide to start this business and what makes you the expert in helping them in this field?
What's your story and why is it important to your audience? Have you experienced the problems your target audience are going through?
Why should your audience trust you?
Brand Message
Your brand message is important to help position yourself in front of your target audience. It is the message that you convey through all of your presence, through your website, social media, copywriting, products and services. It has to resonate with everything you do and show through your brand.
Most brands have their taglines and/or slogans to help them put their entire brand into a sentence or a phrase. This helps let your target audience know immediately what it is that you're offering, the position that you take and how you can help solve their problems.
"Brand slogan" and "Brand tagline" tend to be used interchangeably but there are key differences between the two:
Brand taglines tend to be more memorable, catcher, shorter and "smarter". They give the audience a glimpse into what the brand stands for. The brand tagline also tends to be more permanent.
Brand slogans express what the brand is about, what the brand offers and who the brand helps. They can also be temporary and change depending on the campaign or the change in the brand.
Despite the differences, brand slogan and brand tagline are quite similar. Here are some examples of brand slogans and brand taglines:
Nike's brand tagline is the signature "Just do it", while they have had different brand slogans including "Dream Crazy" and "Find Your Greatness".
McDonald's tagline is "I'm Lovin' It"
Apple's tagline is "Think Different"
You don't necessarily need a catchy brand slogan or a brand tagline, but having a statement that clearly states what you offer, highlights the key benefits and where you stand with your brand can go a long way in helping your audience connect with you. You can even add this in your logo.
Although your brand tagline or slogan is important, it is only one part of your entire brand.
Use the brand voice you have established and talk in the personality, tone and voice throughout all of your marketing efforts so your brand can remain consistent, which allows you to build a strong voice in front of your target audience.
Brand Designs (Brand colours, font, elements)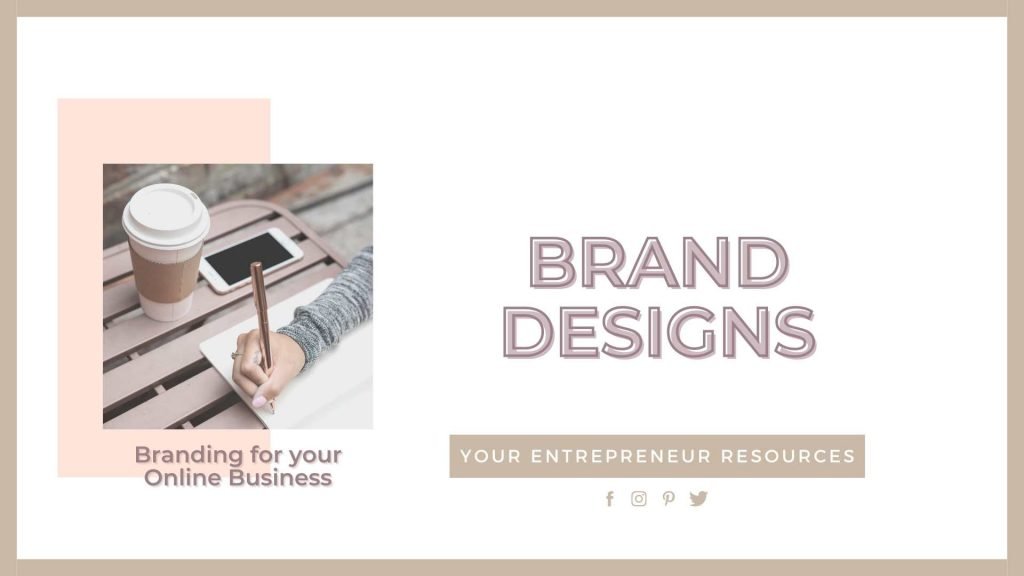 Now this is the fun part – coming up with your brand design elements.
To help you remain consistent throughout all of your presence, you will need to decide on the brand colours and brand font.
Choosing your brand colour can be simpler than you expect. Think about your target audience. What would attract them? What kind of products or services are you selling? Is there a specific colour scheme you'd like to go with?
Have a look at the other brands in your market and see what kind of brand colours they are using. Use that as a reference when choosing your brand colours. You can either use similar colours or you can do something different to stand out. It all depends on your brand.
Consider the colour psychology and how each colour makes you and your target audience feel.
For example:
Red makes people feel passion and excitement
Orange stands for playfulness
Yellow evokes happiness and joy
Green evokes growth and stability
Purple is a sophisticated colour
Choose three primary colours and maybe two extra accent colours to use for your brand. https://coolors.co/ is a free website that can help you mix and match and visualise different colour templates and help you figure out what colours to use for your brand.
Here are some colour inspirations: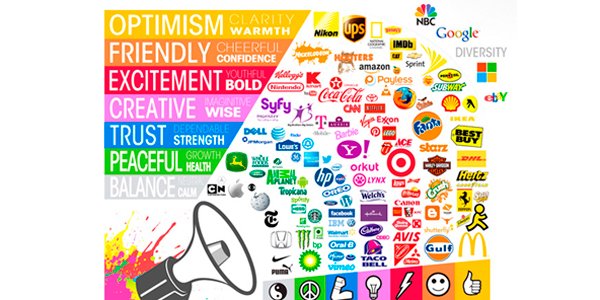 Choosing your brand font is another important part when it comes to deciding on your branding. Stick to one main font and possibly one more as a complementary font. Sometimes, rather than choosing something unique and different, it's better to stick to a font that people are used to. Psychologically, when you see a brand represented in a font that you have seen before and are familiar with, you tend to trust the brand.
You can check out this blog to find out more inspirations!
Besides brand colour and brand font, you might also want to consider other brand elements such as certain images, shapes, graphics or even mascot. Having similar graphics throughout your online presence can let your target audience recognise your brand – as long as you remain consistent with what you use.
Here are some tips to help you optimise your brand design elements:
The brand images you choose should be consistent and of similar qualities. Make sure the images have a similar tone as your brand colours
Are you mainly using rounded shapes and graphics, or sharp lines? If you are offering different products, consider their shapes and stay consistent with the tone that you are conveying through your graphics and shapes
Brand Logo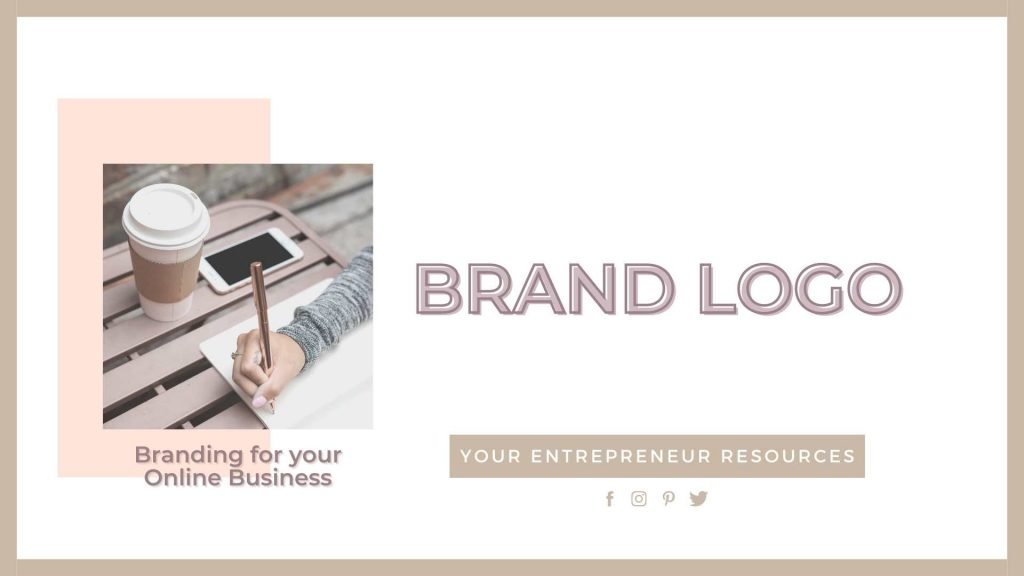 Now that you know all about what kind of brand you are, the voice and message, the design elements, colour, font and name, it's time to create your brand logo.
There are a lot of different ways to create your brand logo, and you don't even have to be a designer. There are lots of easy ways for you to design your brand logo for an affordable price, or even for free.
Before you create your brand logo, again, take into account everything you have figured out for your branding.
There are mainly three types of logo:
Icon based logo consisting of a design. This can be a simple icon, a graphic, a drawing or even an image
Name-based logo where the name is the logo. Besides having the name as it is, you could add an accent on a certain alphabet, a certain word, or play around with the shape, position and size of the name
A mixed of the two, where you have the icon and the name inside the logo. This could mean having the icon above the name, on a certain side of the name or other unique positions. Having a mix of both can be useful so you can create various versions of your logo for different purposes.
Now, you're probably thinking, how do I create a brand logo?
You can use a tool such as Adobe Illustrator or Canva to create your logo. If you're a designer, then using Adobe Illustrator is a great option for you, since you have complete control over the design. If you want to work from a template, you can use Canva to get some inspiration.
If you want more inspirations and potentially have your logo designed for you, check out Looka and Tailor Brands. After answering a few questions, they will generate a few logos for you based on your preferences. Both of these websites also allow you to customise your logo with the brand colours that you have previously come up with. Namelix.com, which I introduced earlier, also offers different logo designs for you to choose from.
If you want a professional logo, and even the branding and all the design elements done for you without stressing, then check out 99designs.
99designs makes it easy for you to have as many options available for you to choose from as possible. You simply fill out a short survey to let 99designs know what you're looking for, then you're connected with the 99desigsn community of designers, and you can hire a designer, or start a contest.
A content is where designers submit their ideas based on what you're looking for and you get to pick your favourite design. It is unique because you can truly choose the right designs for you and find the designers that would work well with you and your vision. 
Conclusion
Stay true to your branding throughout everything you do. If someone were to find you in a casual and friendly tone on social media, with bright colour social media images, then come across your website with dark colours in a formal voice, they will likely get taken back and not trust you.
Consistency is key when building a successful, recognisable and trust-worthy brand. Take these tips into consideration and you will be able to have your brand up and running in no time.