There are so many online chatting tools out there — they certainly make our life easier but choosing which one to use for your business can be confusing and overwhelming. Choosing the right tool to communicate with your customer efficiently and effectively is more than important for any online business.
While Facebook and Instagram might be good for personal and picture sharing purposes, what could be a good tool for live chatting and emailing that can possibly boost your sales? Chatra is definitely one of the options that you should consider.
In this Chatra review, let's have a look at this customer support live chat bot and see if it's the right tool for your business.
Chatra Review
What is Chatra?
Chatra is a live chat messenger app to help you to increase online sales and offers you an easy and low-price way to chat with people who visit your website. The tool is especially designed for business and it is easy to use. Chatra connects you with your customers instantly in the shortest amount of time possible!
Chatra started in 2009 and it was back then an online-only jeans brand called Getwear.com. After realizing that real-time communication with customers can be very time-consuming, the founders decided to create a communication tool for SMBs that both make customers satisfied and help business owners to better manage their time. 
Chatra Features
Although it is a professional software designed for business, Chatra is lightweight and easy to use. It only takes few minutes to set it up and you will most likely be able to manage it without the help of a professional developer! It is suitable for small to medium sized companies and businesses. The most important thing to learn about Chatra: conversations.
Chatra Features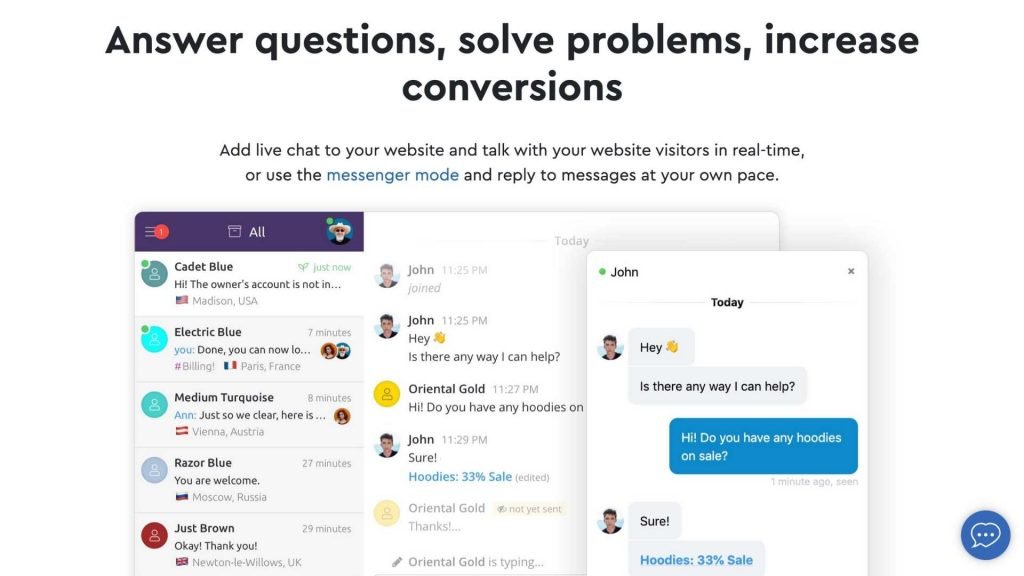 Channels
All three plans offer you access to unlimited websites, customization, and SSL-encryption. Its online and offline modes enable you to reach out to your customers in a timely manner. Essential and Pro also offer the email helpdesk and facebook messenger functions. Email helpdesk helps you to connect the email your customer uses to contact you and manage your email conversations at the same time as managing your chats. With facebook messenger, you can chat with people who message from Facebook directly via Chatra. 
Bots & Automation
The Essential and Pro plans certainly aim at making your life easier! You can set up a Chatbot that helps you to automatically answer frequently asked questions. "Form and lead feature bot" can greet and welcome your customers at any time. "Targeted messages and triggers" maximizes the number of sales and/or leads and minimizes the bounce rate.
Visitor Intelligence
All three plans allow you to get access to the basic visitor info such as name, email, and phone number. The Essential and Pro plans can help you to get more detailed info such as IP address and the location of your customer. You will also be able to see a real-time visitor list and the shopping cart contents of your customer. 
Agent Productivity
All three plans include a browser dashboard, Windows & Mac desktop apps, iOS & Android mobile apps, unlimited concurrent conversations, and notifications. The Essential and Pro plans also give you chat notes (private notes about customers), saved replies, invisible mode, and team chats. You can also set up operating hours and agent groups by going Pro!
Chat Functions
With all plans, you have access to the complete conversation history, E-mail chat transcripts, read receipts, agent names, titles, and photos, typing indicators. If you would like to have more functions such as email open tracking, group chats, visitor banning, you might consider switching your plans to Essential or Pro. If you are wondering what your customers think about your chats, you should go Pro and unlock the chat rankings function.
Analytics & Reporting
Chat automatically sends data to Google Analytics, so there's no further step you need to do. The Pro plan can even generate chat reports and data exports for you. Chat reports will give you the information on how many chats with how many visitors you have, and you can keep track of the responsiveness of your agents and the overall experience of your customers.
Integrations
Chatra integrates with a lot of common tools, such as WordPress, Shopify, WooCommerce, and Ecwid. Of course, the Pro plan will unlock you with even more: Slack, Help Scout, Front…
Chatra Pricing
There are three different plans that you can choose from: Free, Essential, and Pro. Free plan allows you to start instantly with access to most features out of charge. You will have unlimited chats with an unlimited number of visitors.
For the paid plans, there is the Essential plan and Pro plan. Essential plan is $15 per month charged yearly, or $19 per month charged monthly. The pro plan is $23 per month charged yearly and $29 per month charged monthly. Both plans offer a 10-day free trial so you can cancel it anytime in case you don't feel like it.
You can check the pricing page for the complete information to help you determine what plan is best suited for you and your business.
Chatra Pros
a cheap alternative if you don't have lots of agents; all standard features are present even with the free plan
user-friendly and super easy to install
keep customers engaged (so much easier than emails! 🙂
good for startups
lots of automations
can help to boost your sales
have both online and offline modes
unique integrations such as Google Analytics
Chatra Cons
can get costly if you have multiple agents 
don't have out-of-the-box integrations to other business systems 
the mobile app has limited functions 
sometimes it gets disconnected easily 
only basic reporting 
no ticketing system 
Conclusion
Chatra is a very helpful live chatting app to connect you and your customers. Unlike traditional chatting tools, Chatra is designed for business owners and has features that boost your sales. I would definitely recommend Chatra if you own a small to medium-sized business. If you have a lot of agents working for you, Chatra could get pricy unless you think it is really worth it for you.