The idea behind Drip is to make it possible for an e-commerce store to manage their customers inside a CRM-like interface, where you can create different scenarios based on the customers' behaviors, purchasing history and more.
With Drip, you can build your eCommerce brand from customer acquisition to loyalty and retention with Drip. In this Drip review, let's see if Drip is the email autoresponder for your business and how the features can help you.
Drip Review
What is Drip?
Drip is a marketing automation engine, giving marketers the tools they need to build stronger and more profitable relationships with their customers at scale.
More than 27,000 marketers around the world utilize Drip's comprehensive tracking, hyper-segmentation, and robust email marketing automation to grow their businesses. Graduate from simple email platforms, bloated CRMs, and overhyped marketing automation tools, and make more money with Drip.
Drip Features
Customisable forms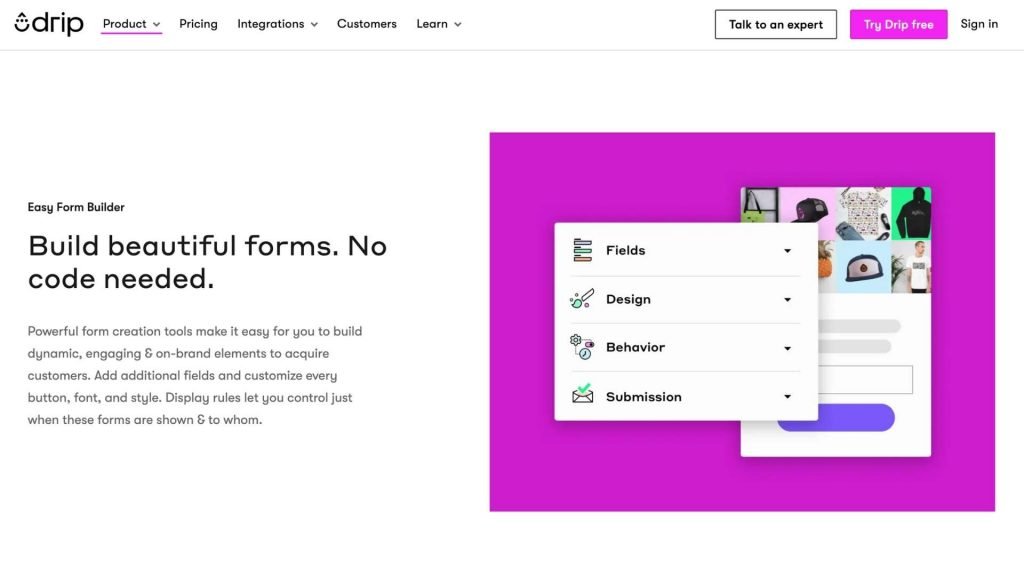 We don't judge a book by its cover but appearance is very important to attract customers. Drip allows you to easily create and customize your own signup forms to grow your online audience. You can customize everything including every button, font, and style based on your taste and the image you want to create for your business. You can also decide when and to whom you would like to show these forms.
Showing pop ups at the right moment helps you to keep your leads and possibly turn them into your customers. By using Drips, you can create engaging pop ups at ease: not only can you create pop ups that fit the image and idea of your company and products, you can also control who sees them on each page of your website.
Sometimes your customers have different needs so you need to treat them differently. If your customer hasn't made a purchase for a long time, you might want to offer a discount to encourage them to buy your products. You might also want to hide some new signup forms from your VIP customers. In any case, Drip's behavioral form targeting will assist you in accomplishing these tasks.
Email, SMS & Automation
Email is an important means to advertise your company and products so you should try to make the best use of it. With Drip you can create personalized, branded emails. You can use emails to inform your customers about abandoned cart items to remind them of making a purchase; you can also send unique discount codes to encourage them to browse your products. Drip can also recommend your products to your customers based on their purchase history. 
What if your customers don't check emails regularly? Don't worry, Drip also offers SMS that is immediate, to the point, and easy to consume. Make sure to send your customers text messages of your most important and relevant information and discounts that you want to share with them.
Every customer is different and unique. You want to accommodate everyone's needs and interests as much as possible. With Drip's dynamic content you can create unique emails and texts for each customer. Sounds like lots of work? It is not! You don't need to learn any coding or be a tech geek to do this – Drip will make sure to include the right products for you. 
You have put a lot of effort into your messages and you want to ensure that they are working properly. Drip's A/B testing will tell you which strategies work the best for you based on the amount of revenue, clicks, opens, etc.
But wait a second, it doesn't matter how good your content is, it would have been useless unless your customers actually read it. Drip will make sure you send the right message at the right time drawn upon various shopping events such as when they view/buy what. Also, Drip understands that entrepreneurs are busy so you don't have to be there every time you want to send a message – you can schedule the sending time beforehand. 
Social media is more important than ever. Make sure to sync Facebook Custom Audiences with Drip segments to craft powerful marketing campaigns. You can also share your campaigns to all different kinds of channels to reach as many audiences as possible. 
Segmentation & Reports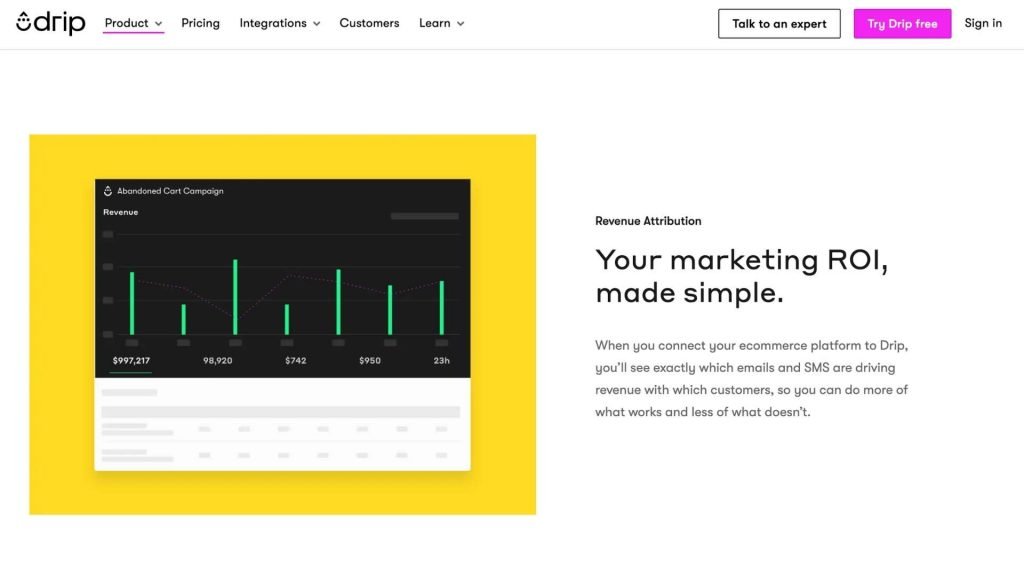 Drip centralizes all of your stored data in one place. Sync order and customer data, paid social custom audiences, third party integration data and more. Simply connect your online shop(s) to Drip, and Drip will analyze which emails and SMS are driving revenue with which customers, so you keep up with the marketing performance. In this way, you will also understand which campaigns are paying off and which ones require adjustments and improvements.
Drip also has smart segmentation that you create dynamic audiences based on your customers' behaviours that benefit your business. This feature is not only helpful but also convenient for entrepreneurs because Drip will automatically update segments such as what kind of orders and the number of orders. Not limited to orders, you can also set up segments such as browsing, opening, clicking, and beyond.
You might be worried that these reports and feedback will be too technical to understand but that's really not the case with Drip. They use dashboards analytic tools and they are very easy to read.
Drip also has a tag & custom Fields option, allowing you to tag people with fields only you are able to see. You can use these tags to create different audience groups and tailored messages targeting each specific group.
Drip Pros
Specialist eCommerce CRM
Strong automation features
Numerous, solid integrations
Easy-to-use
Robust CRM features
Impressive visual email builder
Good integration abilities
a 14-day trial available
Drip Cons
Email templates could be better
Platform can be buggy
Lacks CRO features
Form builder is limited
US number only
Drip Pricing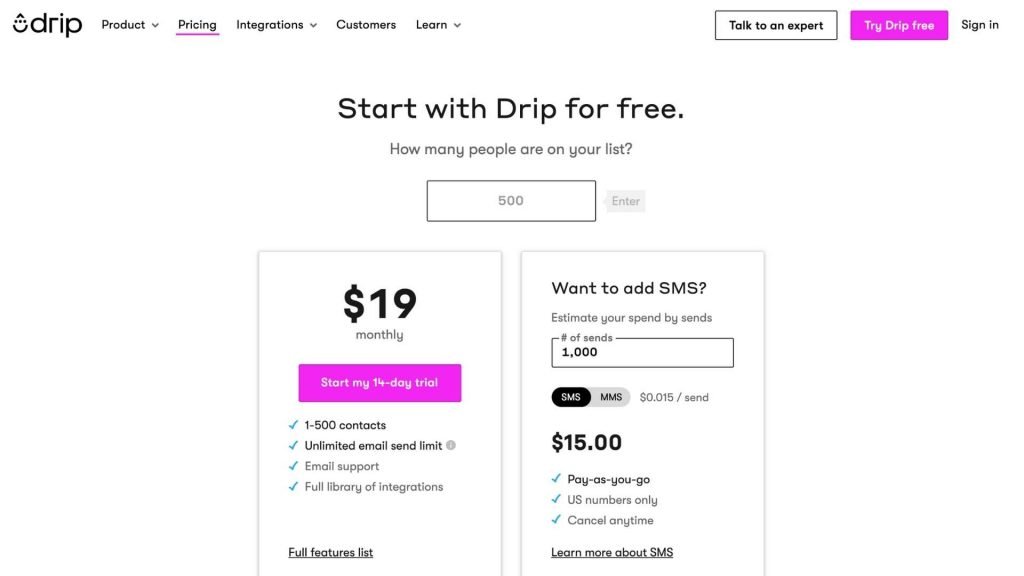 Note: Prices vary on your specific needs; you can enter the number of sends and their online calculator will show you the estimated cost.
There's a free account level that you can start with, and also a 2 week free trial on every other plan.
Their $19/month plan will provide you with accesses as follows:
1-500 contacts
Unlimited email send limit
Email support
Full library of integrations
Conclusion
Drip is a highly-capable CRM and a great platform for eCommerce brands who are using this kind of platform for the first time. Everything is geared towards online retailers and this makes the features so much easier to get to grips with if you've never used a CRM before.