With the internet being more accessible than ever, more and more companies and entrepreneurs are taking their businesses online. Generating traffic to your website or social media is becoming harder and harder with the incredible amount of competition. Exactly how will you be able to get your ideal audience to come to your website? Here are five proven methods that can help you get more traffic to your website and grow your online businesses. 
Get more traffic
1. SEO
Understanding SEO and optimising your website to be on Google's good side is more important than ever. SEO stands for Search Engine Optimisation and without optimising your pages, your website might turn up buried deep within the search engine results and your ideal audiences might never be able to find your website.
Make sure to perform keyword research and use targeted keywords, especially long-tail keywords, to maximize the chance of Google ranking your pages. Your website has to have a quick loading time for Google to like you, and for people coming to your website to stay.
These are amazing plugins that will be able to help you improve your SEO rankings on your website and figure out the right keywords to target:
2. Build a visually appealing website
Building a visually pleasing website is very important. Having an outdated website or a website that doesn't show your brand clearly could hurt you. People's attention span is shorter than ever and if you can't grab their attention in a matter of seconds, they might immediately bounce off, hurting your SEO score.
There are many ways to optimise the look of your website. If you have the budget, you can hire a web developer and/or a web designer to build your website from scratch. If you don't have the budget, you can always learn by yourself. There are many platforms and tools out there and with a bit of learning and familiarising, you can create a beautiful website that reflects your brand yourself.
If you are unsure about where to start, get WordPress with the Divi theme, one of the most popular themes with lifetime license so you just need to get it once. You can also check out Elementor and Thrive Themes.
Two bonus tips relating to building a visually appealing website, you need to make sure your website is optimised for mobile users. Nowadays, more and more people are browsing the internet using their phones. If your website looks great on desktop, but a mess on mobile. Chances are people will see that and leave.
Another thing that you need to think about is the speed of your website. Having a website that loads quickly is crucial to making sure people are going to stay. If your website takes even half a second longer than standard websites to load, it is very likely your visitors will get impatient and leave.
Google takes two factors into account and strongly favours mobile-friendly websites and fast loading speed to make sure the audience is happy.
Check out the best web hosting here to find the right web hosting for your website.
To make sure your website loads quickly, you can use plugins like WP Rocket and ShortPixel to make sure your images are optimised. Take a website speed test using Pingdom to check how you're doing and how you can improve. Check out the best WordPress plugins for you here.
3. Building links
Building links is incredibly important when it comes to get more traffic to your website and grow your online business. The more links you have pointing to your site, the better. Having backlinks show the online search engines that your site brings value and people are happy to link to your website.
The best way to generate backlinks is by having great resources and valuable materials on your site. When people find your content, they will want to share your content on their websites and/or social media. Writing guest posts on other people's websites and building connections with other businesses can also help build relationships.
4. Pay-Per-Click advertising
The fastest way to get online traffic is through pay-per-click advertising. Each time a user clicks on an advertisement that you created, you will pay. The cost can vary heavily depending on the popularity of the keyword phrase. Generally, your ad will turn up marked as paid ads, where people have searched for a relevant keyword.
Make sure to understand the keyword that you want to target to avoid showing up as an ad in results that will be unlikely to generate sales. Google ads and Facebook ads are probably the most famous ad platforms for you to run advertisements. You can also run ads on social media, including Facebook, Linkedin, Youtube, Pinterest and Instagram.
5. Affiliates
Using affiliates is an amazing way to boost online traffic and generate more income for your business.
Affiliates are companies, individuals, or organizations that help boost your sales and help you raise brand awareness in exchange for a commission for every sale they can make for you. Affiliates send traffic to your website using a unique link that can be traced back to them.
In order to use affiliates, you need to set up an affiliate system and also begin recruiting associates to help you. Offering an attractive commission can attract affiliates to subscribe and help you generate sales. You can create your affiliate program, which usually comes with e-commerce software like Sendowl. You can also use affiliate networks to help you reach a bigger network of affiliates, like Clickbank, CJ Affiliate and ShareASale.
6. Offline Advertising and marketing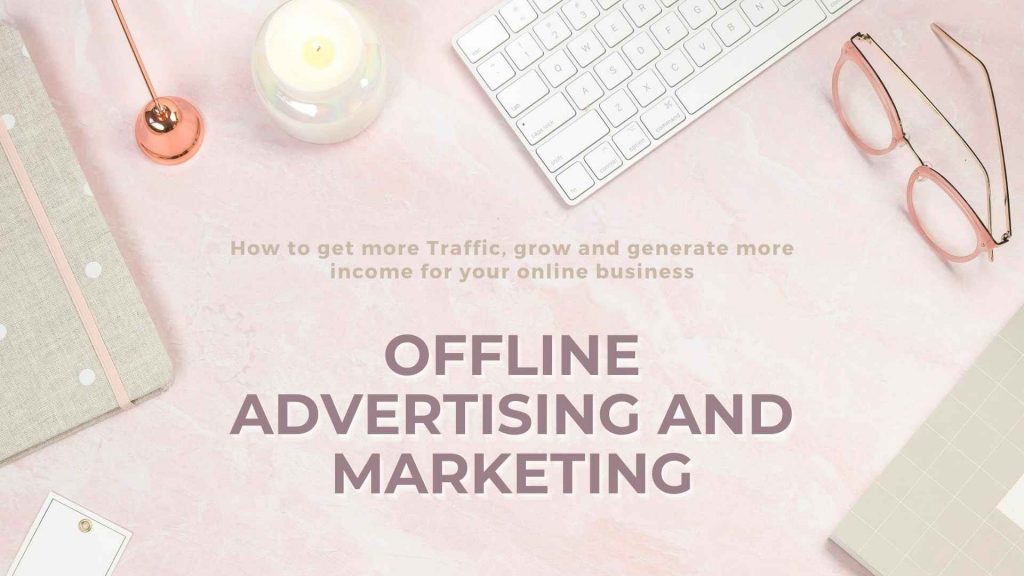 An often neglected part of advertising online businesses is using offline advertising. Offline advertising is an efficient way to generate brand-new clients and also create word-of-mouth interest in your website.
Advertisements in print magazines, newspapers, tv, radio, and different publications are a few of the ways that you can use to advertise your company.
Depending on your business model, you can also send out flyers and posters or give away small branded gifts and merchandise. You can use services like Printiful or Printify to produce these easily.
7. Social media
Using social media is one of the best ways to get traffic to your online business, even if you have zero budget. Anyone can create a page on social media and start optimising your content and reaching your target audience.
When thinking of social media, you might immediately think of Facebook, Instagram and Twitter. Although these platforms are great and have a significant amount of users, organic reach can be quite difficult.
Youtube is a great platform to get traffic back to your website. It is the second largest search engine in the world, owned by the biggest search engine, Google. People go to Youtube to actively look for videos that can solve their problems. Using Youtube can drastically raise brand awareness and get more people to know about your brand.
Pinterest is another platform that doesn't only rely on organic reach, but it is a search engine of its own. Even without a following, you can get people finding your content with Pinterest easily through the explore feed.
Through the different social media platforms, you can mention and link out to your website and your online business, reach more people and connect with your ideal prospects. Although there is a bit of a learning curve when it comes to growing your reach on social media, it is definitely one to look into and explore.
Conclusion
Getting more traffic to your website with these proven methods can help you generate more traffic and grow your online businesses. It is a process that will take time but through perseverance and hard work, you will be able to see the result with the growth of your online business. How do you get more traffic to your website? Let me know in the comment section down below!