I know we have introduced a lot of different email marketing tools before, but make sure to check out Moosend. The tool includes many beautiful templates that managed to attract my immediate attention. Moosend also has some unique marketing ideas and strategies that might really help with your marketing growth. It also includes standardised features such as intelligent email automation, landing pages, and subscription forms. In this Moosend review, let's check out the toeol with me and compare with my other review articles; together we will find the best tool for you 🙂 
Moosend Review
What is Moosend?
Moosend is an email marketing automation platform, with quite a few fancy add-ons that can help you reduce the number of tools in your tech stack, and generate leads on the go.
With Moosend you can easily manage multiple email campaigns and mailing lists, as well as design and send striking, responsive newsletters created on the built-in campaign editor.
Get meaningful campaign reports and watch your statistics feed in real-time.
Moosend Features
Send an Email with Moosend
Moosend has a very wide and beautiful template gallery. If you want to create a professional looking newsletter to share with your audiences, you should definitely check out Moosend. Their email templates are so diverse and attractive that will totally help you rock your next email marketing campaign. You don't need to learn any coding skill to use it; choose a template and drag and drop to edit different elements. While you are editing the template, you will get access to visual sources from many platforms including Stock Photos, Google Drive, Facebook, Giphy, Dropbox, and Instagram.
This definitely makes the searching process much easier. Moosend believes that customers are all different and have different expectations. That's why Moosend offers a lot of personalisation segments. What's really unique about Moosend is that you can even customise your campaign based on the weather of the location. Check out the weather conditions in your audiences' area and send them a nice newsletter and recommend them products that suit the weather (sunny, rainy, or snowy).
Manage Your Audience with Moosend
We just discussed the importance of personalisation in the email campaign. But how can you keep track of who purchased what, who is where, or who is into what kind of product? Guessing and intuition are certainly not reliable enough. Don't worry, with Moosend you can easily create segments simply by transforming your contact lists. You can create segments based on criteria such as gender and age, or more complex criteria such as who purchased which products how many times.
The other advantage of using Moosend is that you will get access to a CRM (customer relationship management) system. You can see all your customer data at one glance. What's so cool about this CRM system is that you can add different tags to categorise your customers, such as new customer, 10+ purchases, dress lover, and so on. Your customers will no longer just be a name and contact info for you; these tags will remind you of their distinct personalities and behaviors and stories between you and them behind.
Grow Your Marketing
The drag & drop editor is not only good for creating newsletters but also landing pages. What stands out to me about their landing page ideas is the countdown timer. I haven't seen any similar ideas from other tools. A countdown timer creates urgency and draws extra attention to your audience.
Also, you don't create these beautiful newsletters and landing pages for nothing. Make sure to get more people to subscribe to your talented creations. Moosend offers different ways to display your subscription forms, ranging from a classic pop-up to an stylistic inline form, floating bar, or full page subscription form to draw your audiences' attention to the maximum. You can make rules deciding what, when, and where your visitors will see the subscription form.
Automate Your Marketing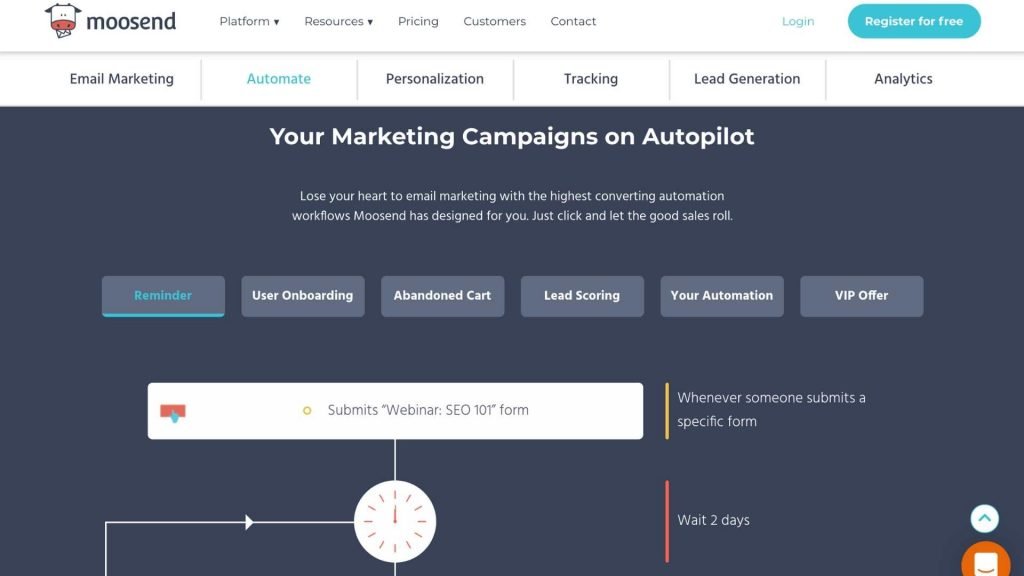 Automate your marketing today by creating reminders, user onboarding, VIP offers, and more. A nice reminder page will keep your customer updated about their purchases. For example, once someone subscribes to an online course, your automated tool will send a reminder of the event prior to the start of the course. You can also use it to finish the onboarding process by sending new subscribers a welcome email and user instructions. The automation is not just for your customers; it can be used for yourself as well. When a user adds a product to their cart, wait for a certain amount of your choice, whether it is one day or three days, and then the system will check if they have made the purchase. If yes, the system will automatically increase the user's lead score, and if not, the system can offer them a discount to motivate the customer to make the purchase. The automation ensures the precision and productivity of your marketing and campaigns at the same time.
The automation will also help you to decode your customers' preferences and recommend them with the products they might be interested in. If someone just ordered a coffee machine, the system will recommend them some coffee mugs that match the style and vibe of the coffee machine, increasing the likelihood of another purchase from the customer. This is really a win-win situation for both you and your customers that you will gain more revenues and they will discover more goods.
Track Your Efforts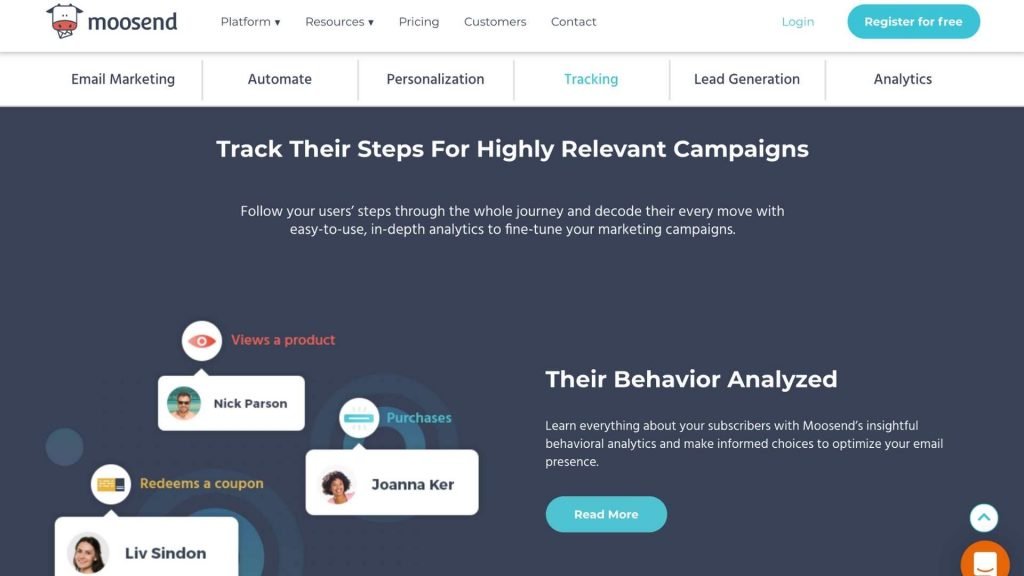 You want an accurate sense of how your customers are liking your marketing and products, no guessing. Moosend will provide you with a full picture of the consumer behavior: who viewed which product how many times, who purchased what, and who redeemed a couple for what purpose. Always remember the better you know your customers, the more likely they will come back and become loyal customers, because everyone loves to spend the minimum amount of effort to find the best and most suitable kind of product possible.
The tracking feature is especially helpful when you use it together with other features such as automation. It keeps track of your customers' cart. For example, it will notice if a customer made a purchase and then the email automation will send the customer a thank-you email. If a customer did not make a purchase but still has the product in his/her cart, the automation will send a reminder email, possibly with a coupon.
Moosend will automatically generate analytical reports of your performance. Those reports will track and reveal total open rates, click-through rates, bounce rates, forwards, and unsubscribes. Always read these reports because they help you to know the general trend of your marketing strategies and whether or not they have been effective.
Moosend Pros
Automation workflows are robust relative to similarly-priced competitors
Free plan includes most of the features found in paid plans
You can create unlimited custom data fields and segments in this platform
Clear design
Landing page builder and pop ups are very easy to use
Interface is very user friendly
Awesome video tutorials
Moosend Cons
Moosend only includes about 70 pre-designed email templates; this is not a lot in comparison to other similar tools
Customer support in free plan is limited
Moosend's third-party integrations are limited compared to competitors
Moosend Pricing

Moosend features three plans: free (up to 1,000 subscribers), pro (the price changes based on the number of subscriptions), and enterprise (customised price).
The free plan is quite limited. Yes, you can still reach out to unlimited emails for your campaigns and you can access the report, but you won't be able to create landing pages with them. Also, there won't be customer support for you in case you encounter technical problems.
With the pro plan you will unlock features such as landing pages, transactional emails, phone support, and you can share it with up to 5 team members. The limitation is that you won't be able to customise a specific report for a campaign on your own.
The enterprise may be a great deal if you have lots of subscribers. Because as the number of subscriptions increases, the price of the pro plan can be quite expensive. So why not customise your own plan with Moosend and unlock all the features? They will even assign you an account manager to have you sort things out.
Here is a list of Moosend's pro plan so that you can gain a sense of their price (monthly subscription; a discount is applied if it is billed yearly):
| | |
| --- | --- |
| 2,000 subscribers | $10 |
| 2,500 subscribers | $20 |
| 25,000 subscribers | $125 |
| 50,000 subscribers | $205 |
| 100,000 subscribers | $390 |
Conclusion
Moosend is an email marketing platform that helps small businesses successfully execute their marketing campaigns. Compared to similarly-priced solutions, Moosend's automation workflows are quite robust. However, Moosend has several limitations that may be a deal breaker for your business. In any case, Moosend has some unique features and ideas that I haven't seen elsewhere. Try out their templates and see if they match your taste. Maybe after trying those beautifully-designed and very professional-looking templates, you will love the tool right away and the limitations will no longer be an issue. How do you like Moosend? Leave a comment and we will talk.