Everyone is talking about finding your online business niche and the importance of your niche, but exactly why do you need a niche for your online business? How can you find your niche in the big ocean of potential online business ideas and directions? Let's have a look at exactly what the hype is all about. 
Why do you need an online business niche?
When you're considering starting an online business and embark on your journey as an entrepreneur, it is crucial that you put in the time to specify your specific niche. Here are three main reasons why it is important for you to know exactly what your niche is.
1. You can hone in on helping your target audiences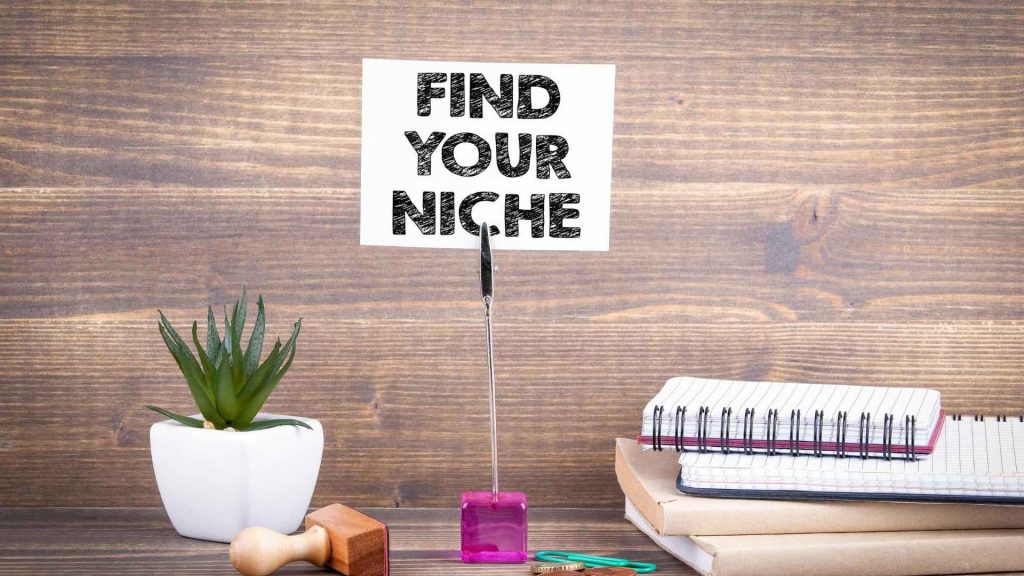 Having a niche is about you helping your audience, building that relationship and solving their problems. You're in this niche because you can use your zone of genius, your experiences, your skills, your knowledge to help others that are having problems related to this area.
When you have your online business niche, you will know exactly who you're talking to, the voice you will need to use to talk to them and the best way possible to help them. Understanding your target audience completely can help you focus on making sure you can better serve them.
Understanding your target audience completely can help you focus your advertising and marketing initiatives to make sure that you can better serve them.
Narrowing down your product or service helps you to address your target audience as well as better satisfy them. You can then focus your time and energy on those elements.
2. You can establish yourself as an expert
Defining a specific online business niche can help you build credibility. When you provide value and content in a specific topic, you can become recognised for that specific knowledge. When you narrow down, your audience is more likely to remember what you can help them with. They will be more likely to refer you to others who are trying to find what you're offering. If you spread yourself too thin and try to be everything for everyone, you are serving no one.
3. You can build strong relationships
Narrowing down your business to a particular online business niche can help you network and also work together with other businesses in similar markets. When you concentrate your energy and time on promoting a specific particular niche in your industry, rather than providing anything you want, it becomes a lot easier for you to connect with others in your field and also build helpful partnerships.
How to find your online business niche?
There are billions of websites on the Internet currently, but unfortunately, not all of them are making money. Too many bloggers are trying to do everything for everyone instead of focusing their efforts on a specific niche. If you want to be successful as an entrepreneur and make money from the content you create, then you have to focus on one niche. Here are some tips to help you find a niche for your blog and make money online.
1. What do you like?
Ultimately, you can't get into something you have no interest in. You might be spending the next few years or even longer working in this field. You don't want to stress yourself out doing something you are not passionate about.
The first thing that you should do is write down a list of all the ideas and concepts you have for what you can offer. List anything and everything that comes to mind.
2. What are you good at?
Don't be shy, dig deep and think about what you're good at. It can be anything. If you are an animal lover, maybe you can get into a niche about animals. If you like hiking or the outdoors, maybe you can share tips on hiking and share about your favourite camping gears. If you are passionate about knitting, you can teach others how to knit.
If you are unsure, then think about what kind of problems people come to you for. Maybe people come to you for relationship advice, travel recommendations, assistance with certain aspects of life. You might be able to turn these into your niche.
3. Check online forums
There are many platforms where people go to passionately discuss things they like. You can use these platforms to find out whether or not your niche has an audience.
Reddit is a great place to test your niche. It is an online forum featuring thousands of topics. You can find communities built around every conceivable subject from entrepreneurship to dog training to jokes. Using Reddit to find a niche is easy. You can start with a bigger idea of what you are interested in, then go into the relevant subreddits. You can check the threads that people have created to see what people are discussing about, to check if the niche you have selected is interesting to others.
4. Use Google Trends
If you need help determining your blog niche, you can use Google Trends to see what people are currently searching for and whether or not you niche has had steady searches, a declining or an increasing interest. Plus, Google provides users with tools that allow them to compare different keywords and provides the geographic location where the search volume for a topic is higher. This information can help you find your target audience.
5. Use Social Media
Another way to find a niche and see if the niche you have chosen is right for your online business is through social media networks. You can use Pinterest to see what people are pinning the most and look at other people's boards to find new untapped markets. You can use Facebook groups to find different topics and communities.
6. Ask yourself the right questions
Think about how you can use your experiences and knowledge to add value to your target audience's lives. How can you help them by solving their pain points? Think about your accomplishments and unique skills to help you determine your niche. Is your online business niche a lucrative niche? Will people spend money on your services?
There are hundreds of niches around that you can choose from. Unfortunately, not all niches pay. Check how other businesses in your niche are generating income and think about how you can too. If the niche that you have chosen doesn't seem to be monetised, then you might need to reconsider if that's the right niche for you.
Conclusion
Use these tips to help you get started with your online business niche. Once you determine your niche, don't hold back. Put all you have into creating high-quality content for your audience and begin to earn a living online. Discovering your niche is merely the first step to running a successful online business but it is one of the most important steps to helping you become a successful entrepreneur.
Find out more about 3 ways for Scaling Online Business and the 4 Secrets and Action Steps to have a Successful Online Business.