As an entrepreneur, especially a solopreneur, it can be overwhelming to manage everything yourself. From social media posts, content creation to client management, it can very quickly fill up your plate. That's where outsourcing comes in. In this Onlinejobs.ph review, let's take a look at what is Onlinejobs.ph, the features of this outsourcing platform, and whether or not it is legit.
What is Onlinejobs.ph?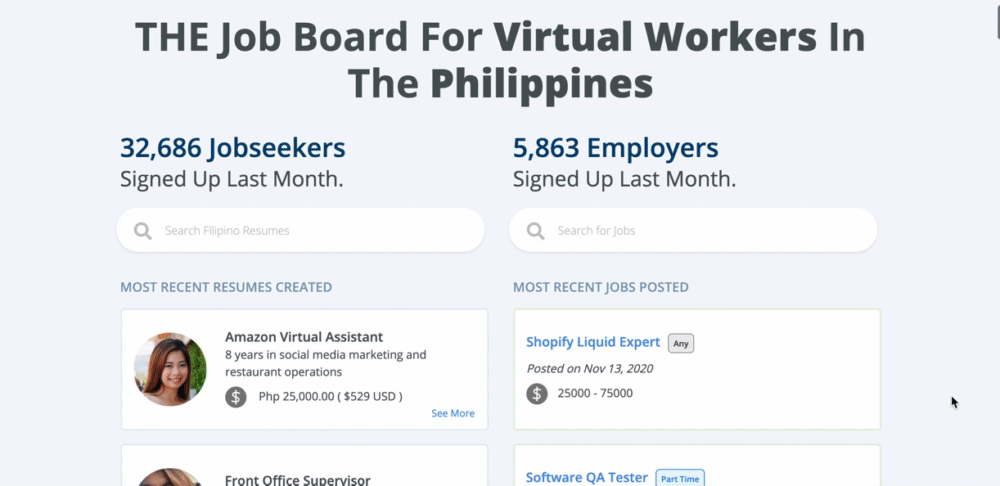 Onlinejobs.ph has the largest database of Filipino virtual workers: more than 1,000,000+ profiles and 34,190 Filipino join each month.
You can find all kinds of workers on Onlinejobs.ph, offering services such as Virtual Assistant, WordPress Developer, Graphics Designer, Content Writer, Ecommerece store manage, Social Media Management, Customer Support and more.
My Experience with OnlineJobs.Ph
I first heard about OnlineJobs.Ph from a fellow entrepreneur. She told me how she was outsourcing to a VA for less than $300 a month. I was shocked. I decided to try OnlineJobs.Ph out and see for myself.
The one thing I absolutely love about OnlineJobs.Ph is there is no on-going transaction fee or agent fee. You pay OnlineJobs.Ph platform once and after your hiring process and finalising on your candidate, you don't have to pay through OnlineJobs.Ph anymore. From that point on, every payment is done privately between you and your freelancer.
This is so powerful because other platforms such as Upwork, Freelancer and Fiverr all have on-going fees and contracts that you are required to follow.
All of the freelancer and hires I have conducted through OnlineJobs.Ph were very smooth. It was incredibly easy to set everything up and assess the skills and abilities of each individual profile.
OnlineJobs.Ph is definitely my go-to recommended outsourcing platform for all entrepreneurs and busniness owners.
OnlineJobs.Ph Outsourcing Fees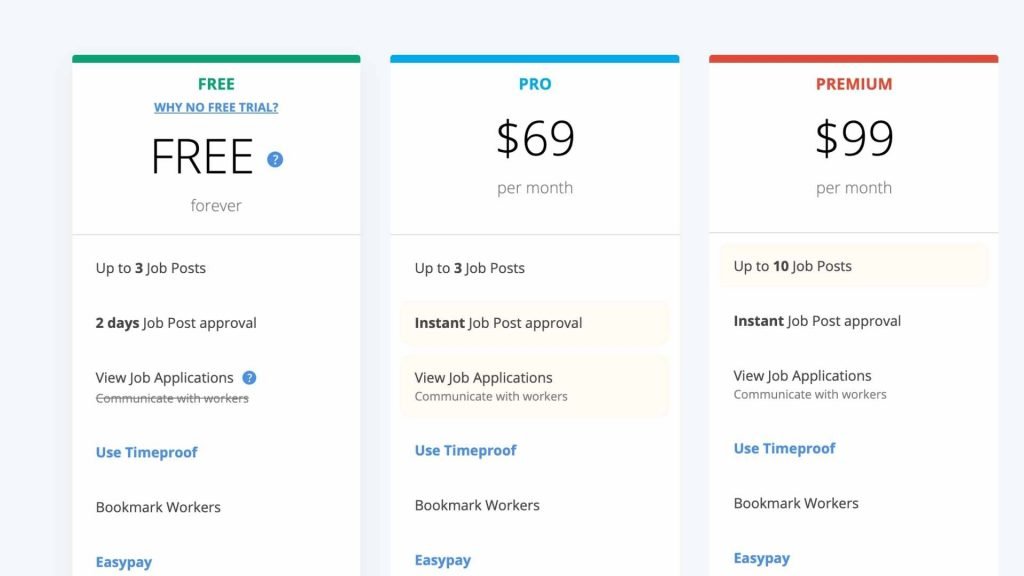 Unlike many other platforms such as Fiverr, Freelancer or Upwork, where there might be transaction fees or commitment required, with Onlinejobs.ph, you only pay for the platform when you need it to find workers.
One of the best things about OnlineJobs.Ph is that they don't mark-up salaries. They provide you with a simple place to find and contact quality workers. Then you hire and arrange salaries as you see fit.
Once you have found someone to work with you, you hire and pay workers directly. There is no transaction fee or any long term commitment.
Rough Pricing for salaries for workers through OnlineJobs.Ph
Virtual Assistant- $350-$800/month
Social Media Expert- $300-$600/month
SEO Specialist- $400-$1100/month
Designer- $400-$1100/month
Programmer- $550-$1300/month
There is an option to create a free account. It allows you to post up to 3 job posts and see job applications. It gives you a good idea of if you're going to find someone good. You can't see applicants contact info or communicate with them until you upgrade.
Then there is the Pro version that costs $69 per month and keeps in mind, you can cancel after one month and during the month, you can communicate with up to 75 workers and view their applications, communicate with them and read reviews. You can post up to 3 job posts with this version.
With the premium plan, it costs $99 a month and you can post up to 10 job hosts and contact up to 500 workers per month. This plan gives you features such as unlimited background data checkers, worker mentoring service and video guide to outsourcing.
On top of this, Onlinejobs.Ph offers a 30-day money-back guarantee in case you are not satisfied with finding the right workers.
How do payments work?
Easypay is the recommended tool for transactions. It's built right into OnlineJobs.Ph with no account required. It is simple and easy to use.
Although Easypay is the recommended platform, you could also use Paypal or Worldremit or Transferwise to pay your workers. How much you pay them is dependent on how much you negotiate with them before you hire them.
With Easypay, transfers are fast and use the actual exchange rate, where a 2% reduction is taken when the money is transferred to the worker's bank account. For comparison, Paypal takes 5%-7%
You can pay your workers right from inside your OnlineJobs.ph account, even after you cancel your subscription. It's always available, and always easy.
Recruiting Services
Finding and hiring the right worker for your business takes a lot of valuable time and effort, so why not leave all the work to us? We know you're busy, so instead of being overwhelmed with recruiting, we want you to focus on the more important aspects of your business like making sales. Just tell us what type of worker you're looking for and we'll take it from there and handle every step of recruiting your next virtual worker so you don't have to.
Once we cut down the talent pool to a few prospects, we'll test their skills and make sure they'll be able to handle the tasks you'll give them. Plus, we'll do a thorough background check to ensure you're getting the highest calibre worker possible.
There's much more to hiring than finding someone with the right talent and abilities. We'll identify potential workers whose personality and attitudes match your company's culture and vision. This means you won't have to waste time hiring a new worker only to find out they're not the right fit.
We're confident in our recruiting process, but we realize no system is perfect. If something doesn't work right between you and your virtual worker in the first month, and you need to make a change, we'll get you a replacement by following the same system—all at no cost.
To get started with getting OnlineJobs.Ph to recruit for you, you first need to pay your recruitment fee of $500 using PayPal, then you fill out the virtual staff request form, Hazel from OnlineJobs.ph will source, screen and find you the best. After that, you can start working with your virtual employee.
How to Outsource on OnlineJobs.Ph?
Step 1- Post a job or search resumes
Depending on what you're looking for, you can start searching for resumes of potential staff for you to employ. You can search for a skill you're looking for and get an idea of the talent you can find. Look at how much they're asking to make. Look at their education and experience. You're just looking to get a feel for what exists. If you like what you're finding, save some of the profiles to contact later.
When you've got a good idea of the skills you can find, post a job and let potential hires apply and come to you. Unless you're hiring a lot, keep it simple. Don't create extra work for yourself stressing about hiring systems. Just ask lots of questions, pay attention to your gut, and give it a try.
Step 2- Find your new freelancer
You can interview applicants over skype or zoom, just like you would for a normal staff member.
Once you find the perfect fit, you can go ahead and offer them a job. Don't forget to negotiate a salary, work hours, and your expectations.
Step 3- Hire and Manage
When you have hired your worker and start working with them, you can manage work hours of employees through Timeproof and pay them through EasyPay. According to OnlineJobs.Ph, mo taxes to pay. Also, you don't even need to maintain your subscription to OnlineJobs.ph once you've hired them.
OnlineJobs.Ph Pros
Onlinejobs.ph doesn't take a commission unlike many other platforms, so there is no need to keep paying after you have found your workers
You can find workers that will work for an affordable price
English is widely spoken in the Philippines and the level is very high in comparison to other countries where English is not the first language
Filipinos are known to be loyal and it's in their culture to look for long term jobs.
Onlinejobs.Ph has a lot of extra training and resources to help you with outsourcing
Easypay and Timeproof are great to help you pay and manage your employees, but it's not mandatory to use these platforms.
OnlineJobs.Ph Cons
They only have workers from the Philippines and depending on where you are in the world, the time difference can be quite huge
Since there is no ongoing payment, there is also no ongoing support with the relationship between you and your workers to handle any possible troubles or problems
Is Onlinejobs.Ph legit?
To put it simply, yes it is. You can outsource and hire workers to fulfil the roles that you are looking for for an affordable price. Just like Onlinejobs.ph promises, there are no hidden fees, transaction fees, you just have to pay for the monthly fee for however long you need, and you can cancel anytime.
I used Onlinejobs.ph to look for virtual assistants to help me and it was very easy to use. I was able to find qualified candidates to interview almost immediately. I only paid for one month and during that time, I had enough time to post the job posts, find, contact, interview and hire the workers I needed.
Conclusion
I used to use Upwork and although it is a great platform, as a solopreneur running a small business, the fees were way too high. I had to continue to pay extra with the transaction fees. Onlinejobs.ph has become my go-to platform to outsource and I couldn't be happier with them. Would highly recommend for any solopreneurs, entrepreneurs or any business owners to try out this platform for outsourcing.