Do you feel like you sit in front of the computer all day and somehow, your to-do list is still gigantic? Do you get frustrated at yourself because of all the unfinished tasks you have left over at the end of the time. Don't stress. Here are 10 actionable tips to help you maximise and increase your productivity in business.
Tip 1: Managing Your Time Effectively
Are you managing your time effectively? As online entrepreneurs, we're bad about falling into the trap of counting every hour at the computer as "work time". Be honest with yourself here for a minute. How much of that time is spent browsing through Facebook, checking the latest Reddit posts or going down the rabbit hole of "research"?
Weíre all guilty of it but to be more profitable and productive we have to manage our time effectively. While the ideas below will take some getting used to, the end result will be to spend less time at your desk and more time away from your computer doing the things you love to do.
Make A Plan And Break It Down
Start by figuring out what you want to get accomplished. Whatís your next big project and what ongoing tasks need to be taken care of on a daily or weekly basis?
If you're working on a new coaching program, that might involve outlining what you want to teach, writing the training course, editing and formatting, creating worksheets and slides and figuring out how you'll sell and deliver the program.
In addition you may have daily or weekly tasks like blogging, emailing your subscribers, interacting on social media sites and forums etc.
Figure out what you need to get done over the coming weeks and write it down. Knowing what you should be working on to be more profitable is half the battle.
Write Out Daily and Weekly To-Do Lists
Next, it's time to write out your to-do lists. Start with everything you've written down in the last step and break it down into daily or weekly tasks. Use whatever method works best for you.
Use a weekly list if you prefer working on larger tasks or projects all day long, or try daily lists and break larger projects up into manageable chunks that you can accomplish in just a few hours or less.
You can jot down your to-do list on a piece of paper and cross things off your list as you get them done. Or use an app for your smartphone.
You can use tools like Asana or Trello to help you easily create tasks, assign dates, priorities and even make recurring schedule (great for reminders to write those blog posts).
Set A Time And Get To Work
The tasks on your to-do list will take as long as you allow them to take. To stay productive, use a timer and get them done. Pick an item on your list, estimate how long it should ideally take you to get it done and then set that timer.
Remind yourself that if you work hard and fast, you can be done for the day and go do what you love. Train yourself to work faster over time, but don't forget to take breaks. 25 minutes of intense work followed by a 5 minute break seems to work well.
Continue to evaluate what's working and what isn't. Do more of whatís profitable and fun and try to get it done in the shortest amount of time possible – without sacrificing quality of course.
Tip 2: Tracking What's Working and Making Money
The easiest way to make your business more profitable is to track what's working. What parts of your business, what projects and what products are making you money? Which ones aren't? What type of customer is most profitable for you? Where is your most profitable traffic coming from?
Taking time to dig into your stats and calculating ROI (Return on Investment) is one of the best things you can do for your bottom line.
Your Products
Start by looking at your products. This could be info products, physical products, any coaching you do, anything you resell or even advertising you sell on your website. List it all out.
Next to each item on your list, note down how much money each product has brought in. You can break it down by month, or look at long term figures like year-to-date profits or revenue generated over the past 12 months. Use whatever number seems most helpful.
Next, think about how much work each of these products or profit streams take. Selling advertising space on your website or a simple little kindle book may not make as much money per month as that big info product you created or the one-on-one coaching you offer, but they also hardly take any time to create and maintain. Assign a value to each item on your list.
Once you have all your data, it's just a matter of creating more products of the type that's the most profitable for the time you invest in them.
Your Customers and Prospects
Taking a look at your customers and prospects is also a good idea. Where did they come from? Who is your core customer base? These are the people that buy everything you put out and are singing your praises to their circle of influence. They may also be repeat customers that come back to you over and over again.
What prospects are most likely to turn into paying customers? Are they people that were attracted by the freebie you offer to get them on your list, or are they people that found you via the great blog posts you write?
You can find a lot of this information by looking at your customer database and by comparing subscriber lists to customer lists. You can also learn a lot by talking to your customers and subscribers. Start a conversation via email, on your website or in a Facebook group.
Your end goal is to pinpoint who your most profitable demographic is and then figure out how to put yourself in front of more of those people. Which brings us to our last point.
Your Traffic
Itís time to dig into those website stats. Where is your most profitable traffic coming from? How do they find your site, what do they look at once they get there and what funnel do they go through until they become part of your most profitable customer group?
Tools like Google Analytics are your best friend here. Spend a weekend learning more about the different reporting you can set up, what you can track and how to read the numbers.
Once you know where your most profitable traffic is coming from – Search Results, Pinterest, your Affiliates or Facebook Ads – put on your thinking cap and figure out how you can tap into more of that traffic or something similar.
Keep tracking, tweaking and improving your bottom line. Make it a goal to get more profitable this month than you were last month and you'll see your business and bank account grow in no time.
Tip 3: Do You Have Systems In Place?
I'll let you in on a little secret. The key to running a successful online business without running yourself ragged is to have systems in place for everything. You'll be surprised how much time youíll save each week and how much more productive you'll be once they are in place. Let's take a look at a couple of different types of systems you may want to implement.
Document your systems and create checklists for them as you start to create them. They will come in handy over the coming months and years.
Product Creation
Your systems for product creation will depend on what your products are and how you will deliver them, but some of the things you may want to document in the form of a checklist are:
Topic Research
Creating An Outline
Writing or Recording the Info Product
Editing and Formatting
Uploading It To Your Site
Creating Sales and Download Pages
Creating Marketing Materials
It's also a good idea to create a template you can use for all your short reports and ebooks to make sure they look consistent across the board. This will also make your job a lot easier when it comes time to format your product.
Content Creation
Templates and calendars will make your life so much easier when it comes to content creation. Spend a little time each month creating an editorial calendar for your blog. Figure out how often you want to blog and what topics you want to cover. With that in place you'll never sit down at your desk with no idea what to write about.
Having templates in place is also helpful. Look at what content you create on a regular basis. Is it a newsletter, short reports and eBooks? Make templates for them. Most of your formatting will be taken care of and you donít have to start with a blank page.
Social Media
Make your social media interactions faster with a system in place. Figure out how often you want to post and during what times. When will you post your own content, when will you ask a question or make an observation and when will you share other peopleís posts?
Having a schedule in place allows you to work ahead when you need to and just like the blog schedule it helps you get things done faster if you know what youíre writing or sharing ahead of time.
Website Maintenance And Security
Here is a biggy. How are you keeping your site safe and secure? If you're using a CMS like WordPress to run your site, you want to make sure it's updated regularly.
Backups are also a must. Schedule both those on a monthly basis and review your sites regularly to make sure everything is safe and secure. Set an alert on your phone or add the task to your calendar each month.
Customer Service
Do you have systems in place for handling customer service requests? Having a page with Frequently Asked Questions (and your responses of course) is always helpful.
You can point customers to the page and be done. A list of common questions will also save you a lot of time. Personalise them as needed, but have the bulk of it ready to copy and paste. Having these systems in place also makes it much easier to outsource customer service down the road.
Having these systems in place helps you run your online business more productively, but there's an added bonus to getting them in place. Once you have a system set up, it makes it easy to outsource that portion of your business to a Virtual Assistant. As you grow and thereís more work to be done than hours in your day, youíll appreciate being one step closer to outsourcing.
Tip 4: Making Friends In All The Right Places
The internet is a huge place and there's plenty of room for all of us making a living online. If you're worried about collaborating with your competition think again. One of the best things you can do is make friends with other online business owners in your niche.
Start By Figuring Out What You Can Do For Them
There's nothing worse than getting a pitch email from someone you don't know. You don't like getting them and the person you're sending them to is no different. And quite frankly itís not how you make friends in the online business space. Instead, look at some of the people in your niche that you would like to connect with and figure out what you can do for them
It doesn't matter if you're just starting out or that you don't have a big reach yet. Start sharing good content they put out and recommend them to your audience. Take the time to write a meaningful comment on their blog post or in response to a Facebook post.
Follow them on Instagram. Shoot them an email if you notice that their website is down or thereís a problem with a broken link. Be genuinely helpful and it will be noticed.
Cultivating Mutually Beneficial Relationships
Once you're on the person's radar, it's time to start cultivating a mutually beneficial relationship. This can take a lot of different forms. You can create guest blog posts on each others' websites, become a podcast guest, contribute a chapter to their latest book or even create a product together.
Or maybe you just have fun public social media conversations that help both of you reach a larger audience. And of course becoming affiliates of your respective products and doing some mailings is always a popular option.
Frankly, it doesn't really matter what you do exactly as long as it benefits both of you. If your list is significantly smaller, offer to do more of the leg work. Make sure the other person walks away feeling good about the collaboration.
Grow Your Reach And Make More Friends
As you start to make friends, your reach will grow. But it doesn't end there. The people you're meeting can help introduce you to other players in the market. And of course you shouldn't stop seeking people out on your own either. Combine both approaches and you will continue to make more friends, grow your reach and grow your business.
Last but not least, it's a lot more fun to work on your online business when you have friends who not only get what you do for a living, but are there to talk shop, encourage and exchange ideas. You'll learn a lot and have a blast all while growing your business and your bottom line.
Tip 5: Time To Build Out Your Funnel
Let's talk about your business funnel for a bit today. The funnel is the path you want your visitors to take from the time they first find you to becoming a repeat customer. For most of us it looks something like this:
Someone comes to your blog or website.
The person signs up for a freebie and you capture the email address
Emails go out to the new subscriber, including introductory (think low priced) product offers
The subscriber makes a purchase and becomes a customer
The person is presented with an upsell or one time offer
You continue to make more relevant offers while continuing to build a relationship via the website, email and social media
Eventually the customer will buy higher and higher priced items, or sign up for a recurring program.
Take a few minutes today and jot down what your current product funnel looks like. Do you have all the pieces in place to smoothly move a customer through the process? Do you have a free opt-in offer on your website to give you a chance to capture your visitors email addresses?
Do you have an introductory product in place? This could be a small eBook, an introductory course or even a short coaching session. Price will depend on your market but think in the $7-$97 price range here.
Do you have an upsell or one time offer in place immediately after the first purchase is made? If not, this should be the first thing you work on. Your customer is buying and interested in what you have to offer. The chance that they add something else to their cart is pretty good right now. Make sure the offer is relevant.
What might your customers need next? Is there another piece of the puzzle they should be learning to move them one step closer to their end goal? Or are you offering a consumable product like PLR articles for example. In that case your funnel may include monthly fresh PLR offers.
Don't forget to remind your customers regularly about what else you have to offer that might be helpful. Sometimes building out your funnel simply means writing a few follow up emails, or bundling existing products into one larger bundle.
Last but not least think about bigger ticket items. These could be larger bundles, large courses or training and coaching programs. Only a small percentage of your customers will take you up on those offers, but the profit per sale will be high enough that it will be well worth it.
Tip 6: Technology to help you streamline your business
Tools To Help You Be More Productive
You've got to love technology. We live in a day and age full of tools and software that make running an online business so much easier than it was just 10 years ago. Here are a few different types of tools that can help you get things done faster and spend less time at your desk.
Tools To Help You Get More Done In Less Time
Let's start with a couple of tools that help you get more done in less time and in other words, tools that help get more productive in anything you do.
The first is a to-do list. It's amazing how much more you'll get done once you write everything you would like to get accomplished down. You can jot down your daily to-do list on a piece of paper, print up some pretty checklists or use one of the free to-do list apps.
Next, get things done even faster with the help of a timer. Grab a kitchen timer or set a countdown timer on your phone and get to work. Youíll be surprised how much faster you get through your tasks when thereís a timer ticking.
Tools To Make Content Creation Easier
In today's world, you have to create a lot of content. A great tool to make adding content to your website quick and easy is of course WordPress.
Another favorite around here is Google Docs. It's a web based word processing program that works similar to Microsoft Word with the added benefit of being available online. Work on your latest eBook or report from any computer. It also makes collaborating with other writers, business partners and assistants easy as pie.
Tools To Create Beautiful Graphics Fast
Once your content is written, it's time to pretty it up with some graphics. Start with a beautiful photo that relates to the content you've written. Pretty images grab our attention and pull us in. Use a stock photography site like Unsplash or Canva to grab an image.
Then use a service like Canva or PicMonkey to edit, add text and make it just right for your post. Yes, there are professional tools like Photoshop for example. But they are expensive and hard to master. Keep it simple and get just what you need with Canva or PicMonkey.
Tools To Make Running Your Business Faster
So far we've talked about tools that make the things you already do quicker and easier. In this last section, let's talk about some things that will make running your business faster because they take you out of the equation ñ automation tools.
The first is auto-responder software. If you're still managing emails manually and sending mass emails from your Gmail account, itís time to look at a service like MailerLite or Convertkit. The entire process of sending emails is automated and auto-responder services work hard at making sure your emails get delivered to the recipientís inbox.
If you're selling your own products, invest in some good shopping cart software. There are a ton of different ones on the market like Podia (the one I use), SendOwl and a lot more. Check out this article to find out more about the many different ecommerce platforms out there.
Last but not least, make customer service quicker and easier with the help of an automated chatbot. Not only does it take some of the workload off you, it also makes it easy to get an assistant to help you. As an added bonus itís a better experience for your customers as well. You can check out tools such as ManyChat and Chatra.
Tip 7: Tap Into Your Passion – Do What You Love
Sometimes the work just seems to flow and you don't mind working long hours on a project. Often, those are also the things that end up making you the most money, and the reason is simple. The passion you have for the work you do shines through in the end result.
To make your business more profitable and a lot more fun at the same time, tap into your passion and work on what you love to do. Of course it isn't quite as simple as that all the time.
Find A Market You Enjoy Serving
Start by finding a market that you enjoy working in. You'll be creating a lot of content and talking a lot about whatever niche you chose to be in. While it is important that your niche is profitable. Itís just as, if not even more important that you enjoy what you do. After all, you'll be spending a lot of time working on your business.
Your enthusiasm and love for the market will shine through as you write and talk about it. It will help establish you as a knowledgeable and credible source of information. That will make gaining the trust of your potential customers much easier.
Attract Your Ideal Customers
Speaking of customers. Since you'll be spending a lot of time interacting with, helping, educating and entertaining your customer base, you may want to pay attention to the type of clients you attract.
It's helpful to get a clear picture of who your ideal customer would be. Be as specific as possible when it comes to gender, age, how well off they are, if they are married and have kids etc.
Once you know what your ideal customer or client looks like, it will be a lot easier to find places where you can find them. Start your marketing there and build your ideal target audience.
Work On What You Love Doing
Online businesses have a lot of different parts. Some you'll enjoy working on a lot more than others. If product creation is what you love, focus on that. If you prefer talking to writing, start an audio or video podcast instead of committing to writing daily blog posts.
Focus on what you have fun doing. Yes, there will be times when you have to do some stuff that isnít as fun (taxes anyone?), but make sure you have some enjoyable work on your plate at all times. It'll keep you going and make the day go by much faster.
Tip 8: Outsource The Rest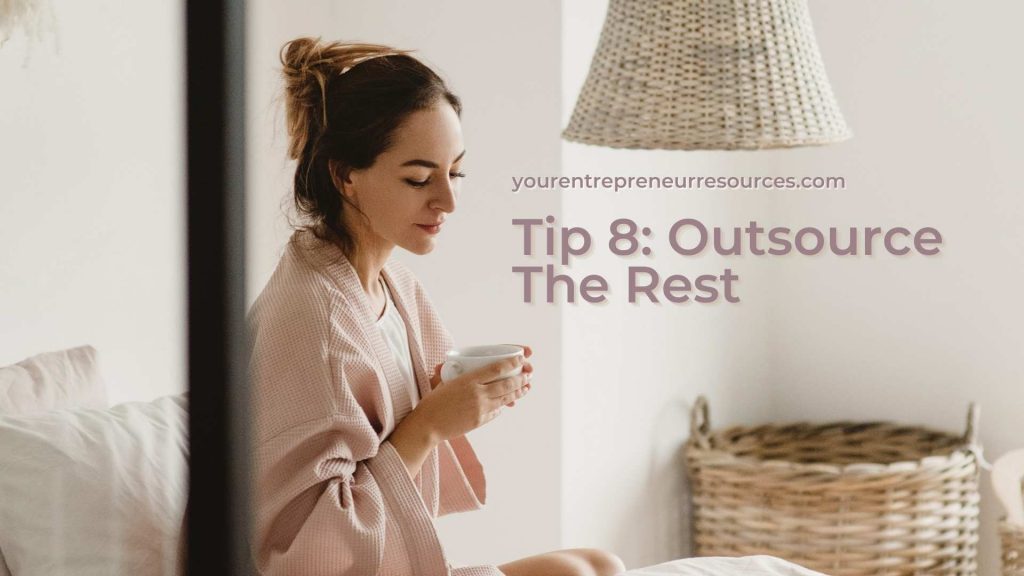 Start to outsource anything you absolutely hate doing as quickly as possible. Then add to the list as you can afford to until you're only left with work you enjoy.
With all the tedious parts removed, itís amazing not only how much fun running your online business will be but also how much faster you will move forward with projects. The end result is a more profitable and enjoyable business.
When It Is Time To Start Outsourcing
We all have only 24 hours a day to work with and some of that time needs to be spent sleeping, eating and doing something other than work. That means time is our only truly limited resource.
You are probably starting out doing everything yourself when it comes to your online business. Youíre the business mastermind, the content creator, tech guy and customer support. Thatís all good and well when you're first starting out, but as your business grows, youíll get to the point where there just arenít enough hours in the day to do it all. Thatís when you know itís time to start outsourcing.
Start Slow and Stay Profitable
Donít feel like you have to outsource everything all at once. Instead start with one task or one particular part of your business. If making graphics isnít your strong suit, it may be a good place to start. Or maybe you want to outsource customer service to leave you with more time for product creation.
The key is to start small. Pick one little project and find someone to do it for you. You can ask peers for recommendations, or look on websites like ODesk or even Fiverr. Usually graphic designers, web designers, writers and VAs that come recommended by others will work out best.
Again, start with one little project and see how things go. Be prepared to be patient in the beginning. It will take some time and feedback for the other person to get an idea of what you want.
Build Your Team
Once you get that first person trained, start expanding and building our team as funds allow. Think about what skills you want to outsource and what your team should look like. As you find people you enjoy working with, do what you can to keep them on board. That means sending them work regularly and paying promptly.
Do that along with being kind and it wonít take you long to build a team thatís knowledgeable and loyal. Spend the time your team is saving you on expanding your business. You want to make sure you can pay them well and still stay profitable.
Keep What You Love and Outsource The Rest
Your end goal should be to only work on the things you enjoy working on, or those tasks crucial to business expansion. In other words, work on what you love to do and outsource the rest. Not only will this leave you plenty of time to focus on money making tasks, it also makes sure you continue to love what you do.
Tip 9: Use And Improve What You've Got
Let's talk about making your business more profitable. Sure, you could go out and create a new product or come up with an entirely new stream of revenue. But that takes a lot of time and energy.
Start by seeing what you can do to get more traffic to your website. Read up on Search Engine Optimisation to get more free traffic from Google. If you're not already adding fresh content regularly, now is a great time to start blogging a few times a week. Fresh content will bring fresh visitors to your website and encourage your existing readers to keep coming back.
Make it easy to share your content via social media. Add some Facebook, Twitter and Pinterest buttons to your site along with some attention grabbing images. It's a good idea to get more active on social media yourself to grow your audience and drive engagement.
Once you have more traffic coming to your site, itís time to test. Start with your opt in boxes and see if you canít improve what percentage of visitors share your email with them. Once they are on your list, you get a chance to get back in touch, build a relationship with your readers and eventually sell them something.
Since we're talking about emails, let's stay on that topic for a minute.
Look through the emails you're currently sending to your subscribers ñ be it via an auto responder, a blog broadcast or broadcast emails. What can you do to get better at email marketing? Are you mailing frequently enough? Are you making offers? Are you gaining your readersí trust and building a relationship? Work on becoming a better email marketer to see better results quickly.
Next take a look at your current products. Can you improve the sales pages? Can you improve and add to the products themselves to warrant a higher price point? Can you bundle a few of your current products into a higher priced item?
Last but not least, take a look at all the fresh content you've been writing. How can you repurpose it and get the most mileage out of every word you've written? Can you combine several blog posts into a short report or even a Kindle book? Can you expand on the idea and make it the basis for a new information product? Can you offer a paid coaching program on the topics, using your content as the basis for the training modules?
Get in the habit of using, reusing and improving what you already have. Your bottom line will thank you.
Conclusion
We didn't get into entrepreneurship to sit in front of the computer all day. Neither did we become entrepreneurs to be slaves to our businesses. Implement these productivity tips to help you take actionable steps towards maximising your business productivity and take back your time as an entrepreneur.