Sendinblue offers cloud-based digital marketing tools to over 175,000 growing companies around the world.
Do you want to cover your entire marketing funnel? With Sendinblue's all-in-one solution, you can unlock unique features for marketing automation, email marketing, SMS marketing, chat, Facebook Ads, CRM and for sending transactional messages via email and SMS.

In this Sendinblue review, let's see if your company could benefit from using this tool, with the Sendinblue features, pro's and con's and more.
What is Sendinblue?
Sendinblue is a smart and intuitive platform for growing businesses, helping you thrive with the right marketing and sales tools.
Sendinblue empowers businesses to build and grow relationships with their customers.

Sendinblue's real power comes from the flexible and versatile marketing automation platform. The Sendinblue Tracker script lets you track web behavior from your contacts. Together with email engagement and data from your contacts, the Sendinblue Tracker creates complex automation workflows to save your time and help you to scale and grow your business with almost no work at all.
The target of Sendinblue are small to medium-sized businesses, which can be reflected by everything about their features, support, and pricing. Whether you need to manage email campaigns, send text messages, or save time with automation, Sendinblue can help you accomplish these tasks on-budget and efficiently. Moreover, it offers services in six commonly-spoken languages so it helps you to reach out to international audiences. 
Sendinblue Features
Communication
Email Marketing
Email marketing allows you to create a professional looking email by starting with a template or building a new design from scratch.
You can showcase your niche and personality by personalising the email content so that your customers feel more connected with you.
There is no limit on the number of people you can send emails to; if you want your target audience to be more focused, you can create different criteria such as gender, age, location, purchase history, etc.
Sendinblue runs A/B testing for you to try out and test different kinds of messages so that you will more likely create the best messages possible.
SMS marketing
For more time sensitive and special events you can contact your customers directly via SMS so that the content will not be delayed.
Sendinblue offers plentiful plugins such as transactional SMS for order confirmations and shipping updates. In this case, you always keep your customers posted and they don't have to worry about losing track of their orders.
You would want to be as close to your customers as possible, so try out the personalised messages by addressing the customers' first and/or last names or the company name. These messages are much more personalised than a standardised, automatic reply, and they will definitely make your customers realise that you truly care about them. 
If you are wondering whether or not such an SMS campaign is effective, make use of Sendinblue's stat report so that you know how you are doing and you can adjust your campaign plan in a timely manner. 
Chat
With Sendinblue you can create a personalised chat box so that your customers will recognise you right away. Setting up a chat on your website to start talking to your visitors is an important step for entrepreneurs to engage with your potential and existing customers. Try to fully customise the environment to match your company's style, such as using the color that represents your business. Don't forget to include your company name and logo; it is good for both having your existing customers to recognise you and making leads remember your company. 
The other advantage of having such a chat box is that you will get to talk and respond to your leads and customers without delay. Remember, time is the key for standing out in a competitive online environment, so always make sure to reply to your customers as shortly as possible so that they do not lose interest.
If you have other agents working for you as customer representative or advertiser, allocate different messages to different agents based on their specialities so that nobody is overwhelmed by the amount of new messages.
Inbox
Sendinblue offers a shared inbox for you and your team members. You can assign tasks to each other and mark messages as unresovled so that everything stays neat and organised. 
You can also get access to the complete history of all your customer conversations in one place. You will know your leads better by tracking the opens and clicks of the emails you sent.
The other good news about this inbox feature is that there is no tech confusion! All you need to do is to connect your email accounts (Gmail, Yahoo, Outlook, and more) to it. 
Personalise
CRM
In order to have a successful online business, customer relationship management is more important than ever and Sendinblue helps you set it up in no time. It helps you to centralise all your contact information, organise your contacts by using different lists based on any criteria of your choice, and keep up to date with your customers.
Marketing automation
You only have so much time a day so you cannot possibly get everything done yourself. A smart entrepreneur will use as many automations as possible. Sendinblue's marketing automation software allows you to automate certain tasks by simply defining some rules and conditions. The tasks you can automate include sending emails and SMS messages (a welcome email, a birthday wish, etc.), organising contacts into different lists, and updating information in your contact database..
Even if you are ambitious and would like to create a personalised experience for every customer, it is still possible to automate the process. You can keep track of your customers' purchase history using lead scoring and reward them based on the points. For example, every page visit leads to 10 points and you can set your automation to send your customers a couple once they reach 50 points. 
Transaction email
With Sendinblue you can set up your transactional emails with on-brand designs and reliable deliverability. You can also customise your order confirmation emails, password reset messages, and other email notifications with ease. You will see lots of professional templates and designs offered by the tool so there will be one suitable for you. 
Contact segmentation
Segment your contact list into smaller groups with similar characteristics to create better targeting for your marketing messages.
Convert
Landing pages
Create your own landing pages that represent your company to create a unique experience for your customers. Either start from one of the pre-made templates or build from scratch. Based on the goal of your page, Sendinblue offers different templates to choose from so that your page will be professional-looking and focused. It would be useful for entrepreneurs to add some follow-up pages such as feedback/questionnaire or a nice thank-you page. Of course, with Sendinblue you will be able to do them all.
Signup forms
Get the attention of people by designing eye-catching email signup forms.
Make sure to use the colors, images, and texts that match your brand so that your brand is well-represented and your leads will have a realistic image of your branding philosophy. A nice design with Sendinblue will help to encourage your visitors to sign up.
The other thing you can do is to add as many different fields to collect the information you want from your new contacts in order to have the best possible segmentation for your emails. Remember the better you know your leads, the more likely you will turn them into your (even long-term!) customers.
The pros of this signup form aren't over yet: this form is not limited to your website, you can insert it almost everywhere including your emails, SMS messages, and social media profiles. So once you are done with one, you can recycle and use it in multiple locations. 
Facebook ads
Facebook ad is a big thing in social media marketing these days. Sendinblue makes doing Facebook ads easier than ever. Create facebook ads on the fly to reach a new audience.
All you need to do is to upload your image, enter your ad text, then select a CTA corresponding to your goal, whether it is to sell more, promote your content, highlight an upcoming event, or simply spread the word about your brand.
You can also choose to either retarget a specific audience to your liking or use a contact list to find new people who are similar to these contacts using Facebook's lookalike audience feature.
SendinBlue Pros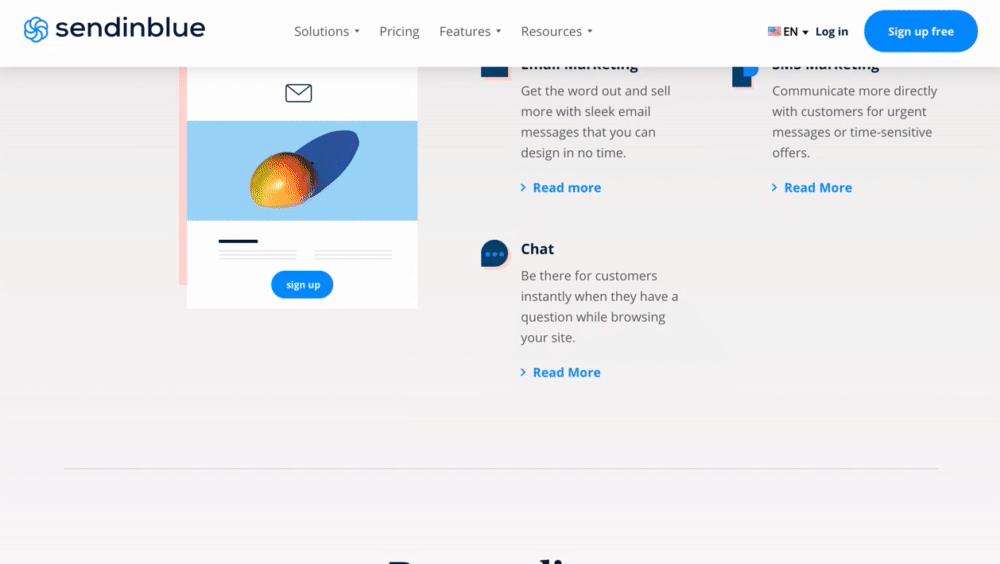 Low-cost plans
Solid email automation
Landing page editor
SMS marketing tool
Deliverability
range of automation
Easy to use
Free plan to try out if this is the right tool for you
SendinBlue Cons
Limited integrations
Limited templates 
Free plan sending limit (you cannot send more than 300 emails per day with the free plan)
Sendinblue watermark with free plan 
SendinBlue Pricing
Note: Pricing varies on the amount of monthly emails your company requires.
Sendinblue charges "per email sent" and not per the size of your contact list. So you can create an as large list as possible since it is not part of the charging criteria.
The SendinBlue free plan includes unlimited contacts, emails include branding, daily quota of 300.
The SendinBlue Lite plan starts from 19€/Month.
This is the perfect plan for new marketers. The price is reasonable and you will get lots of support such as A/B testing and advanced stats reports. There is no daily sending limit so you can reach out to as many leads and customers as you prefer. You will also be able to remove the Sendinblue logo so that the design will look much better. Further, you receive email support from Sendinblue's customer service.
The SendinBlue Premium plan starts from 49€/Month
Premium is ideal for marketing pros; apart from everything with the lit plan, you can unlock features such as marketing automation, Facebook aids, landing pages, multi-user access, etc. This is the plan for you if you would like to save lots of time and advocate your business in multiple channels. Sendinblue also provides telephone support for its premium users, so you will be able to solve your issues even faster than you thought.
The SendinBlue Enterprise plan is another plan that SendinBlue offers.
What if you have a very large company with thousands of customers? Would Sendinblue still be useful? The answer is yes. Sendinblue offers the enterprise plan for entrepreneurs with large businesses. Not only unlocking everything in the premium plan, you will have lots of privileges such as priority sending and support. You will even get a customer success manager to help you out with marketing campaigns. You can also customise your own volume of emails and gain access for more than 10 users at the same time. The price for the enterprise plan is personalised based on your needs. Simply fill out a form and Sendinblue will reach out to you to figure out what's best for you. 
(If you want to send SMS, those are more of a pay-as-you-go deal. For example, sending 100 SMS in the US is $1.34. Sending 200 is $2.68, and so on. Sending to other countries has different rates.)
Conclusion
There is no doubt that Sendinblue will optimise your email marketing. Advanced email automation, segmentation, personalisation, and landing pages and forms are all geared towards increasing conversions.
The automation features could maybe use some work to compete with the top tools out there, but they're certainly not far off. Plus, Sendinblue is also one of the cheaper options available right now, so as mentioned in the beginning of the article, it is very ideal for small to medium-sized businesses.
Interested in what Sendinblue could offer you? The best way to figure it out is to try it out using the free plan to see if you like it.