The truth is, most of us are not born natural leaders. We become leaders by the actions we decide to take. Whether or not you're a recognized entrepreneur or simply starting on your journey, to help you better understand yourself as an entrepreneur, here are certain traits of an entrepreneur you'll typically find.
If you have already started as a business owner or looked into becoming an entrepreneur, you will find that it takes a lot of preparation, development and tactical marketing to grow your online business.
To help you in your journey to success as an entrepreneur, have a look at these traits of an entrepreneur to help you decide your path as an entrepreneur.
Traits of an entrepreneur
1. Don't compare yourself with others
One of the major characteristics of the most successful entrepreneurs is to understand that comparing yourself with others is unhealthy. An effective entrepreneur recognizes that no one is above or below anyone else.
Comparing yourself with others can only bring you down. Nurturing a ball of jealousy inside of you is probably one of the worst things you can do for your business. At the end of the day, everyone has to start somewhere and there are different paths of growth.
It sounds easy and simple, but it is difficult not to compare yourself with those around you.
To be an exceptional entrepreneur, you have to understand there is enough space and opportunities for everyone out there. Celebrate and learn from those around you and stop comparing.
2. Believe in yourself
To be a successful entrepreneur, you have to trust and believe in your own beliefs and instincts. Beginning as an entrepreneur requires persistence, determination as well as a high level of self-discipline.
Being an entrepreneur can be lonely. You might work very hard, but get absolutely nothing back. No one seems to be noticing you and your friends and family might not understand what you're doing.
You have to believe in yourself and believe in the niche you have chosen and the path you are taking. The journey of an entrepreneur is long and hard but with perseverance and a strong belief in yourself, you will be able to reach your goals.
3. Follow a strategy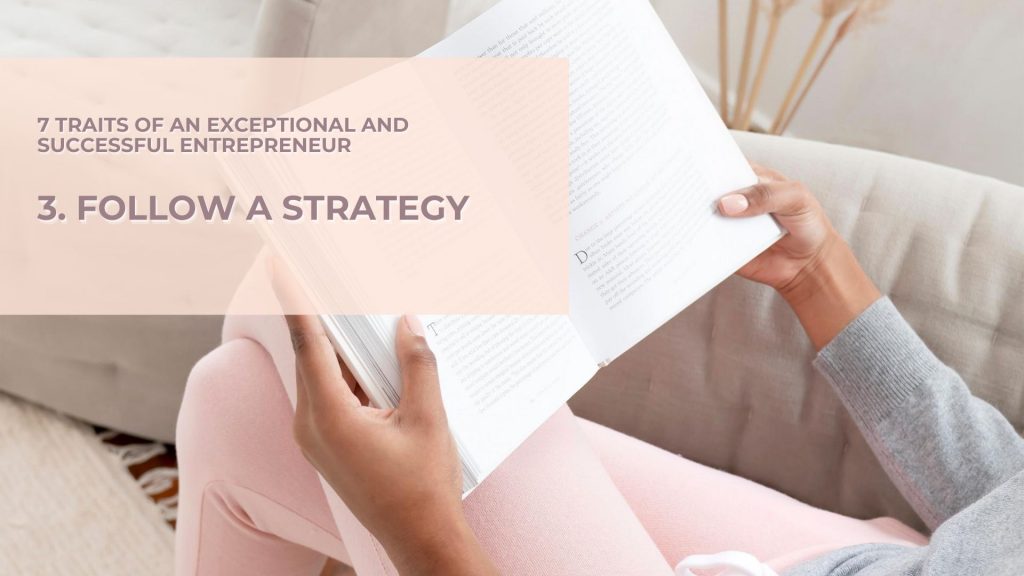 An effective entrepreneur follows a strategy. You won't be able to reach your goal without a map or a guide to follow. If opportunities appear along the way, of course, you should take them. But having a strategy in place is important.
A lot of successful entrepreneurs start by composing a fundamental business plan that lays out all of the goals and strategies. It doesn't have to be fancy or lengthy. However, it must be clear. Work out your advertising and marketing strategies, objectives, intentions, target audience beforehand.
Come back to your business plan and your strategy to check where you are and where you think you need to go.
4. Experiment and be creative
An entrepreneur is not afraid of making mistakes and running into deadends. Yes, it can be scary and disappointing when certain aspects of your business don't turn out the same way as you hoped. But it is not possible to grow, unless you fall a few times and learn along the way.
It is important to understand that trial and error is important in every entrepreneurs' journeys. Think outside the box and use your creativity and imagination, try out brand-new ideas and broaden your vision. As an entrepreneur, pay careful attention as to whether a specific technique is working. If it is not, evaluate what is not the issue and make the changes accordingly.
5. Know your strengths and weakness
Be honest with yourself, what are you good at and what skills do you lack? Michael Hyatt's book "Focus" is an amazing read, helping you figure out your strengths and weaknesses as an entrepreneur, and how to delegate and outsource to people that can take away those painful tasks from you, and at the same time, do them much better.
It is not easy to think about your weaknesses and letting them go but it is one of the traits of an entrepreneur that you need to master in order for your business to grow.
For example, if you like graphic design but you're not great at it, then you might not want to spend hours and hours working on that. Instead, you might outsource this task to freelancers or your virtual assistant. You can check websites like OnlineJobs.Ph, Fiverr, Freelancer and Upwork.
It might be difficult to let go but understanding that you need to focus on the activities that need your attention is important. Delegating tasks that you don't excel in is not only more efficient but probably better in someone else's hands.
6. Have a clear vision
"Where do you see yourself in 3 years, 5 years, 10 years?"
Yes, that's a question that your kindergarten teacher might have asked you. But it is important as an entrepreneur to understand where you want to be further down the road in your entrepreneur journey.
Having a clear vision is one of the most important traits of an entrepreneur. Take some time to sit down and visualise on paper where you want your business to be. Even if it's a scary goal, write it down. It is better to aim high and land close to your goal, then have no faith in yourself and not achieve something you will be proud of.
Having a purpose and a goal is an effective device that can help drive you to wake up in the morning, ready for the day to come. A successful entrepreneur believes that they have the ability to live life the way they desire. Have that clear vision and work towards that goal from today.
7. Don't give up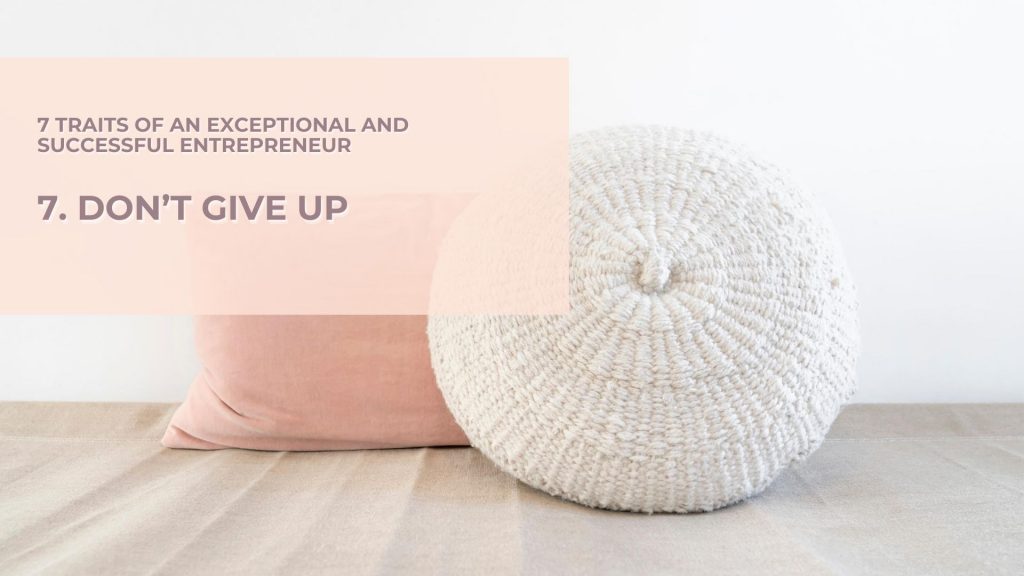 I know how difficult it is when you run into a roadblock or when things are not going according to plan, the whole world seems to have fallen apart and you wonder why you put yourself in this position. Why not just go and get a full time job, right?
You need to have faith and believe. There will be good days and a lot of not so great days. It is part of your entrepreneurship journey. Being a successful entrepreneur means you need to accept the ups and downs.
If something is not working, figure out why that is and what you can do to make it better. A lot of successful entrepreneurs have fallen over and over again, learning from their mistakes and finally seeing their vision come together.
Even big companies and business like Ainbnb, Instagram and Apple have all gone through ups and downs to get to where they are today.
Conclusion
Honestly, most of these entrepreneur traits are easier said than done. No one is born an entrepreneur and everyone has to learn and grow as they embark on the entrepreneurial journey. Allow yourself time to figure it out. Don't expect yourself to succeed right away because chances are you won't. Start by implementing these traits and start working towards your success one step at a time.
Find out more about the 25 Online Businesses models and the 23 online business tips you need to know.