With Facebook, there is a lot of information floating around the internet about how essential it is for businesses to be on their website. Yet, many businesses have an innate fear of social media platforms because they are concerned with data security or simply because of how overwhelming it is, after all, social media is relatively new. Let's have a look at how to use Facebook for business, and the effective ways it can be used to help you grow your Online Business.
Ways to use Facebook for Business
1. Increase Online Presence
One of the most fundamental reasons for you to do anything online is to increase your online presence. All businesses have one objective and that is sales, no matter if it is a product or a service. The only way to do this is to get people to become aware that you are providing that particular product or service. Companies spend between 3% and 10% of their total revenue just to do this.
With so much money at stake, companies are always looking for different ways to get the same kind of exposure without spending as much money and the internet is giving them that opportunity. More than 75% of the population in Western countries have a broadband connection at home; more and more people are going online for their needs. Sales are slowly but surely moving online.
Many manufacturers are already taking advantage of this and soon businesses who aren't able to adapt to this will be left behind, possibly even see their sales fall. The pandemic's effect on high street stores is a clear example of this.
Stores that have established online platforms have flourished during these difficult times as people stay mostly indoors with nothing but their devices and their credit cards. High street stores with no online presence, on the other hand, have suffered losses during the international lockdown due to fewer people entering their shops.
There are a number of benefits to buying online, primary among them being lower cost and convenience to the consumer. These benefits are hard to match in retail sales.
Many businesses have taken notice of this growth and have been steadily increasing their online marketing budget throughout the years, even though it might still only be a small portion of their overall marketing budgets. Everyone is realising that the future is online. It has grown so fast that it has caught many companies by surprise.
With its enormous reach, especially in certain markets and demographics where traditional marketing does not have much impact, Facebook offers an inexpensive, yet a quite effective way to put your company's face on the internet. Just having a website is not enough and everyone knows this. 
While there are alternatives to Facebook, it is dominating the social media world. According to Statista, Facebook has over 1.69 billion users worldwide, and with Facebook now surpassing Google in the number of visitors a day. So it would make sense how many companies have turned to focus their efforts on Facebook.
2. Create Strong Brand Image
The reason behind increasing online presence is to not only increase brand awareness but also to form a clear brand image. While brand awareness can be easily achieved with advertising, increasing brand image is a little more difficult. Companies spend years developing a certain image for their brand, and any decision with regards to a new product is taken considering if it will fit the brand image or not.
When taken online, this is not as difficult. Although the basics remain the same, it is much cheaper to develop a brand image online than offline. For example, customer service online is usually restricted to email and chat support services. This is much easier to handle and much cheaper to run than real-time call centres where people answer your calls.
Of course, an online presence is not able to fully replace human interaction, but it can reduce all the labour work by quite a big margin. In the same way advertising as well as the promotion of a product is much cheaper online than it is in the offline world.
Brand building is all about creating an image of the brand in the minds of the people, and one of the easiest ways to do this is to increase the interaction between the general population and the business.
While having a website is the bare minimum that a business should do, there is not much interaction you can have with your customers through your website. Many sites have a "contact us" link, but doing so on Facebook just increases the personal touch. Costumers are much more likely to actually interact with your business on social media platforms like Facebook than to click on the "contact us" link on your website.
3. Increase Interaction with Target Audience
Facebook gives you the option of using different functions to interact with your customers, at no cost to you. Simply having a Facebook page means that you will get people who are interested in you to come and visit your profile.
In addition, anyone who clicks on your fan button will have your logo on his or her profile. While this may not be a big plus at first sight, over time a fan base can be created as you are linked to these contacts' contacts as well, which will help maximize your company's visibility. This works the same as word of mouth, except much more effective as the consumers don't actually have to talk to each other, they just need to be friends on Facebook.
Because Facebook is a place where people network, it is a great place for you to bring out any news and updates about your business. For example, if you are launching a new product, mentioning this on Facebook is a good idea and it will help generate interest in the product.
Facebook Group is another huge player in helping you increase your interaction with your target audience. Facebook is favouring Facebook Groups over Facebook pages these days and by creating honest and genuine connecting with your target audience through interacting with them on Facebook Groups, you can make them into your fans.
How exactly you interact with your customers is up to you, just remember that Facebook offers you an existing network that you can use. Depending on how innovative you make this interaction, you can get huge dividends from little outlay in terms of expense and time.
4. Lead generation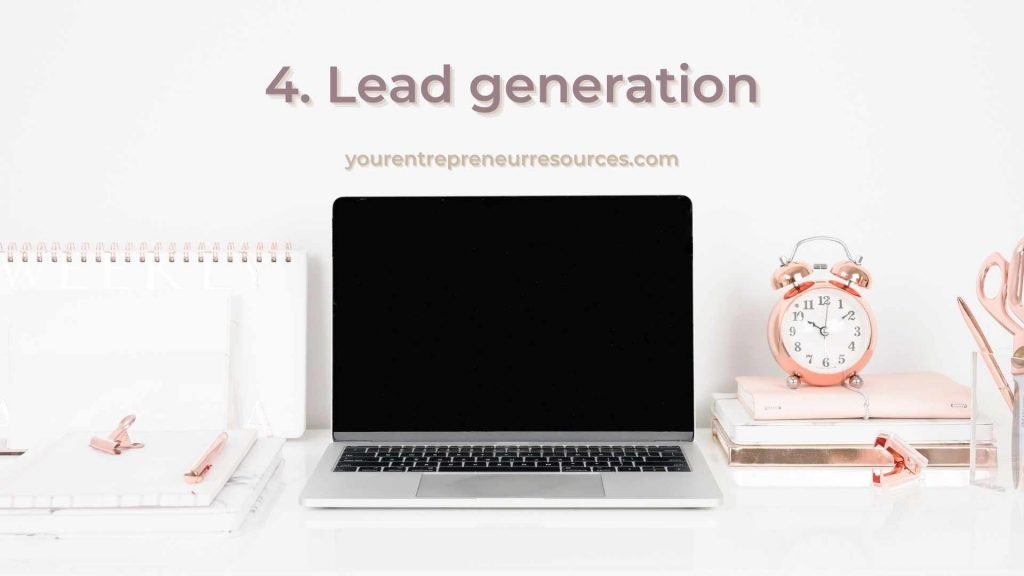 This is one way to use Facebook for business that many entrepreneurs do not take advantage of enough. You can find thousands and thousands of your target audience and potential customers of your niche through Facebook. By posting about your offers, products, sales and even lead magnets on your Facebook page, your own Facebook group and other Facebook groups, you can generate more leads.
You can also use Facebook Ads to target people that are likely to be interested in your offers. For example, if you are selling fitness equipment, you will probably be able to target your campaign to those people whose profile lists anything related to fitness as their hobbies.
Not only is the campaign going to be much cheaper, but it is also going to be much more effective because you will never be able to target the audience in such a focused manner if you were to run an ad offline.
As mentioned, the amount of information that is made available to you by Facebook depends on the users themselves, so there is always the chance that users will not make much information available to you. Yet, this method is still effective and can help you generate more leads.
This aspect of Facebook is even more useful when you consider the kind of business you deal in. If your business is local in nature, you can focus your search to a particular geographic area so that you know that any leads generated would be useful. This is much better than spending time on worldwide customers who are not going to benefit your business in any way.
5. Add target audience as friends
Facebook allows you to add friends and have others add you, and it could help enhance your relationship with others. This might not apply to every business or business model, but it can be a good way to connect with your target audience, especially if you are an entrepreneur or solopreneur.
Of course I'm not saying to go out and add everyone on Facebook, but if you are having a good conversation with someone in a Facebook Group on a relevant topic to your business, then you can connect with them further by adding them as friends on Facebook.
Through becoming friends and connecting with your target audience, you can help them answer their concerns and problems, solve their issues, create loyalty and become the go-to expert in your niche. They will also likely recommend you to others and your network will be able to continue to expand.
This can, in result, create leads for you and your business and your network will be full of people who are interested in you. This becomes useful when it comes to sales conversions, which is our next point.
6. Selling to your target audience
The first thing that you should realise is that Facebook is a social media platform. This means that you cannot and shouldn't blindly sell to everyone. You can, however, use Facebook for business by utilising different strategies to help your business generate more sales.
There are a number of other businesses that use their Facebook fan base to do beta testing. The advantage of being a fan of the organisation is that you get to do free beta testing, and they get a discount when they do buy the product. This is a win-win situation for both the business as well as the fans. Through this, the business can be sure that their fan base will be able to produce a minimum number of sales for them.
The kind of strategy depends on the kind of product you have to sell, and you might not be able to do beta testing with just any kind of business. Yet, it gives you the opportunity to try something really innovative, and the best part is that this is not expensive at all.
Conclusion
Facebook can be a scary place. It's easy to get overwhelmed by Facebook and you might be reluctant to spend time on it because of all the competition out there. This guide has hopefully shown you how to use Facebook for business in a way that is less overwhelming and complicated. If you schedule your content and just allow yourself a strict 10-15 minutes a day commitment for your business, you will see be able to see just how to use Facebook to help you grow your online business.